Posts Tagged 'discretionary durable goods transactions'
by ilene - June 30th, 2010 3:35 am
Courtesy of Rick Davis at Consumer Metrics Institute
On June 25th the BEA quietly revised its measurement of GDP growth for the first quarter of 2010 down for the second time, this time to 2.7%. The newly revised growth estimate nearly matches the Consumer Metrics Institute's original projection for the first quarter, which was 2.62%. The big difference is that the Consumer Metrics Institute's projection (based on our Daily Growth Index) was available on November 30, 2009 — seven months ago.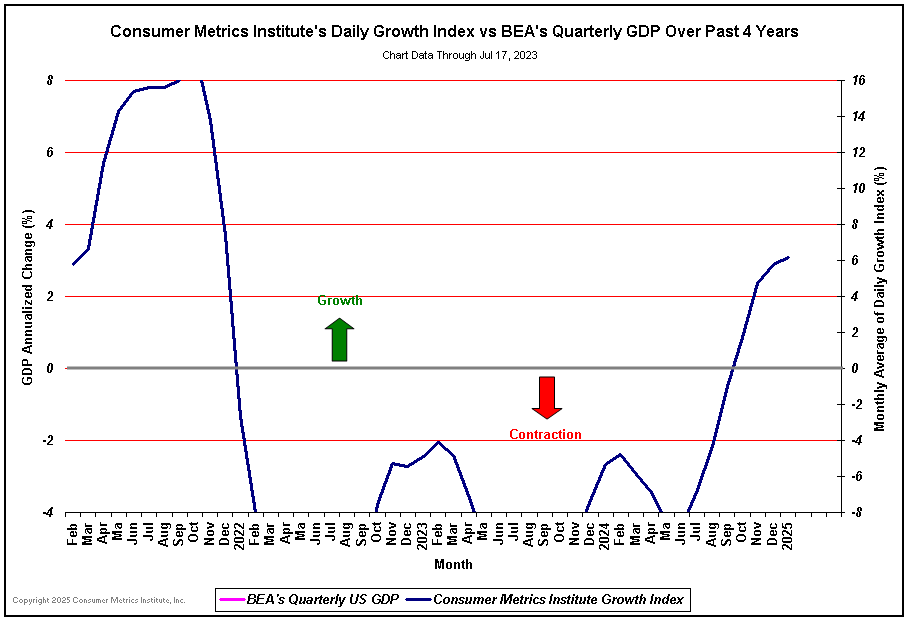 Because the Consumer Metrics Institute's Daily Growth Index only lags the real-time consumer economy by several days and has a day-by-day time resolution, the Daily Growth Index can also tell us something totally missing in the BEA report: that the newly revised GDP 'freeze frame' picture captures a moment in time when consumer demand was dropping at a rate of about .08% per day. This means that the difference between the revised GDP and our original projection represents only a single day of economic change. But more importantly, our Daily Growth Index shows the dynamics of the economy at the point in time when the BEA 'still picture' was taken.
One other important note should be made about the June 25th BEA release: in it the BEA also increased the inventory component within the 2.7% number from 1.65% to 1.88%. That means that the net-after-inventory-adjustments number was less than 0.9%, and over two-thirds of the reported aggregate growth was from relatively unpredictable inventory swings.
If factories were unwittingly growing inventories during the first quarter in the face of what was really slackening consumer demand, the official GDP numbers for both the second quarter and the third quarter (to be released 4 days before the U.S. mid-term elections) could be interesting, since factories could very well over-correct again — but in the opposite direction.
Because Friday's BEA release mirrors our Daily Growth Index from November 30th, the index's subsequent course provides some insight into where the economy has been heading since then. Roughly half a quarter later (on January 15th, 2010) the index fell into net year-over-year contraction. During the nearly two quarters since then the index has been showing mild but continued contraction. When that contraction is charted along with similar contraction 'events' from 2006 and 2008 it can be seen that 2010 is shaping up as…