Posts Tagged 'discretionary durable goods'
by ilene - July 28th, 2010 12:51 am
Courtesy of Rick at Consumer Metrics Institute
Since last week our Daily Growth Index has weakened further, surpassing a year-over-year contraction rate of 3%. This daily measurement of on-line consumer demand for discretionary durable goods has now dropped to the lowest level it has recorded since late November 2008: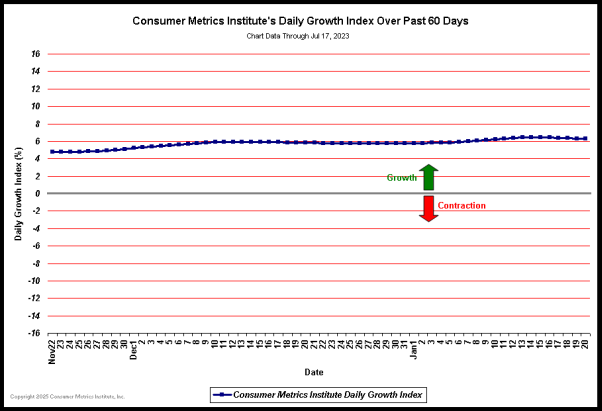 (Click on chart for fuller resolution)
Our Daily Growth Index reflects the strength of consumer demand over the trailing 91-day 'quarter', weighted according to the contribution that goods involved in on-line transactions make to the GDP (per the BEA's NIPA tables). It is designed to serve as a proxy for a 'real-time' GDP, and it slipped into net contraction on January 15th, 2010. To put this decline in perspective we offer the following observations:
1. The current contraction in consumer demand for discretionary durable goods has now extended for more than 6 months.
2. The day to day level of the year-over-year contraction is now worse than a similar reading of the 'Great Recession' of 2008 was after 6 months.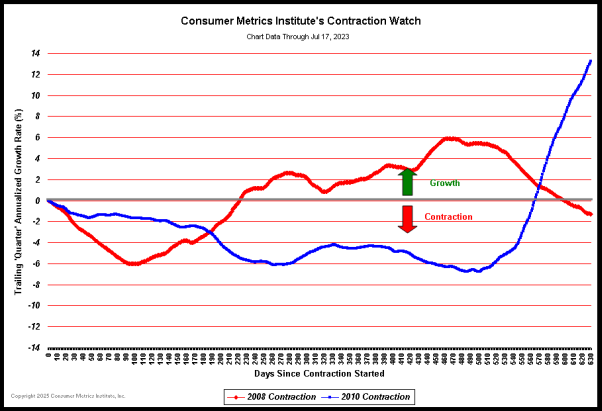 (Click on chart for fuller resolution)
The amount of damage done to an economy by an economic slowdown can by quantified by multiplying the event's average rate of contraction times the duration of the event. By that measure the 2010 contraction has now inflicted 43% as much pain on the economy during its first 6 months as the 'Great Recession' did during the first 6 months of that slowdown.
Although this contraction has not yet reached the extreme contraction rates that were seen during 2008, after 6 months it has not yet formed a bottom. Furthermore, it is now likely to last longer than the 2008 event.
In an even broader perspective, the current level of the Daily Growth Index over the trailing 91-day 'quarter' would put it among the lowest 6% of all calendar quarters of GDP growth since 1947. Only roughly 1 in 17 quarters of GDP activity have been worse.
The duration of the current contraction event is becoming a real problem. Our trailing 183-day 'two consecutive quarters' growth index has dropped into the 5th percentile among similar two consecutive quarters of GDP 'growth' since 1947. This means that the trailing 6 months have been statistically worse than the trailing 3
…