Posts Tagged 'Ebola'
by phil - October 24th, 2014 7:58 am
Halloween is just around the corner.
Already the monsters are coming out with two of NY's three papers already maxing out their headline fonts to scream EBOLA!!! to people on their way to work. As I noted to our Member in this morning's Alert (tweeted out too!) that made for easy shorts on the Futures:
Based on Ebola and the upcoming stress tests, I'd have to guess a sell-off is coming today. Shorting /ES at 1,940 (tight stops, of course) and the Dow (/YM) at 16,600 are a lot safer than shorting /TF at 1,100 but all good lines to use and watch. /NQ already failed 4,000.
It's 7:54 and already the Egg McMuffins are paid for on nice drops off those levels and we'll take quick profits and run and hopefully get a chance to re-enter as I don't see this day going well.
We're back to short in our Short-Term Porfolio but less aggressively so than last weekend as we can't ignore the underlying 3.5% gains our indexes have put up this week.
As usual, the Dollar is being knocked down to support the Futures but it's not helping oil much ($81.24) so far. Gold, however, bounced back to $1,233 and silver (/SI) went over our long line at $17.25 (very tight stops below). Gasoline (/RB) was rejected at $2.20 – another sign that the underlying economy is much weaker than these indexes would have you believe.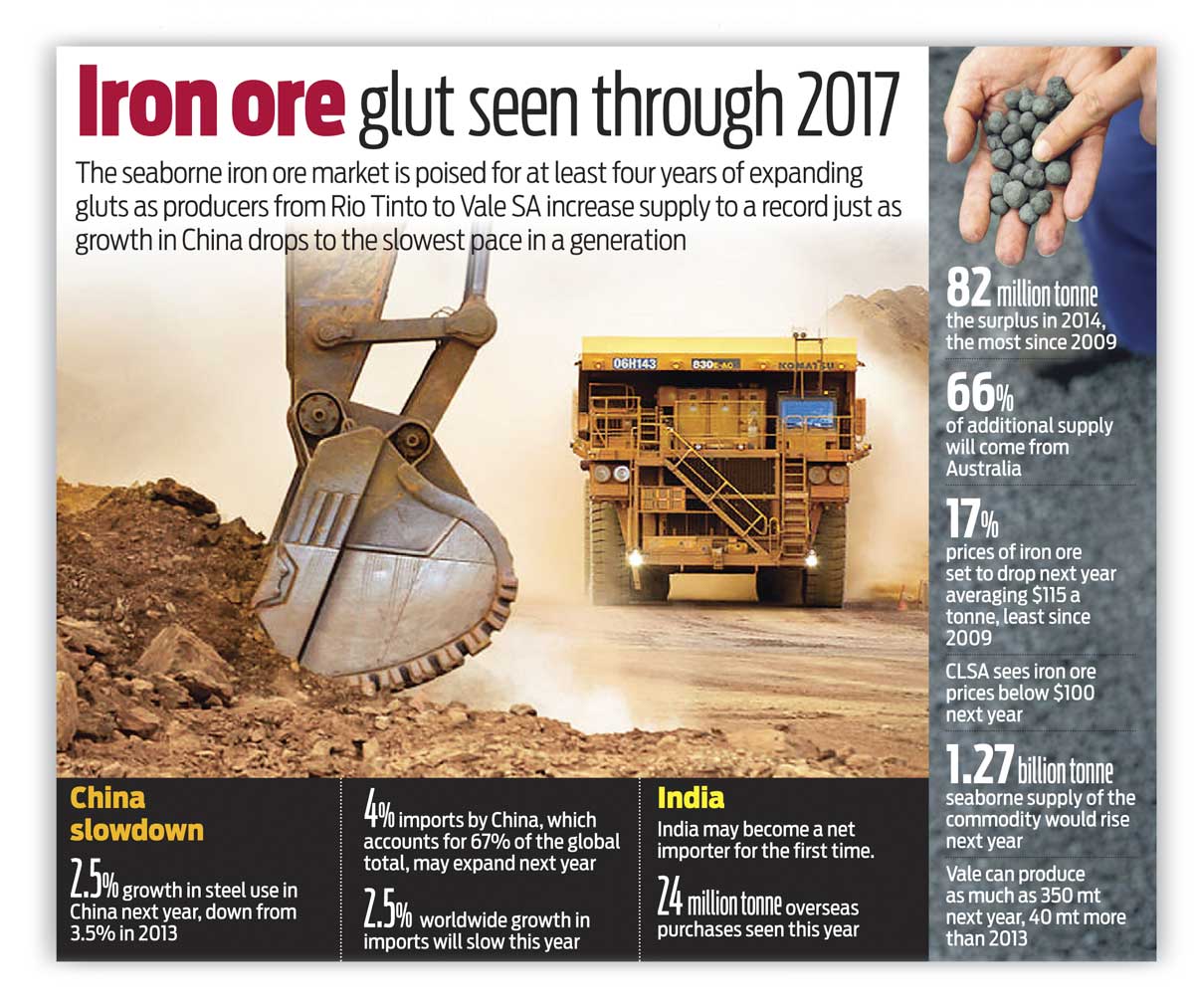 In fact, GS reports today that China has shut 20% of it's Iron Ore production in the face of an inventory glus and prices dropping 40% this year. The market is in the midst of a transition without precedent in recent commodity history as supply jumps and higher-cost mines shut, according to Macquarie Group Ltd. HSBC Holdings Plc, which cut its price forecasts this week, sees a 30 percent slump in Chinese output next year.
"The market currently looks like a game of chicken where no player has blinked," HSBC said. "The major producers are likely to
…

by phil - October 17th, 2014 8:26 am
Nothing came of yesterday's Ebola hearings.
Here's a picture of President Obama hugging it out with one of the nurses that treated one of the Ebola patients – a strong image for the people as calmer voices begin to prevail – on that front at least.
Markets were also boosted by dovish talk from the usually hawkish Jimmy Bullard, of the St. Louis Fed, who said the Fed should consider delaying plans to end its bond-buying program at the end of this month to halt a decline in expected inflation. This is what it sounds like when Doves cry at the Fed and, like Prince's mother, the markets are never satisfied but, for this morning at least – we're taking back those weak bounce levels that we told you we'd take back by Friday.
"The recovery from the lows after Bullard spoke yesterday is another reminder how addicted markets still are to liquidity," said Deutsche Bank strategist Jim Reid. "The Fed can certainly help markets but perhaps we really need the ECB to step up a gear for a true recovery," he added.
Still, manipulated or not, this gives us two nice reversal days on strong volume and we couldn't be happier as we flipped very bullish in our Short-Term Portfolio and should be able to take full advantage of this rapid recovery.
Whether or not we maintain that bullish stance into the weekend depends on how our bounce levels hold up today (see Tuesday morning's post for our amazingly accurate predictions of the week's action).
Keep that in mind when I tell you there is nothing particularly bullish about hitting the weak bounce on the Friday of a drop week – it's merely better than the alternative of FAILING to make those weak bounce lines. That would have been BAD!!! Meanwhile, those of you who took our FREE Trade Idea from yesterday's morning post to go long the Russell at 1,050 (the same line we were watching on Tuesday) are now sitting on $4,000 PER CONTRACT gains and I do so hope you are not greedy and set your stops at the 1,090 line.
…

by phil - October 1st, 2014 8:25 am
This is not pretty.
As you can see on our Big Chart, we've failed the 50 dma on the S&P, Nasdaq, NYSE and Russell and the Russell failed its 200 dma long ago. We're still waiting for the Dow to cross below 16,940 and confirm the carnage but we made those bets long ago with our DXD Oct $24 calls, which are now 0.70 (up 55%) from our 0.45 entry back on 9/18.
In fact, we already took 1/2 of those calls off the table at 0.85 last week so, essentially, the remainder is a free put option on the Dow for the next three weeks – with DXD at $24.45, so we gain every penny from here on up as the Dow falls.
That's what hedges are supposed to do, of course. We discussed that in yesterday's Live Trading Webinar, where we also demonstrated a live Futures trade on the Russell (/TF Futures) that made $500 on the 2:30 bounce. That bounce was very easy to predict because THE MARKET IS MANIPULATED and all we had to do was wait for the same fake spike that we get at the end of every quarter, courtesy of the Fed and their fellow Banksters:
What's scary about yesterday's flood of money ($230Bn in two days) wasn't just the size of the pump job, but the ineffectiveness of it. The volume was still anemic and declining shares outpaced advancing shares by almost 2:1 in yesterday's "mixed" trading.
In reality, it wasn't mixed at all as big traders took advantage of every penny that moved into the market as they told their brokers to sell, SELL!!!
Still, it's not the end of the World just yet – only close to it, and we can still turn this puppy around by holding the line on the Dow as well as Russell 1,100 and Nasdaq 4,500. This market has been amazingly resiliant in 2014 so we're not going to be complacently bearish the same way we (thank goodness) did not let ourselves get complacently bullish this summer.
…