Posts Tagged 'ED'
by phil - June 7th, 2014 8:24 am
What a rally!
While stocks certainly aren't "cheap" by any measure, we've been able to identify 20 that are still good values. We've been compiling this list and going over trade ideas for playing them in our Tuesday Webinars since May 13th and, of course, we've been posting them in our Live Member Chat rooms, so this is just a review to consolidate our trade ideas.
We cashed in our Long-Term Portfolio last week at what we thought was a top but so far – so wrong on that call! Since it's up 19% in just 6 months, we're not going to cry about missing the last 400-point move on the Dow (2.5%) – we'll just have to look ahead to deploying our cash again, following the same strategy that was so successful in the first half of the year, which was, essetially, our "7 Steps to Consistently Making 20-40% Annual Returns" system:
As we did in building our Long-Term Portfolio, we're not going to rush in and buy everything. We will do exactly what we did in January where, following our Fall Buy List, we simply added stocks from our list whenever they became cheap. While our Members are able to pick up our trade ideas as they are released, we don't always add them to our virtual portfolios right away. As with the first half's Long-Term Portfolio, we will track every entry and exit in both our Live Weekly Webcasts, as well as in our Live Member Chat Room and alerts will be sent to our subscribers (you can join here, Basic and Premium Members get full access).
Our picks were originally grouped by industry sectors but, for reference purposes, I'm going to list them alphabetically below – these are the original trade ideas (the Webinar dates where we discussed our picks are next to the symbol), most are still playable but some have already taken off :
ABX (5/28) we featured in our June 3rd post - obviously one I like. If you don't want to buy the stock for $15.90 (and we NEVER pay retail at PSW!), then you can sell the 2016 $15 puts for $2.05,…

by phil - July 2nd, 2012 7:13 am
Now we need follow-through.
I think we've already blown the opportunity. In Stock World Weekly we discussed the stealth bailouts jammed into the Transportation bill on Friday which rightly sent the markets flying higher into the close of the quarter (I know quelle suprise!). As noted by David Fry, GS was working hard behind the scenes to make sure that, in the end, Germany toe'd the line.
For the year so far, the Dow is up 3.89%, S&P is up 6.66% (so you KNOW Goldman is involved), the Nasdaq is up 10.81%, NYSE 2.33% (all of it gained on Friday) and the Russell 6.15%. See how great everything is?
We took the money and ran, again, as we hit some clear resistance lines (see SWW) on our Big Chart and there was no sense risking a 10% gain in our first week in our new $25,000 Portfolio with the July 4th holiday coming up (we have a half-day tomorrow and we're closed on Wednesday).
The only trades we left active in the $25KP was 5 OIH July $35 calls at $1.25 (still $1.25), 10 DIA July $129 calls at $1.10 (now $1.35) and 10 SQQQ July $49/53 bull call spreads at $1 (now .75) we added later in the day to protect them in case we had a big dip this week. If we make it through Friday above the lines on our Big Chart – then we will continue to be "constructively bullish" and we'll be happy to deploy more cash but, into 2 days off – NO THANKS!
In fact, as we're already up 22% on the DIA calls – if we get another pop this morning, those are likely to come off the table as well. After all, how much money should you expect to make in 48 hours? This is a very unnatural and manipulated market and it's great to play it – as long as you keep that in mind! The danger comes when you delude yourself that this is some kind of "investing" environment when it's actually just gambling ahead of Q2 earnings reports – that could send us right back into a tail-spin.
Or, maybe not – as a key amendment to the Transportation Bill will add Billions of Dollars in profits to the S&P 500 by allowing Corporate Pension Plans to use the average…

by phil - January 17th, 2012 7:54 am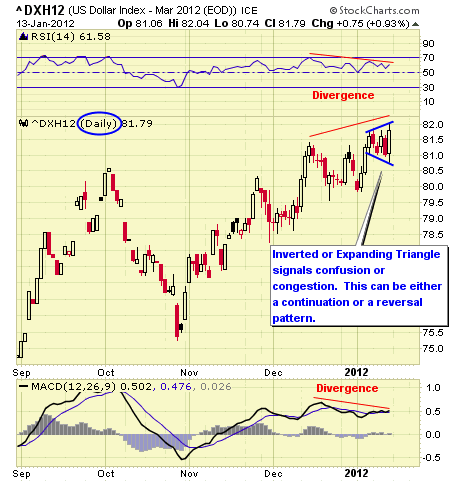 Isn't this exciting!
The pre-markets are up 1% after a long weekend. That hasn't happened since – two weeks ago! Of course last Tuesday, we were jammed up as well and the Tuesday after Christmas, we were jammed up as well but THIS TIME – we're REALLY feeling it, right?
The funniest thing is the way they have dozens of idiots saying all sorts of ridiculous things on CNBC and not one of them mentions even the vaguest hint of deja vu in what has been the most consistent pattern of late 2011, early 2012.
On this Dollar chart from Scott Pluschau, you can see the dives that are occasionally taken to goose the markets and we have another one this morning with the Dollar down 1%, making the 1% pop in the futures slightly less impressive when taken in context.
This time may be different because, according to Friday's Legacy Commitments of Traders Report released by the CTFC, Commercial Traders are now net short on the Dollar to the tune of 59,023 to just 6,061 longs – about a 10:1 ratio that is EXTREME to say the least. Non-Reportable, Non-Commercial Traders (ie. Speculators), on the other hand, are almost 10:1 the other way with 9,765 long contracts and just 1,390 shorts. Reportable Non-Commercial Traders (Hedge Funds) fill out the rest of the longs with 52,644 long contracts against just 8,057 shorts.
To some extent, hedge funds are also speculators and usually you would assume their bets are covered but that's kind of hard to see with a 7:1 long/short ratio. Keep in mind that Commercial Traders are institutions with business reasons to hedge – they are not going to be flip-flopping their positions so they will NOT be buying Dollars just because they get cheaper. So, if it all hits the fan and the Funds shift to short – we could get quite a tidal-wave of Dollar selling.
That's an odd sort of positions for the speculating class to be taking (super-long on the Dollar) considering the possibility of a highly dilutive quantitative event (QE3) in the very near future. This is why we can't be gung-ho bearish – tempting though it may be and this is why every little rumor of Europe being "fixed" sends the Dollar flying down – there are no buyers – only nervous long Dollar holders.