Posts Tagged 'emails'
by ilene - April 25th, 2010 9:00 am
Courtesy of Tyler Durden
Zero Hedge is currently going through the 100 or so pages of just released Goldman emails that disclose in excruciating detail the events from late 2006 to late 2007 occurring in Goldman's mortgage trading business. We will have a lot more to say on this tomorrow, suffice to say that we were pleasantly surprised that C-BASS, which we uncovered recently may be implicated in the Goldman SEC fraud scandal, is again involved. We also feel bad for Harvard and MS Prop, and a little better for Hayman Capital. Stay tuned. In the meantime, we will take a brief detour into the financial yellow pages, as we focus on the curious case of Fabrice Tourre, who once again plays a prominent role in today's email discovery.
The first thing that caught our attention is the original "Fab Fab" email, finally reproduced in its entirety. One tangent that may be relevant to gleaning some more insight into the character of the "fabulous" 27 year-old mortgage god, is that at the time he penned his email to girlfriend (#1), then Goldman co-worker, Marine Serres, he was likely also with girlfriend (#2) Fatiha Bouktouche, a Columbia University post Doc, to whom he may have been disclosing proprietary Goldman holdings and trades. Who knows to whom, when or how Fatiha may have leaked insider trades whispered to her by Fabrice, and who knows what CDO trades Marine was pitching to the retarded (and soon to be bankrupt) European banks gobbling up everything Goldman would sell them, structured and originated by her boyfriend.
We recreate the original email:
From: Fabrice Tourre
Sent: Tuesday, January 23, 2007 11:34 PM
To: Marine Serres
Subject: Fw: ft--friday

Darling you should take a look at this article… Very insightful…More and more leverage in the system, l'edifice entier riqsue de s'effondrer a tout moment…. Seul survivant potentiel, the fabulous Fab (as Mitch would kindly call me, even though there is nothing fabulous abt me, just kindness, altruism and deep love for some gorgeous and super smart French girl in London), standing in the middle of all these complex, highly levered exotic trades he created without necessarily understanding all the implications of these monstruosities !!! Anyway, not feeling too guilty about
…

by ilene - November 22nd, 2009 6:03 am
Excellent post, ep's take on "climate-gate," and the corruption of science by politics. - Ilene
Courtesy of ep at finem respice/reflection on consequences
The Really Big News™ is actually that there is no really big news. Much is being made of the recent hack of the Hadley Climatic Research Center (the "CRU") whereby over a thousand emails along with documents as well as data and code were lifted and published to an FTP site before being linked to by "The Air Vent" blog and then… the world.
The leak appears to show climate scientists shaping results, strategizing on how best to conceal data and analysis from the public, planning public relations to get their message out irrespective of the most recent data setbacks, debating the best way to influence the "man on the street," discussing means to deal with critics via the press and otherwise, and reacting with barely contained glee to the news of an opponent's untimely death. While the general consensus is that the most damaging emails appear to reference the now semi-famous "hockey graph" illustration that has been a favorite of the United Nations (and everyone else pushing radical climate change policy) for a decade, I think something much more insidious (and actually quite ordinary) emerges from between the many subject lines. Rank corruption.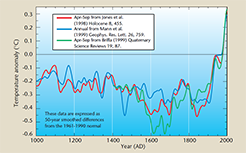 Shock and surprise at the conduct of particular individuals within the CRU seem the order of the day. I'm not quite sure why. If, indeed, the disclosures are genuine (and it certainly appears on first blush that they are) how is it news that "scientists" embroiled in what long ago ceased to be scientific research and now amounts to a political campaign would cut corners, sabotage critics, conceal or even destroy data and analysis, massage results and graphics and otherwise act exactly like politicians, particularly where their careers, the body of their life's work and their continuing income stream were at risk?
It isn't of course. They are politicians.
The surprise should be that something like this wasn't revealed earlier. (Well it was, but no one seems to count the glaring errors in Al Gore's public presentation as relevant for some reason- polish always
…

by ilene - November 21st, 2009 4:39 pm
Here's more on the climategate story, from a few different perspectives. – Ilene
By Andrew Leonard at Salon
Climate skeptics claim hacked e-mails prove, once and for all, that global warming is a hoax
The climate-change obsessed blogosphere — including both those who accept the science behind anthropogenic climate change and those who deny it — is in an absolute uproar today after the revelation that an unknown party hacked into the computer system of an important climate research center and posted hundreds of private e-mails to a Russian FTP server.
To climate skeptics, the e-mails prove that global warming is a conspiracy theory. At Wonk Room, Brad Johnson rounded up the politicized reaction:
If you own any shares in alternative energy companies I should start dumping them NOW," says the Telegraph's James Delingpole.
Hot Air's Ed Morrissey claims the emails discuss "repetitive, false data of higher temperatures."
The National Review's Chris Horner salivates, "The blue-dress moment may have arrived."
"The crimes revealed in the e-mails promise to be the global warming scandal of the century," blares Michelle Malkin.
The Australia Herald-Sun's Andrew Bolt claims the emails are "proof of a conspiracy which is one of the largest, most extraordinary and most disgraceful in modern [sic] science."
RealClimate, a blog maintained by real climate scientists, is busy doing damage control. This story will no doubt rage for weeks, so I'm just going to pick one example of the back and forth before trying to take some time to go deeper, if merited…
So what's going on here? Put aside the question of whether the words "trick" or "hide" have nefarious or innocuous meanings. The scientific problem is that in attempting to reconstruct temperatures in the past, climate scientists are often faced with the problem that there were no humans standing around holding thermometers and writing down temperatures. So scientists use "proxies" — tree rings, or ice cores, or fossilized clams, or lake pollen trapped in sediment…
Overall, the more data we have, the more clear it has become to the vast majority of scientists working in this field that the earth has gotten significantly hotter at an alarming rate in the last century, most likely due to increased concentrations of greenhouse gases in the atmosphere. And if there really is a smoking gun in the…