Posts Tagged 'entitlement'
by ilene - September 22nd, 2010 8:56 pm
Courtesy of Charles Hugh Smith, Of Two Minds
Resentment, frustration and anger are now ubiquitous features of U.S. culture. This is the consequence of several factors, none of them positive.
"Horn broken, watch for finger." This bumper sticker perfectly captures the zeitgeist of the nation: the horn is broken, and everyone is giving everyone else the finger.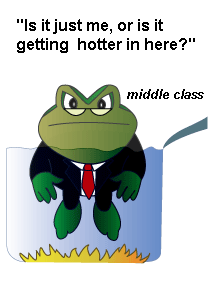 Why are simmering resentment, frustration and anger now ubiquitous features of U.S. culture? I would posit the following factors:
1. A culture of entitlement: the U.S. is now a culture of takers obsessed with getting their "fair share" of the swag/borrowed money. "We were promised!" (public employees); "I earned it!" (Social Security recipient, though only the first 3-4 years of benefits are drawn from his/her contributions, and everything after that is welfare drawn from the hides of current workers); "healthcare/income security/housing is a right!" (everybody's got rights, but nobody seems to have any duties or obligations); "it's for the children/elderly!" (that is, my expense account, million-dollar pension, etc. are nominally protected by the banner of "education" and/or "healthcare"), and so on.
Those with access to "private welfare" such as CEOs are a privileged class; most of us have to elbow our way to the crowded public trough. The truly select feed at the Wall Street trough, which combines private welfare skimmed from shareholders and investors, and Central State welfare issued in unlimited billions via bailouts, Fed purchases of toxic debt, backstops, loan guarantees, etc.
But like the story about the attractive young lady who blushingly agrees to share her favors for $10,000, but balks when the suitor downgrades his offer to a paltry $100 (with the punchline being, "We've already established what you're willing to sell, now we're just haggling over the price"), the recipient has sacrificed autonomy in accepting the entitlement, regardless of the source or size. This is how complicity to a host of embezzlements, corruptions and exploitations is purchased.
2. A culture of victimhood: Victimhood is rewarded, shouldering ones' own load and thrift are punished. Like rats in a maze, Americans respond to incentives and disincentives: as a result, everyone is shouting out their claim to victimhood. The cacaphony is reminiscent of a classroom of spoiled children all claiming excuses for their odious behavior and poor performance.
3. Unrealistic expectations: nobody wants to do demanding physical labor, so skilled-craft jobs go begging and companies have to train workers.…