Posts Tagged 'EZCH'
by phil - May 27th, 2014 8:34 am
Welcome back!
Not just from your holiday weekend but welcome back to the top of the S&P as we attempt our 7th breakout of the year. That's right, a month never goes by when we don't have a new rally that takes us back to the top of the channel, nor does a month go by when we don't re-test the bottom of the channel either – but let's ignore that as it's unpleasant.
Interestingly, as you can see from Dave Fry's S&P chart, there have only been 9 positive weeks out of 19 in 2014 but oh boy did they make them count – with almost every one of them setting a new record – before the selling resumed. Despite all these "records" being set, the average capital allocation strategy hasn't performed all that well in 2014, so far:
Thank goodness we're not pursuing any of those! Thank goodness also that we didn't give our money to any hedge fund managers, as hedge funds are off to their worst start of the year since the Financial Crisis. Not listed here is our "Be the House – Not the Gambler" strategy, which we will be reviewing live today at 12:15 EST in a Live Webinar (sign up here for free).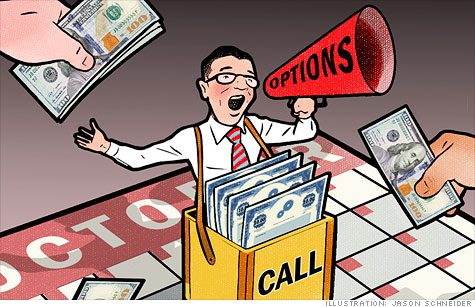 Selling risk to others in our Member Portfolios has given us 10%+ gains for year (so far). In fact, the only strategy we agreed with from the above chart was gold, which we bet heavily (along with DBA) at the beginning of the year. We were still knocking it out of the park in early May, with 40 of our 47 trade ideas in early may coming up winners already (see our May Trade Review).
Remember, this isn't about making good picks, per se – it's about having a good strategy that gives you a high probability of success – even when you are wrong about a trade. BEING THE HOUSE and selling risk (through options) to others is the closest thing we get to a "sure thing" in trading. It's not fast, it's not sexy - but it works!
Actually,…

by Option Review - March 11th, 2013 1:18 pm
Today's tickers: GNW, EZCH & F
GNW - Genworth Financial, Inc. – Shares in Genworth Financial increased as much as 11.2% in the early going on Monday, touching a fresh 52-week high of $10.94 on the back of an upgrade to 'sector outperform' at Scotia Capital. The insurer's shares have increased more than 30% since the beginning of March as investors position for the provider of mortgage guaranties to benefit from strengthening in the U.S. housing market. One options combination strategy initiated on Genworth this morning looks for shares in the name to potentially rise another 35% by September expiration. The trader appears to have sold roughly 5,400 put options at the Sep. $9.0 strike in order to offset the cost of purchasing a 5,400-lot Sep. $12/$15 strike call spread. Net premium required to initiate the bullish play netted out to zero, thus positioning the strategist to profit in the event of a near 10% upside move off today's high of $10.94 to exceed $12.00. Maximum potential profits of $3.00 per contract are available on the position should GNW shares surge 37% to $15.00 by September expiration.
EZCH - EZchip Semiconductor Ltd. – Put options on the maker of Ethernet network processors are active this morning after Kerrisdale Capital announced a short position in the stock, sending shares in EZchip Semiconductor down more than 8.0% in the early going to an intraday low of $21.80. The shares have since rebounded sharply to trade up 0.50% on the session at $23.90 as of 12:35 p.m. ET. The most actively traded contracts on EZchip today are the Mar. $22 strike puts, with upwards of 6,200 lots in play versus open interest of 211 contracts. Time and sales data suggests most of the volume was purchased at an average premium of $0.38 apiece. The intraday recovery in shares of EZchip has not been kind to buyers of the $22 strike puts, with premium on the contracts roughly halving to $0.20 each by 12:45 p.m. ET. Traders long the $22 strike put…

by Option Review - December 16th, 2009 4:04 pm
Today's tickers: UNH, F, EZCH, FBP, XOP, F, BMY, KFT, UNT, TIVO, ADBE & AMED
UNH – UnitedHealth Group, Inc. – Bullish investors stampeded the health and well-being company in late afternoon trading with shares up 3% to a new 52-week high of $32.25. Frenzied call activity on the stock drove option implied volatility up sharply by 19.5% to 45.17% from an intraday low of 37.37%. One investor was ready for the rally today, and banked profits on a previously established call position. The trader likely purchased about 20,000 calls at the now deep in-the-money December 23 strike price for a maximum premium of 3.00 per contract back on October 8, 2009, when UNH shares were at $24.13. Today the trader sold the calls for an average premium of 8.95 each. It looks like the investor took in net profits on the sale of at least 5.95 per contract for a total of $11.9 million. Next, it appears the trader extended bullish sentiment on the stock by establishing a larger call position. A big chunk of 30,000 calls were picked up at the now in-the-money January 31 strike for an average premium of 2.20 each. Thus, the trader breaks even on the new position if shares surpass $33.20 by expiration next month. Other bullish traders initiated call spreads on the stock. One UNH-bull bought 5,000 calls at the in-the-money January 31 strike for about 2.12 apiece, and sold the same number of calls at the higher January 34 strike for 70 cents premium each. The net cost of the spread amounts to 1.42 per contract and yields maximum potential profits of 1.58 apiece if shares rally up to $34.00 by January's expiration day.
F – Ford Motor Co. – A late afternoon, large-volume put spread on the U.S. automaker is likely the work of an investor locking in gains enjoyed during Ford's recent share price rally. Shares reached a new 52-week high of $9.64 during the trading session. The option trader looked to the March 2010 contract to purchase 18,000 puts at the March 9.0 strike for 62 cents apiece, spread against the sale of the same number of puts at the lower March 7.0 strike for 16 cents premium each. The net cost of the protective play amounts to 46 cents per contract. If the investor is indeed holding a long position in the underlying, the value of that…