Posts Tagged 'home sales data'
by ilene - September 2nd, 2010 5:50 pm
Courtesy of DEAN BAKER at CEPR
This column was originally published by The Guardian.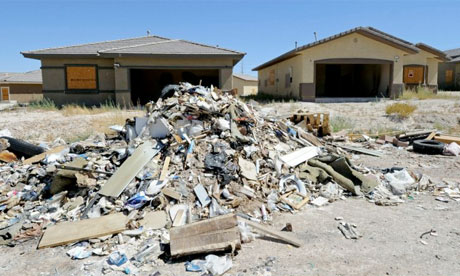 Trash is piled up outside houses at the abandoned Desert Mesa subdivision in Nevada. The north Las Vegas housing authority started the project in 2004, but the entire subdivision has since fallen into foreclosure. Nevada continues to lead the nation in foreclosures, unemployment and bankruptcies. Photograph: Ethan Miller/Getty Images
The howls of surprised economists were everywhere last week as the government reported on Tuesday that July had the sharpest single-month plunge in existing home sales on record. The next day the Commerce Department reported that new home sales hit a post-war low in July.
All the economists who had told us that the housing market had stabilized and that prices would soon rebound looked really foolish yet again. To understand how lost these professional error-makers really are it is only necessary to know that the Mortgage Bankers Association (MBA) puts out data on mortgage applications every week. The MBA index plummeted beginning in May, immediately after the last day (April 30) for signing a house sale contract that qualified for the homebuyers tax credit.
It typically takes 6-8 weeks between when a contract is signed and a house sale closes. The plunge in applications in May meant that homebuyers were not signing contracts to buy homes. This meant that sales would plummet in July. Economists with a clue were not surprised by the July plunge in home sales.
What should be clear is that the tax credits helped to pull housing demand forward. People who might have bought in the second half of 2010 or even 2011 instead bought their home before the tax credit expired. Now that the credit has expired, there is less demand than ever, leaving the market open for another plunge in prices. The support the tax credit gave to the housing market was only temporary.
It is worth asking what was accomplished by spending tens of billions of dollars to prop up the market for a bit over a year with these tax credits. First, this allowed millions of people to sell their home over this period at a higher price than would…