Posts Tagged 'IIIN'
by phil - January 22nd, 2010 8:25 am
Boy, when sentiment shifts – it REALLY shifts!
Suddenly nothing is good enough for this market. A beat from GOOG send the stock plummeting, massive earnings at GS sent the stock lower even before Obama read them the riot act (now called the "Volker Rule"). On the one hand, it's all an overreaction but, on the very large other hand, it's about freakin' time this market finally acted normally and pulled back a little because 10,700 was pretty irrational given the underlying fundamentals.
On the whole, we're loving it as we went to cash last week and played bearish into the drop. Last week I detailed how we had a great time day-trading in both directions and this week we hit it again with our upside DIA play on Wednesday (a 26% winner on the day) and yesterday I sent out a morning Alert to Members at 9:50 saying: "I am for shorting into this morning spike as it's nonsense, especially this run in the Nas – most likely it will reverse but I'd like to see a clear move back to resistance first. QQQQ $45 puts give you great leverage at .56 and you can use $46.20 on the Qs as a stop out, looking for .70+ on the day." We hit .85 by lunch and pulled it just off the day's high for a nice 51% gain on the day.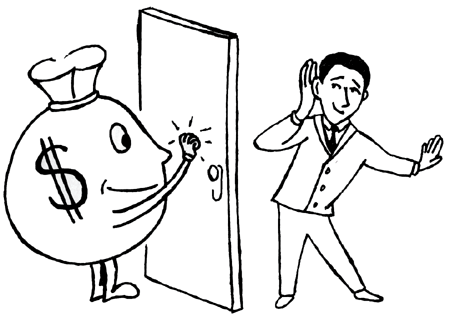 I point this out both to encourage you to subscribe to our Newsletter (all 19,000 subscribers got yesterday's free Alert) as well as to emphasize that WE DO NOT CARE which way the market goes. Yes, I am very bearish on the short-term economy as I feel we are overbought and due for a correction but I also think we are probably OK over the longer term and we are taking advantage of these dips to pick up some long positions. We are opportunistic players and we are investing along the premise I laid out in my 2010 outlook, which was titled "A Tale of Two Economies" as we see a great divide forming between the top 10% and the companies that service them and the bottom 90% of our population who are in dire straights, as are the companies that rely on selling to the masses to make a living.
For an example of "Rich Company/Poor Company" just look at the earnings of two ends of…