Posts Tagged 'Income Distribution'
by phil - February 26th, 2010 6:01 pm
Courtesty of My Budget 360: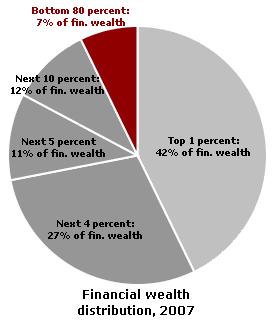 Many Americans are not buying the recent stock market rally.
This is being reflected in multiple polls showing negative attitudes towards the economy and Wall Street. Wall Street is so disconnected from the average American that they fail to see the 27 million unemployed and underemployed Americans that now have a harder time believing the gospel of financial engineering prosperity. Americans have a reason to be dubious regarding the recovery because jobs are the main push for most Americans. A recent study shows that over 70 percent of Americans derive their monthly income from an actual W-2 job. In other words, working is the prime mover and source of their income. Yet the financial elite have very little understanding of this concept. Why? 42 percent of financial wealth is controlled by the top 1 percent. We would need to go back to the Great Depression to see such lopsided data.
Many Americans are still struggling at the depths of this recession. We have 37 million Americans on food stamps and many wait until midnight of the last day of the month so checks can clear to buy food at Wal-Mart. Do you think these people are starring at the stock market? The overall data is much worse:

Source: William Domhoff
If we break the data down further we will find that 93 percent of all financial wealth is controlled by the top 10 percent of the country. That is why these people are cheering their one cent share increase while layoffs keep on improving the bottom line. But what bottom line are we talking about here? The Wall Street crowd would like you to believe that all is now good that the stock market has rallied 60+ percent. Of course they are happy because they control most of this wealth. Yet the typical American still has negative views on the economy because they actually have to work to earn a living: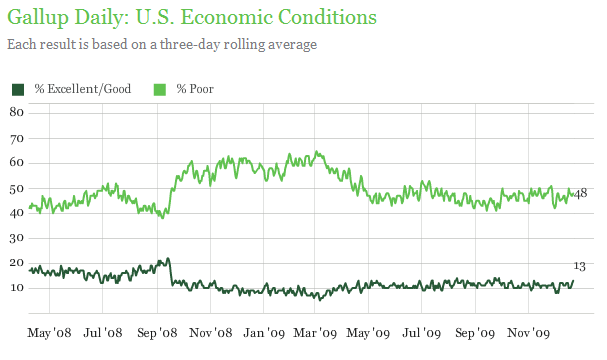 The above daily poll asks Americans about their view on the health of the economy. Only 13 percent believe the economy is good or excellent. Funny how that correlates with the top 10 percent who control 93 percent of wealth. Many Americans were sold the illusion of the bubble. They were sold on the idea that their homes were worth so much more than they really were. …

by phil - February 13th, 2010 8:29 am
Last week we talked about Predatory Lending.
This graphic (click to enlarge) gives a good diagram outline of the basics to avoid. Most of them make their money by charging fees that seem reasonable but turn out to be insane: Payday Loans that can hit you with 360% interest, Rent-To-Own arrangements that have you paying two to three times more than the item costs and, of course, the second greatest scam of them all – Credit Cards – particularly the ones that are supposed to help people "re-establish" their credit. What is a greater scam on the American consumer than credit cards, you may ask? Why your home mortgage of course!"
Now I know you, my sophisticated readers, find it obvious that ARMs and Balloon Payments are bad ideas but, in my previous life in the real eastate title business, I found that even the most savvy investor often fails to consider the long-term costs of even a conventional mortgage. Many people make poor home investing decisions because they don't fully understand the debt they are taking on or the alternatives available to them.
This did not matter when homes went up and up and up because even a bad investment made a little but "this time it IS different" and we may be in for an entire decade in which we may not see ANY rise in the value of homes – this is what has happened to Japan for the last TWO decades. I'm going to go over some of the numbers, give you a few tools and see if we can't find some ways save you $100,000 on a $200,000 loan and show you how to set your kids up for life - does that sound interesting?
Home Costs

Currently homes are, at least, reasonably priced in many parts of the country and the government is offering a first-time home buyer tax credit of $8,000, provided that you stay in the home for 36 months. This isn't a tax deduction like your mortgage interest, which reduces your taxable income – a tax credit actually reduces your total income taxes owed. In addition, some states, such as California, are offering tax credits for home buyers that will further reduce your tax liability. Keep in mind that the federal program ends on April 30th of this year, and while it could end up being extended, it isn't a given.
As a…