Posts Tagged 'inflationary price pressure'
by ilene - February 5th, 2010 2:19 pm
Courtesy of Paco Ahlgren at THE BOTTOM VIOLATION
click to enlarge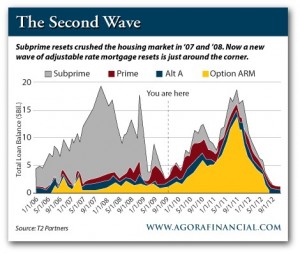 ARMS due to reset again.
Here's the problem: in 2007 and 2008, mortgage rate-adjustments caused massive foreclosures. But remember, relatively speaking, rates were historically low already.
I know what you're going to say. Rates are even lower now. The velocity of money is almost at zero. Upward adjustments aren't realistic at this point. But you're not looking ahead. Global central banks and governments are printing currency and easing rates at a pace we've never seen before in history. Ever.
Yes, the velocity of money may be low. And yes, rates might be low at this minute. But if I'm right about coming inflationary price pressure (which I am), and if I'm right about the fact that we will be facing double- or even triple-digit inflationary price increases (which I am), then adjustable rate mortgages are precisely the place not to be!
There is absolutely nothing pretty about this chart.