Posts Tagged 'iron ore'
by phil - October 24th, 2014 7:58 am
Halloween is just around the corner.
Already the monsters are coming out with two of NY's three papers already maxing out their headline fonts to scream EBOLA!!! to people on their way to work. As I noted to our Member in this morning's Alert (tweeted out too!) that made for easy shorts on the Futures:
Based on Ebola and the upcoming stress tests, I'd have to guess a sell-off is coming today. Shorting /ES at 1,940 (tight stops, of course) and the Dow (/YM) at 16,600 are a lot safer than shorting /TF at 1,100 but all good lines to use and watch. /NQ already failed 4,000.
It's 7:54 and already the Egg McMuffins are paid for on nice drops off those levels and we'll take quick profits and run and hopefully get a chance to re-enter as I don't see this day going well.
We're back to short in our Short-Term Porfolio but less aggressively so than last weekend as we can't ignore the underlying 3.5% gains our indexes have put up this week.
As usual, the Dollar is being knocked down to support the Futures but it's not helping oil much ($81.24) so far. Gold, however, bounced back to $1,233 and silver (/SI) went over our long line at $17.25 (very tight stops below). Gasoline (/RB) was rejected at $2.20 – another sign that the underlying economy is much weaker than these indexes would have you believe.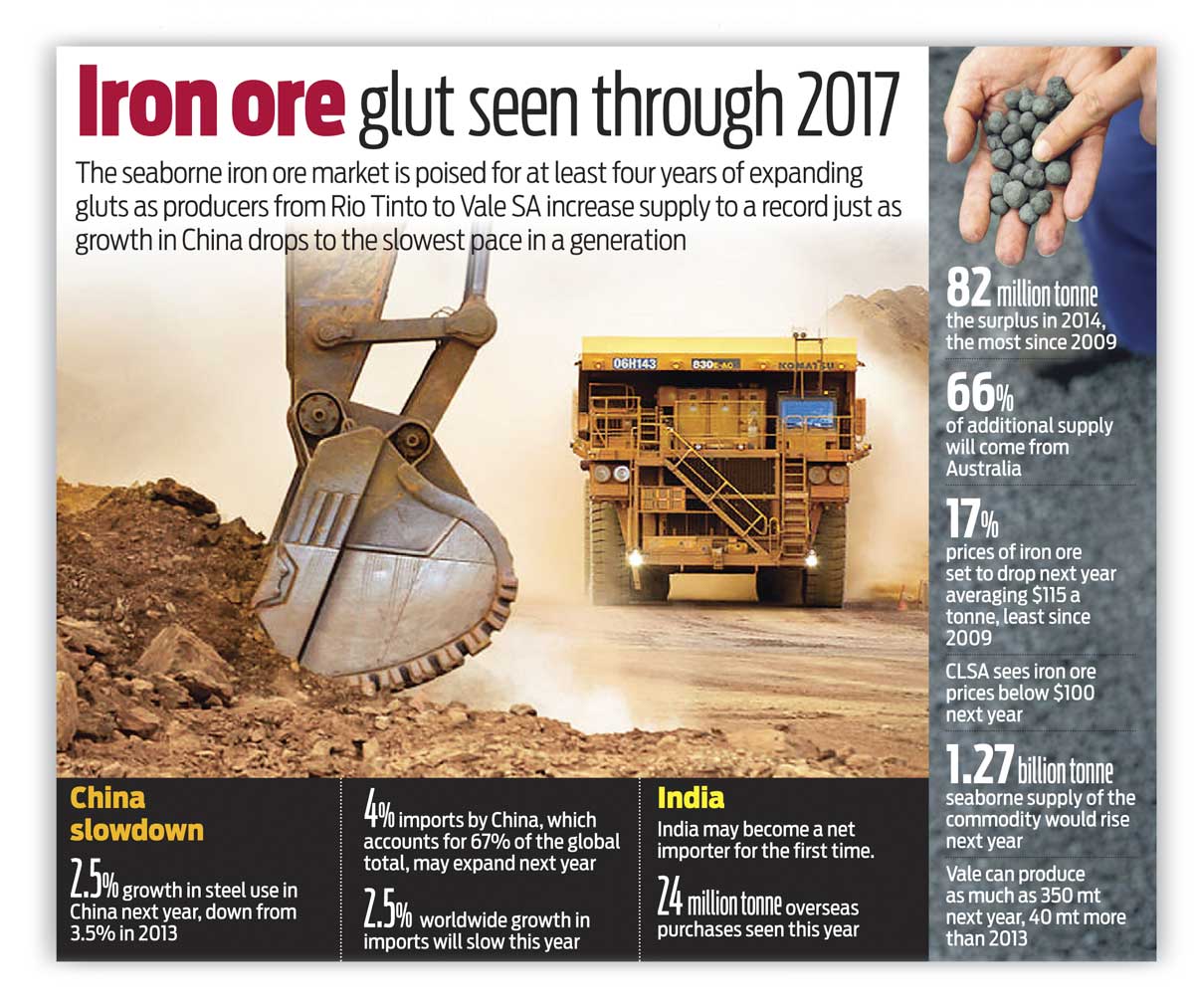 In fact, GS reports today that China has shut 20% of it's Iron Ore production in the face of an inventory glus and prices dropping 40% this year. The market is in the midst of a transition without precedent in recent commodity history as supply jumps and higher-cost mines shut, according to Macquarie Group Ltd. HSBC Holdings Plc, which cut its price forecasts this week, sees a 30 percent slump in Chinese output next year.
"The market currently looks like a game of chicken where no player has blinked," HSBC said. "The major producers are likely to
…

by ilene - December 11th, 2009 4:38 pm
Courtesy of Macro Man
Today's post will be mercifully short, as last night was Macro Man's office Christmas party. Overconsumption of adult beverages has left him nursing a startlingly powerful hangover, and he really hasn't got the energy to do more than point at pictures.
Thankfully, China released a veritable library of data last night that makes for interesting viewing. The latest M2 data confirm that Beijing has been throwing a pretty serious party of its own, with plenty of liquid(ity) provided….
[click on charts to enlarge]
The bill hasn't come yet, so everyone still seems to be having a good time. Even the normally grumpy "foreign devil" guests can't complain too much; hey, just look at that import growth!

Ah, but some early arrivals who drank deeply do indeed to be in the early stages of the same "pounding head, dry mouth, dodgy guts" ordeal that your author is currently enduring. Copper imports have started collapsing back towards trend:

As have iron ore imports:
Strangely, the one commodity sector that seems to be the most resilient is the one with the soggiest price of late, crude:
Of course, China has a relatively lower profile in the oil market than they do in, say, copper. But still, the relative divergence in price fortunes is striking. In any event, it seems as if even China cannot party indefinitely without getting a hangover. Sure, a hair of the dog approach can postpone the pain….but the more that that remedy is pursued, the more painful the hangover will be when it finally comes time to sober up.