Posts Tagged 'Libertarians'
by ilene - March 10th, 2011 1:46 am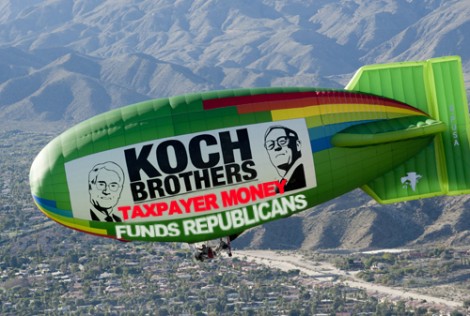 Why are American taxpayers forced to subsidize the billionaire Koch brothers' massive campaign contributions to Republican Party politicians, the Tea Party movement, and policies that ensure greater subsidies to the Kochs, while cutting more public services to the taxpayers who fund the Kochs' business and political activities?
It is an important question, but not one you'll hear discussed much by our political class. Instead, right-wing pundits whinge endlessly about the public sector union bosses' evil schemes to shake down taxpayers for union dues that eventually flow towards the Democratic Party. Here, for example, is Michael Barone, American Enterprise Institute resident fellow and senior Moonie political analyst, complaining in the Washington Examiner last week:
Follow the money, Washington reporters like to say. The money in this case comes from taxpayers, present and future, who are the source of every penny of dues paid to public employee unions, who in turn spend much of that money on politics, almost all of it for Democrats. In effect, public employee unions are a mechanism by which every taxpayer is forced to fund the Democratic Party.
Okay, fine, you're serious about not wanting taxpayer dollars going to finance partisan political campaigns. But before we start talking about public sector unions, let's test this: if think-tank jockeys like Barone are genuinely concerned with saving taxpayers' money, would they extend this concern to the fake private sector (i.e.: the publicly-funded private sector)? Would they be in favor of demanding that publicly subsidized billionaires like Charles and David Koch stop funneling money to fund corrupt Republicans and Tea Party campaigns as long as they keep sucking billions in taxpayer subsidies?
Fair is fair, right?
The Kochs could start by giving up the $1 billion their biofuels division is scheduled to receive in 2011 alone. That's $1 billion in savings from just one of many massive taxpayer subsidies the Kochs profit from. Not only will that help balance the budget, but taxpayers will no longer be forced to watch helplessly as their hard-earned money is used to fund radical right-wing Tea Party Republicans or is spent on causes that deny Americans the same universal health care that every other First World country offers its citizens.
This talk about Koch Industries being a huge beneficiary of taxpayer money might come as a surprise—especially to all the gullible Tea Party libertarians who believe the Kochs actually…

by ilene - August 13th, 2010 6:00 am
Courtesy of PAUL CRAIG ROBERTS writing at CounterPunch
I write about major problems: the collapsing US economy, wars based on lies and deception, the police state based on "the war on terror" and other fabrications such as those orchestrated by corrupt police and prosecutors, who boost their performance reports by convicting the innocent, and so on. America is a very distressing place. The fact that so many Americans are taken in by the lies told by "their" government makes America all the more depressing.
Often, however, it is small annoyances that waste Americans' time and drive up blood pressures. One of the worst things that ever happened to Americans was the breakup of the AT&T telephone monopoly. As Assistant Secretary of the US Treasury in 1981, if 150 per cent of my time and energy had not been required to cure stagflation in the face of opposition from Wall Street and Fed Chairman Paul Volcker, I might have been able to prevent the destruction of the best communications service in the world, and one that was very inexpensive to customers.
The assistant attorney general in charge of the "anti-trust case" against AT&T called me to ask if Treasury had an interest in how the case was resolved. I went to Treasury Secretary Don Regan and told him that although my conservative and libertarian friends thought that the breakup of At&T was a great idea, their opinion was based entirely in ideology and that the practical effect would not be good for widows and orphans who had a blue chip stock to see them through life or for communications customers as deregulated communications would give the multiple communications corporations different interests than those of the customers. Under the regulated regime, AT&T was allowed a reasonable rate of return on its investment, and to stay out of trouble with regulators AT&T provided excellent and inexpensive service.
Secretary Regan reminded me of my memo to him detailing that Treasury was going to have a hard time getting President Reagan's economic program, directed at curing the stagflation that had wrecked President Carter's presidency, out of the Reagan administration. The budget director, David Stockman, and his chief economist, Larry Kudlow, had lined up against it following the wishes of Wall Street, and the White House Chief of Staff James Baker and his deputy Richard Darman were representatives of VP…