Posts Tagged 'NAFTA'
by ilene - August 15th, 2010 5:40 pm
Courtesy of Michael Snyder of Economic Collapse
When they hear the word deficit, most Americans immediately think of the U.S. government budget deficit which is rapidly spiralling out of control. But that is not the only deficit which is ripping the U.S. economy to shreds. In fact, many economists commonly speak of the "twin deficits" that are destroying the U.S. financial system. So what is the "other deficit" that they are referring to? It is the trade deficit. Every single month, we buy much more stuff from the rest of the world than they buy from us. That means that every single month there is a massive outflow of wealth from the United States. Every single day, America becomes just a little bit poorer as Americans continue to run out and fill up their shopping carts with cheap plastic crap from China and dozens of other emerging economies.
Not that trade is a bad thing. Trade can actually be a very good thing. But the gigantic trade imbalances that the United States has been running for years are absolutely bleeding us dry. Unfortunately, our politicians have just stood idly by as each month we continue to transfer massive amounts of wealth out of the United States.
The U.S. Commerce Department recently announced that the U.S. trade deficit increased by 18.8 percent in June to $49.9 billion. Most analysts had expected the figure to be somewhere around 41 to 43 billion dollars.
In the month of June, imports rose to approximately $200 billion while exports fell to about $150 billion.
So can we afford to have a net outflow of 50 billion dollars each and every month?
Of course not.
We had so much wealth as a nation that we could afford to do this for a while,…

by ilene - August 15th, 2010 5:29 pm
Courtesy of Jim Quinn of The Burning Platform
"Men, it has been well said, think in herds; it will be seen that they go mad in herds, while they only recover their senses slowly, and one by one." – Charles Mackay - Extraordinary Popular Delusions and The Madness of Crowds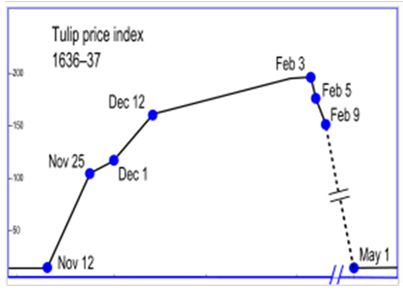 The American public thinks they are rugged individualists, who come to conclusions based upon sound reason and a rational thought process. The truth is that the vast majority of Americans act like a herd of cattle or a horde of lemmings. Throughout history there have been many instances of mass delusion. They include the South Sea Company bubble, Mississippi Company bubble, Dutch Tulip bubble, and Salem witch trials. It appears that mass delusion has replaced baseball as the national past-time in America. In the space of the last 15 years the American public have fallen for the three whopper delusions:
Buy stocks for the long run
Homes are always a great investment
Globalization will benefit all Americans
Bill Bonner and Lila Rajiva ponder why people have always acted in a herd like manner in their outstanding book Mobs, Messiahs, and Markets: Surviving the Public Spectacle in Finance and Politics
:
"Of course, we doubt if many public prescriptions are really intended to solve problems. People certainly believe they are when they propose them. But, like so much of what goes on in a public spectacle, its favorite slogans, too, are delusional – more in the nature of placebos than propositions. People repeat them like Hail Marys because it makes them feel better. Most of our beliefs about the economy – and everything else – are of this nature. They are forms of self medication, superstitious lip service we pay to the powers of the dark, like touching wood….or throwing salt over your shoulder. "Stocks for the long run," "Globalization is good." We repeat slogans to ourselves, because everyone else does. It is not so much bad luck we want to avoid as being on our own. Why it is that losing your life savings should be less painful if you have lost it in the company of one million other losers, we don't know. But mankind is first of all a herd animal and fears nothing more than not being part of the herd."
Stocks for the
…

by ilene - April 24th, 2010 4:41 pm
Full Report: The Economic Elite Vs. The People of the United States of America (Parts I-III)
Courtesy of David DeGraw, AmpedStatus Report
This report was originally released as a six-part series. The first part was published on February 15, 2010. The last part was published on February 27, 2010.
"The American oligarchy spares no pains in promoting the belief that it does not exist,
but the success of its disappearing act depends on equally strenuous efforts
on the part of an American public anxious to believe in egalitarian fictions
and unwilling to see what is hidden in plain sight."
– Michael Lind, To Have and to Have Not

It's time for 99% of Americans to mobilize and aggressively move on common sense political reforms.
Yes, of course, we all have very strong differences of opinion on many issues. However, like our Founding Fathers before us, we must put aside our differences and unite to fight a common enemy.
It has now become evident to a…