Posts Tagged 'nature'
by ilene - July 28th, 2010 11:37 pm
Charles makes an interesting analogy between the banking system and a parasite whose aggressive feeding on its host will eventually lead to its extinction. - Ilene
Courtesy of Charles Hugh Smith Of Two Minds
The current U.S. financial sector has been selected to reap enormous profits off a very narrow ecology of speculation, credit, risk and leverage. That parasitic specialization makes it highly vulnerable to extinction.
One of my projects is to integrate the insights offered by the processes of natural selection into the Survival+ critique and recommendations.
This line of inquiry has led me to ask: is the current financial system as robust and resilient as its many backers claim, or beneath the hype and propaganda, is it actually acutely vulnerable to collapse?
From the point of view of selection, we would start by considering the ecology the system has evolved in, and ask how specialized the system has become--in other words, how dependent is the financial system on narrow and potentially vulnerable sources of energy?
In nature, species which go extinct often do so when they have become increasingly specialized to exploit a narrow source of sustenance. Such species evolve that specialization in order to exploit the windfall offered by a food supply that has fewer (or even no) competitors.
This lack of competition offers the species rich rewards for specializing (long beaks maximized to fit certain flowers, etc.) even as they increase the species' vulnerability to a breakdown or collapse in the limited source of food they have been selected to exploit.
The narrower the base of food and the greater the specialization, the more vulnerable the species will be to reductions in that food source. Thus a plant disease which wipes out the specific flowers will drive the bird with a highly specialized beak to extinction unless it can adapt quickly enough to another food source, or leave that ecology for one with a new source of similar flowers.
The U.S. financial system has already exploited the standard ecologies of capital and lending. How profitable is originating and holding plain-vanilla mortgages? Not very profitable at all, compared to the vast profits generated by securitizing mortgages and writing derivatives against those bundled and tranched loans.
The U.S. financial system in effect stumbled into a new ecology of profitable windfalls that no one else had ever seen or exploited:…

by Chart School - April 22nd, 2010 1:06 am
Courtesy of Michael Clark
Robert Schiller recently posted a chart showing the history of American interest rates in the 20th Century and the history of PE ratios in American stocks.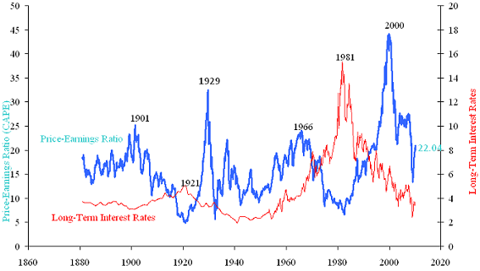 Note the similarity between the historical PE ratios (blue line) and our contention that financial cycles run in 36-year periods, top to top. We don't agree exactly with the dates of economic tops in this chart — but we'renearly in agreement.
We have American economic cycles in the Twentieth Century exhibiting tops in the following years:
TOPS
1893
1929
1965
2001
BOTTOMS
1911
1947
1983
2019
Interest rates should be lowered as we proceed toward economic bottoms and should be raised as we proceed toward economic tops. Had we begun raising interest rates slowly as we approached 2001 then we would have avoided all this mess of this decade — and the coming decade.
We need to realize that Nature has patterns and cycles — and we need to put our human ego aside (the human desire to control nature) and work WITH these cycles, instead of against them.
We CANNOT have perpetual economic expansion in a system that has dual movements of expansion AND contraction. Inflation needs to be followed (each time) by deflation. Our view that inflation is GOOD and deflation is BAD may be true for the rich in the nation but it is not true for the society as a whole.