Posts Tagged 'Overcapacity'
by ilene - July 7th, 2010 12:48 am
By MIKE WHITNEY writing at CounterPunch
Bonds are signaling that the recovery is in trouble. The yield on the 10-year Treasury (2.97 percent) has fallen to levels not seen since the peak of the crisis while the yield on the two-year note has dropped to historic lows. This is a sign of extreme pessimism. Investors are scared and moving into liquid assets. Their confidence has begun to wane. Economist John Maynard Keynes examined the issue of confidence in his masterpiece "The General Theory of Employment, Interest and Money". He says:
"The state of long-term expectation, upon which our decisions are based, does not solely depend, therefore, on the most probable forecast we can make. It also depends on the confidence with which we make this forecast — on how highly we rate the likelihood of our best forecast turning out quite wrong….The state of confidence, as they term it, is a matter to which practical men always pay the closest and most anxious attention."
Volatility, high unemployment, and a collapsing housing market are eroding investor confidence and adding to the gloominess. Economists who make their projections on the data alone, should revisit Keynes. Confidence matters. Businesses and households have started to hoard and the cycle of deleveraging is still in its early stages. Obama's fiscal stimulus will run out just months after the Fed has ended its bond purchasing program. That's bound to shrink the money supply and lead to tighter credit. Soon, wages will contract and the CPI will turn from disinflation to outright deflation. Aggregate demand will weaken as households and consumers are forced to increase personal savings. Here's how Paul Krugman sums it up:
"We are now, I fear, in the early stages of a third depression….And this third depression will be primarily a failure of policy. Around the world … governments are obsessing about inflation when the real threat is deflation, preaching the need for belt-tightening when the real problem is inadequate spending. … After all, unemployment — especially long-term unemployment — remains at levels that would have been considered catastrophic not long ago, and shows no sign of coming down rapidly. And both the United States and Europe are well on their way toward Japan-style deflationary traps.

"I don't think this is really about Greece, or indeed about any realistic appreciation of the tradeoffs between
…

by ilene - November 13th, 2009 8:38 pm
Courtesy of Charles Hugh Smith, Of Two Minds
The global central banks have flooded the world economy with hot money for years. Why has this created massive asset bubbles rather than inflation?
In the 1970s, expanding credit triggered a decade-long bout of high inflation as cheap money chased scarce goods. Why hasn't the massive expansion of credit/hot money of the past decade caused inflation? Short answer: overcapacity.
Let's look at a few charts to recall the enormity of the current credit bubble: the trillions of dollars of credit created, the trillions borrowed in mortgages and other credit to chase asset prices upward, the trillions created as assets like housing rose in bubblicious euphoria, and the trillions extracted from those skyrocketing assets: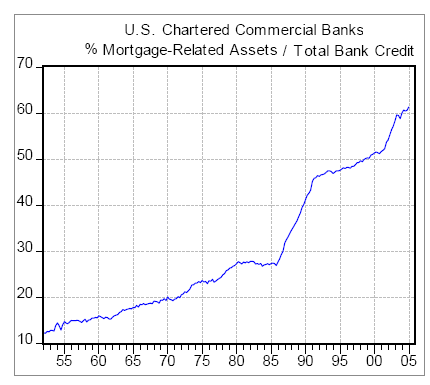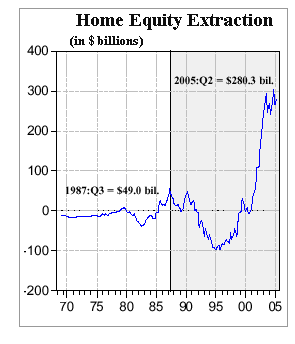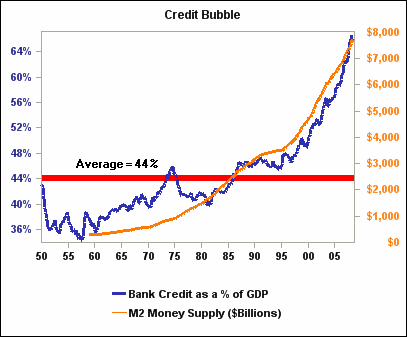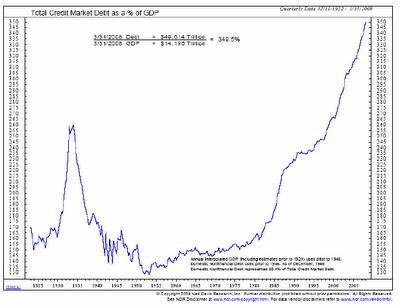 Despite the trillions being created, borrowed and pumped into the economy, inflation remained benign: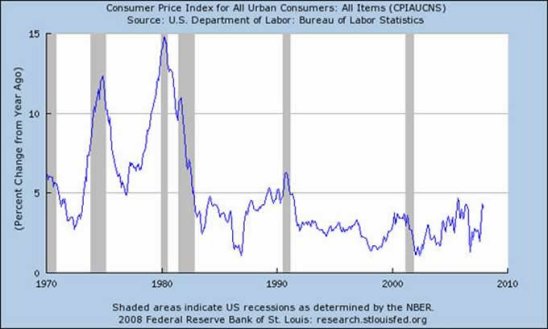 With all that money flowing around, jobs were relatively plentiful, setting a floor under consumption and consumer credit: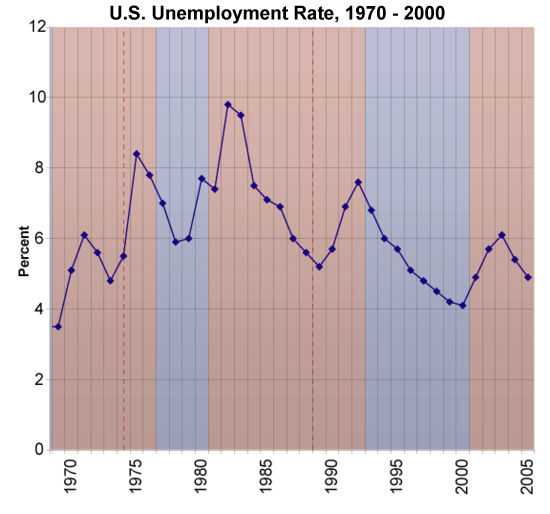 Even as all this money chased goods, services and assets, interest rates fell, earning savers less and less return: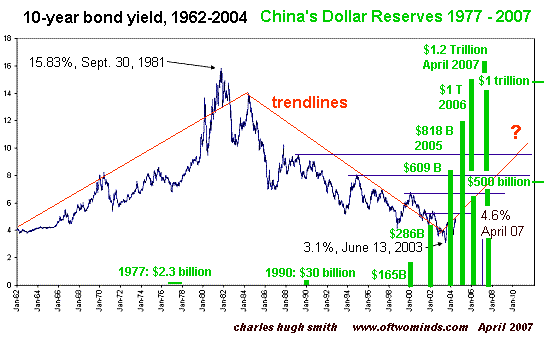 Meanwhile, the capacity to make stuff like steel exploded: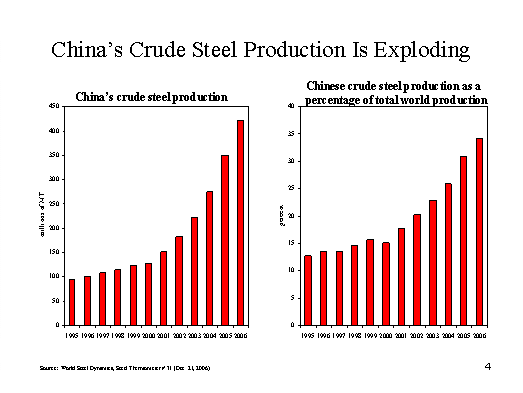 So here's the dynamic which enabled low interest rates and low inflation even as credit exploded and bubbles rose in one asset class after another.
1. Massive expansion of credit was paralleled by a massive expansion of industrial capacity in China and indeed the entire world.
2. This expansion of capacity was matched by an expansion of supply in commodities. As the industrialization of China (one of the so-called BRIC nations--China, Russia, India and Brazil) and other developing nations drove demand for commodities, the incentives to exploit new sources drove up supply of almost everything: oil, iron ore, coffee, etc.
3. While prices have fluctuated in an upward bias, at no time did the cost of commodities rise to levels which threatened global growth except for the oil spike in 2008. Adjusted for inflation, oil is well within historical boundaries even at $80/barrel.
4. To feed the giant credit-dependent machine they'd fostered, central banks kept lowering interest rates and increasing liquidity/money supply. This drove the returns on savings and bonds down to absurdly low levels, forcing money managers to chase riskier assets to make a decent return on investments.
5. This need to earn…