Posts Tagged '"paradox of thrift"'
by ilene - September 2nd, 2010 10:33 am
Rick's updated economic charts are less than encouraging – consumer demand is not improving, nor is the recession over as measured by consumer demand for discretionary durable goods. But Rick would argue against a simple Great Recovery and possible a double dip, in favor of a continuation of the original, complex "dip" – The Great Recession. – Ilene
Courtesy of Rick Davis at Consumer Metrics Institute
The "Great Recession" that began in 2008 has had many nuances, some of which can only be seen in data with higher resolution than that provided by the BEA or NBER. Our day-by-day profile of consumer demand helps us understand triggering events while also making it clear that many recent changes in consumer behavior have begun to linger — much as the recession itself now appears to have done.
We have previously reported that consumer demand for discretionary durable goods is now at recessionary levels after starting to contract on a year-over-year basis on January 15, 2010. On the surface this would indicate a "double-dip" recession following the 2008 economic event. We may have inadvertently promoted the "double-dip" aspect of 2010′s contraction by often graphing the two events superimposed upon each other in our "Contraction Watch" chart — as though they were independent episodes: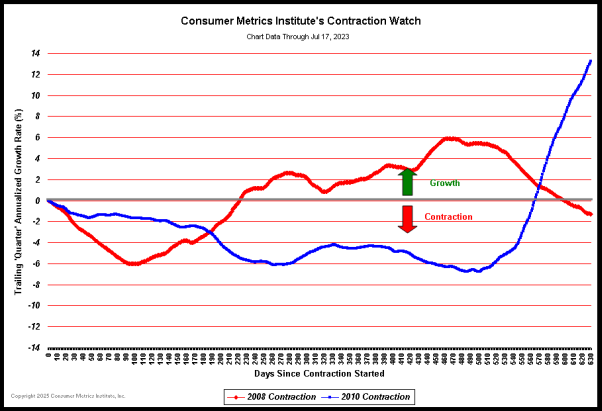 (Click on chart for fuller resolution)
But to even a casual observer there is something unsettling in the above chart, especially if we've been told that the "Great Recession" was a once-in-a-lifetime event that required once-in-a-lifetime amounts of new national debt to fix. Clearly, the 2010 contraction already appears well on the way to equaling or exceeding the "Great Recession" in severity despite those "fixes."
By the end of August, the 2010 contraction had out-lasted the "Great Recession" in duration, and was contracting at a rate that we might expect to see only once in every 15 years. But it is highly unlikely that two fully independent contractions this severe would happen only two years apart — just as the 1937 recession is not generally thought to be just another closely spaced severe recession, but is rather seen in the proper context.
Perhaps we need to take a look at our longer term charts, including our 48 months of Weighted Composite Index data (a nominal…