Posts Tagged 'plutocracy'
by ilene - July 10th, 2010 10:01 am
Courtesy of Charles Hugh Smith Of Two Minds
The con of the decade (Part II) involves sheltering the Power Elites' income while raising taxes on the debt-serfs to pay the interest owed the Power Elites.
The Con of the Decade (Part II) meshes neatly with the first Con of the Decade. Yesterday I described how the financial Plutocracy can transfer ownership of the Federal government's income stream via using the taxpayer's money to buy the debt that the taxpayers borrowed to bail out the Plutocracy.
In order for the con to work, however, the Power Elites and their politico toadies in Congress, the Treasury and the Fed must convince the peasantry that low tax rates on unearned income are not just "free market capitalism at its best" but that they are also "what the country needs to get moving again."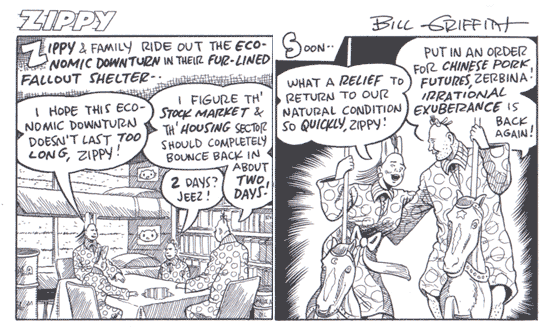 The first step of the con was successfully fobbed off on the peasantry in 2001: lower the taxes paid by the most productive peasants marginally while massively lowering the effective taxes paid by the financial Plutocracy.
One Year Later, No Sign of Improvement in America's Income Inequality Problem:
Income inequality has grown massively since 2000. According to Harvard Magazine, 66% of 2001-2007′s income growth went to the top 1% of Americans, while the other 99% of the population got a measly 6% increase. How is this possible? One thing to consider is that in 2001, George W. Bush cut $1.3 trillion in taxes, and 32.6% of the cut went to the top 1%. Another factor is Bush's decision to increase the national debt from $5 trillion to $11 trillion. The combination of increased government spending and lower taxes helped the top 1% considerably.
The second part of the con is to mask much of the Power Elites' income streams behind tax shelters and other gaming-of-the-system so the advertised rate appears high to the peasantry but the effective rate paid on total income is much much lower.
The tax shelters are so numerous and so effective that it takes thousands of pages of tax codes and armies of toadies to pursue them all: family trusts, oil depletion allowances, tax-free bonds and of course special one-off tax breaks arranged by "captured" elected officials.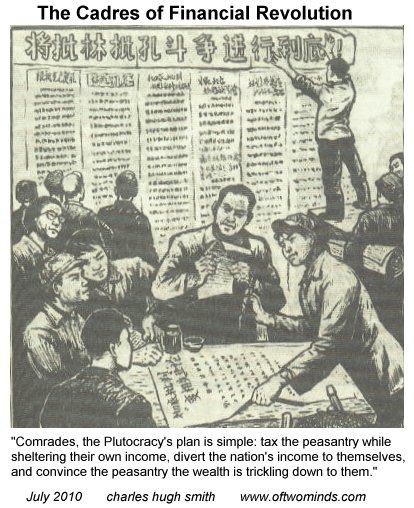 Step three is to convince the peasantry that $600 in…