Posts Tagged 'PTR'
by phil - March 25th, 2010 8:19 am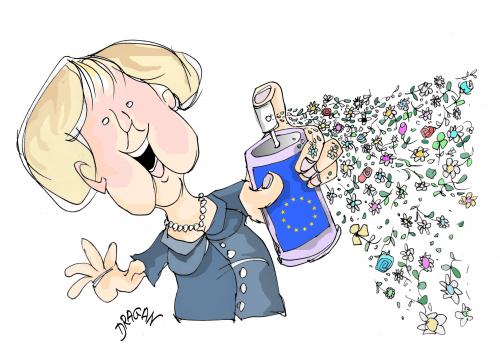 Wow, we got a two-fer today!
In a stunning turn-around, Chancellor Merkel laid out her terms for an aid package for debt-laden Greece, saying she supports loans from the International Monetary Fund and European governments as a last resort if default looms. "A good European is not necessarily one who rushes to assist," Merkel told German lawmakers in Berlin today. "A good European is one who abides by the European treaties and national law and thus sees to it that the euro zone's stability isn't harmed. That's our guidance for all decisions today and tomorrow, and also for the future."
Isn't that great? It's just like when you have to borrow money from a relative and part of the penalty is you have to listen to them lecture you on responsibility etc… Of course, Merkel needs to make it painful because Portugal, Spain, Ireland and Turkey are watching the proceedings very closely but THIS crisis is, for now, off the table as ECB President Jean-Claude Trichet took some pressure off Greece today by extending the bank's emergency lending rules, saying its bonds won't be cut off from ECB refinancing operations next year. Adding even more boost to the market, now that Goldman Sachs has stopped out their sheeple on long Euro bets, their analysts tell us today that the IMF may be giving Greece $27Bn in aid, helping to boost the Euro.
Greek bonds rallied, sending the 10-year yield down 4 basis points to 6.32 percent, 321 basis points above comparable German debt. That extra borrowing cost has risen from 273 basis points on Feb. 11 when the EU vowed "determined and coordinated action" to stanch the crisis. Greece still needs to borrow $13Bn in the next month but it is the rate at which they have to borrow that's been the issue. "The German strategy for the next couple of months is very simple: provide just enough positive rhetoric that investors continue to purchase Greek bonds," said Peter Zeihan, an analyst at Stratfor, a geopolitical risk consultancy in Austin, Texas. "On the flip side, they want to make sure via rhetoric that there's just enough doubt that the markets demand a much higher spread than the Greeks are hoping for. The Germans want to make very sure that the Greeks are punished."
At the same time as Greece is being supported in Europe, Dubai promises to support Dubai World's remaining $9.5Bn…