Posts Tagged 'refinancing'
by ilene - July 12th, 2010 4:02 am
Courtesy of Michael Panzner at Financial Armageddon
Although there are many reasons why it was not a good idea to keep dead and dying businesses alive, to spend and borrow hundreds of billions of dollars for ill-conceived stimulus programs and other boondoggles, to keep interest rates at record lows for an extended period of time, and to encourage people to hang on in hope that a recovery was just around the corner, the biggest issue with not facing the music early on is how daunting the problems have now become. As the New York Times notes in "Crisis Awaits World's Banks as Trillions Come Due," the scale of short-term obligations that have built-up as a result of the decision to extend and pretend — or delay and pray — is frightening, to say the least.
FRANKFURT— The sovereign debt crisis would seem to create worry enough for European banks, but there is another gathering threat that has not garnered as much notice: the trillions of dollars in short-term borrowing that institutions around the world must repay or roll over in the next two years.

The European Central Bank, the Bank of England and the International Monetary Fund have all recently warned of a looming crunch, especially in Europe, where banks have enough trouble raising money as it is.

Their concern is that banks hungry for refinancing will compete with governments — which also must roll over huge sums — for the bond market's favor. As a result, credit for business and consumers could become more costly and scarce, with unpleasant consequences for economic growth.

"There is a cliff we are racing toward — it's huge," said Richard Barwell, an economist at Royal Bank of Scotland and formerly a senior economist at the Bank of England, Britain's central bank. "No one seems to be talking about it that much." But, he added, "it's of first-order importance for lending and output."

Banks worldwide owe nearly $5 trillion to bondholders and other creditors that will come due through 2012, according to estimates by the Bank for International Settlements. About $2.6 trillion of the liabilities are in Europe.

U.S. banks must refinance about $1.3 trillion through 2012. While that sum is nothing to scoff at, analysts seem most concerned about Europe because the banking system there is already weighed down by the sovereign debt crisis.

How banks will come up
…

by ilene - June 3rd, 2010 11:30 pm
Consumer Metrics Institute Personal Finance Index Continues to Deteriorat
e
Courtesy of Rick Davis at Consumer Metrics Institute
Below is an addendum to the update sent out on Tuesday, addressing new data reflecting changes in consumer behavior concerning their debt:
The Consumer Metrics Institute's Personal Finance Index continued its decline for the sixth consecutive week, with it now showing a year-over-year decline in consumer confidence in excess of 40%.
This contrasted sharply with the situation as recently as the end of January 2010, when the same measure of confidence was showing a year-over-year gain in excess of 7%. The Consumer Metrics Institute's Personal Finance Index is composed of a number of data series, some of which collect transactions that are precursors to the initiation of default and/or foreclosure activities. The levels of these negative activities are inverted before being included in the 'Personal Finance Index', so that a rapid rise in Consumer transactions with default and foreclosure counseling services, for example, will drive that particular index down.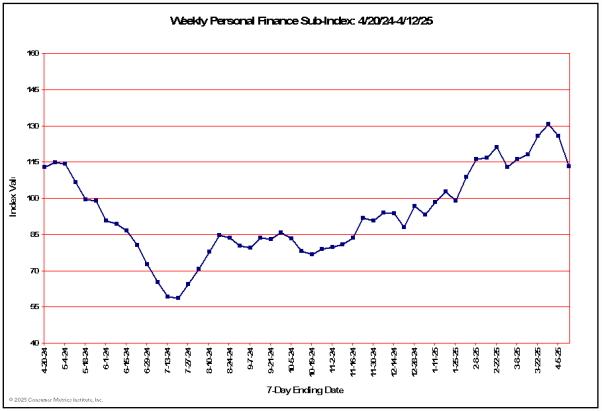 [http://www.consumerindexes.com/weekly_personal_finance.png]
The Personal Finance Index is not alone in reflecting continued weakness. In fact, our 'Weighted Composite Index' (which is by far our best daily aggregate measure of the consumer 'demand' side of the economy) has shown a relatively steady deterioration since peaking in August 2009, with the trailing month now recording contraction in excess of 2%.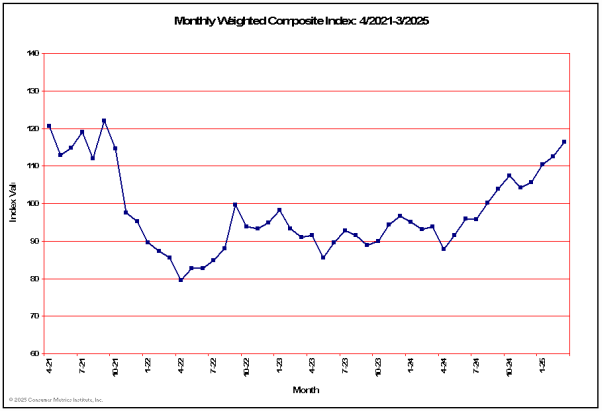 [http://www.consumerindexes.com/monthly_weighted_composite.png]
The sliding 'trailing quarter' as reflected in our 'Daily Growth Index' has also reached a level consistent with a year-over-year contraction rate of about 2%, after initially dropping into net contraction on January 15th. When compared to previous contraction events in 2006 an 2008 this particular episode of contraction in consumer demand is following a unique profile: at it's worst it is still milder than the mild 2006 event but it has gone on longer than even the 2008 event without forming a clear bottom.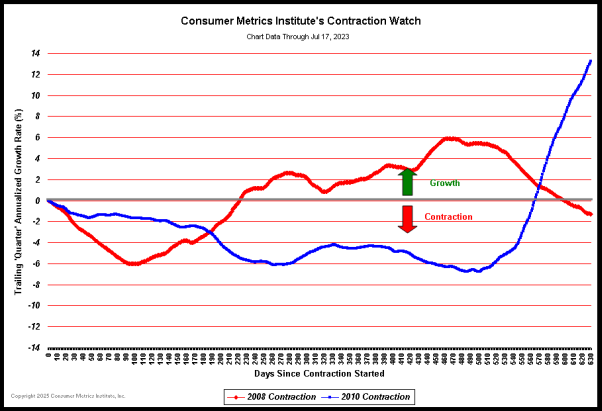 [http://www.consumerindexes.com/commentary_2010_contraction_watch.png]
If the housing market is expected to recover soon, a significant increase in demand for residential real estate loans will need to be occurring in the near future. Although there has been a recent minor upturn in consumer interest in refinancing on a year-over-year basis, it may only be a sign that consumers are beginning to expect that the historically low mortgage rates are nearing an end.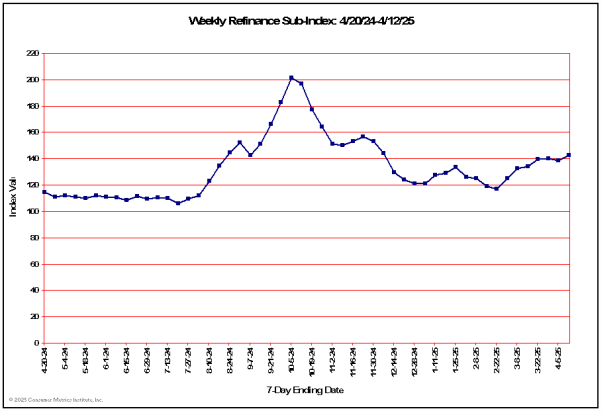 [http://www.consumerindexes.com/weekly_refinance.png]
A more telling development would be for a similar upturn in consumer interest in new loans, which we…

by ilene - April 28th, 2010 2:00 am
Courtesy of JESSE'S CAFÉ AMÉRICAIN
Here is a working paper by William K. Black about 'control frauds' and how they relate to the most recent credit crisis in the United States, a breakdown of stewardship that has placed the rest of the world's financial sector at risk as well.
Control frauds are by their very nature conspiratorial in that they involve the suborning of regulators, ratings agencies, exchanges, the media, and legislators to ignore and facilitate misrepresentation that enable white collar crime. They are difficult to prosecute because by their nature they involve twisting the legal into the extra-legal on a broad basis to achieve a particular financial effect, while limiting many specific aspects to the letter of the law, or at least the gray areas.
By and large they operate in the shadows, hiding behind secrecy and a general mindset towards short term greed and lapses in ethics. Investigations following the Crash of 1929 and the S&L crisis demonstrated that the existence of such pervasive lapses in stewardship do exist.
Personally I think the significant short positions in the silver market may be a form of control fraud. This is why so much effort and care is being taken by some individuals and groups to discover the extent and nature and holders of the short positions that are dominant. And this is why the participants are so vociferous and secretive regarding their activities.
To those who say that the commodity markets are too large, and too well regulated for this sort of thing to occur, this is the sort of fraud that Enron used to manipulate the energy markets, to the extent that they were able to cause significant social and commercial disruption to the state of California.
More on this another time. For now understanding how these frauds work is enough to study in instruments such as home mortgages. And most people do not need to understand this. But here is a good point for the average person to keep in mind.
Light is a good disinfectant. Fraud cannot bear exposure. While some confidentiality must be maintained in trading, obsessive secrecy regarding significantly large positions and collateral matters is often an indication that something is not right, that it is hidden from the market participants view for…