Posts Tagged 'ruling elite'
by ilene - August 15th, 2010 5:29 pm
Courtesy of Jim Quinn of The Burning Platform
"Men, it has been well said, think in herds; it will be seen that they go mad in herds, while they only recover their senses slowly, and one by one." – Charles Mackay - Extraordinary Popular Delusions and The Madness of Crowds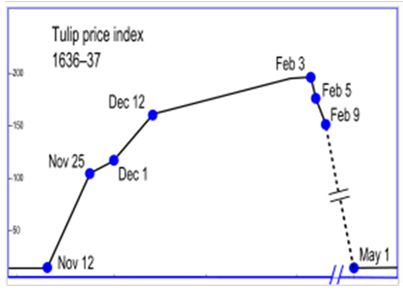 The American public thinks they are rugged individualists, who come to conclusions based upon sound reason and a rational thought process. The truth is that the vast majority of Americans act like a herd of cattle or a horde of lemmings. Throughout history there have been many instances of mass delusion. They include the South Sea Company bubble, Mississippi Company bubble, Dutch Tulip bubble, and Salem witch trials. It appears that mass delusion has replaced baseball as the national past-time in America. In the space of the last 15 years the American public have fallen for the three whopper delusions:
Buy stocks for the long run
Homes are always a great investment
Globalization will benefit all Americans
Bill Bonner and Lila Rajiva ponder why people have always acted in a herd like manner in their outstanding book Mobs, Messiahs, and Markets: Surviving the Public Spectacle in Finance and Politics
:
"Of course, we doubt if many public prescriptions are really intended to solve problems. People certainly believe they are when they propose them. But, like so much of what goes on in a public spectacle, its favorite slogans, too, are delusional – more in the nature of placebos than propositions. People repeat them like Hail Marys because it makes them feel better. Most of our beliefs about the economy – and everything else – are of this nature. They are forms of self medication, superstitious lip service we pay to the powers of the dark, like touching wood….or throwing salt over your shoulder. "Stocks for the long run," "Globalization is good." We repeat slogans to ourselves, because everyone else does. It is not so much bad luck we want to avoid as being on our own. Why it is that losing your life savings should be less painful if you have lost it in the company of one million other losers, we don't know. But mankind is first of all a herd animal and fears nothing more than not being part of the herd."
Stocks for the
…

by ilene - August 2nd, 2010 7:36 pm
Courtesy of Jim Quinn at The Burning Platform
We have arrived at critical juncture in the ongoing financial crisis. Have the government actions of the last year successfully spurred the animal spirits of Americans, resulting in a self-sustaining recovery?
The Obama administration and most of the mainstream media would answer yes. GDP has been positive for the last four quarters. Consumer spending has increased in five consecutive months. Corporate profits have been relatively strong. The country has stopped losing jobs. The missing piece has been a housing recovery.
No need to worry. Famous or infamous (depending on your point of view) $15 billion man John Paulson has assured the world that house prices will rise 8% to 10% in 2011. His basis for this forecast is that California prices have rebounded 8% to 10% in the last year, and this recovery will spread to the rest of the nation.
Maybe Paulson has teamed up with his buddies at Goldman Sachs to develop a product that guarantees a housing recovery. I tend to not believe anything that comes out of the mouth of anyone associated with Wall Street, but let's assess the facts and see if they point to an impressive housing recovery in 2011.
The man who has been right on housing for the last ten years has been Yale Professor Robert Shiller. His analysis of U.S. housing prices from 1890 until present, which he first published in 2005, unequivocally proved that we were in the midst of the greatest housing bubble in history. At the same time, David Lereah, the chief economist (shill) for the National Association of Realtors, was pronouncing it was the best time to buy. He published his masterpiece of market tops, Are You Missing the Real Estate Boom? at the 2005 housing peak. He called a bottom in January 2007, and the NAR has continued to tell Americans it is the best time to buy for the last five years as prices have dropped 36% nationally.
Dr. Shiller continues to be the voice of reason when it comes to the housing market. He is doubtful that the recent "recovery" will continue:
"Recent polls show that economic forecasters are largely bullish about the housing market for the next year or two. But one wonders about the basis for such a positive forecast. Momentum may be on the forecasts'
…