Posts Tagged 'season of the witch'
by ilene - September 28th, 2009 6:12 pm
Here's a weekly dose of economic poetry by James Kunstler. – Ilene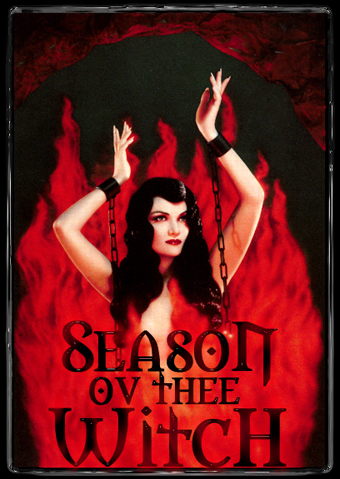 Courtesy of James Howard Kunstler
In my father's house are many mansions. Surely one of them has a room with no elephants in it….
Not to crunch too many metaphors right here at the top, but a consensus seems to be firming up in the animate jello of the Internet that we have entered the Season of the Witch. An odor of ripeness fills the virtual air — something between dead carp and apples baking. Whatever else appears to be going on in the upper stories and verdigris-tinged turrets of capital finance — currency rackets, gold switcheroos, interest rate arbitrage games, concealment of losses under rugs and behind curtains, Chinese fire drills performed by Spanish prisoners, executive three-card-monte set-ups, boardroom work-arounds, accounting quicksteps, Peter-to-Paul-shuffles, check kitings, pigeon drops, Ponzi schemes, hugger-muggers, bezels, shucks, jives, and enough monkeyshines to make Lord Greystroke cry for mercy — apart, in other words, from business-as-usual, such as it is these days, on Wall Street, there is a rising collective sense of anxious expectation that things are about to shake loose in the sad-ass shell of what remains of our economy. And the most perplexing part is that there hardly seems any safe place to preserve one's savings.
The showmen over at the Financial Sense website, have put on an excellent month-long series of interviews and debate podcasts between leading inflationistas and deflationistas — Daniel Amerman, Peter Schiff, Robert Prechter, Mark Faber, "Mish" Shedlock, Harry Dent — and after weeks of sedulous listening I still remain flummoxed as to where to stash the dwindling cash.
Harry Dent was a curious case in point this week. He has made some howlingly wrong calls before (e.g. in 2006, predicting a Dow 40,000 at the conclusion of the post-2001 bubble). Perhaps he missed the crack-up aspect of the most recent boom. He did not foresee the long gruesome meltdown of late 2007 to March 2009, or rather, his timing was off, since he called for the commencement of a new Great Depression in 2010. (And I hasten to insert here that my own timing of events has not been so great either.) Anyway, Dent sees a "winter" of finance and economy looming from here forward, characterized by extreme deflation, based…