Posts Tagged 'SPPI'
by ilene - April 18th, 2010 2:51 pm
Courtesy of Pharmboy
Cancer is characterized by a group of abnormal cells that grow and replicate uncontrollably. These cells' rapid replication allows them to invade adjacent tissues and organs and even spread to other parts of the body. As they replicate, they can crowd out organs, preventing the body's essential processes from occurring normally. Cancer, if left untreated, can hinder the body's organs from performing their functions enough to cause death.
Cancer is the second leading cause of death in the U.S. in 2009. Figures 1 and 2 show the Male and Female breakdown of different cancer types from the CDC (as of 2006) and we can understand why now prostate and breast cancer research top the list. Next comes lung, and Figure 3 shows a adenocarcinoma in the lung.
Number of deaths for leading causes of death:
Heart disease: 631,636
Cancer: 559,888
Stroke (cerebrovascular diseases): 137,119
Chronic lower respiratory diseases: 124,583
Accidents (unintentional injuries): 121,599
Diabetes: 72,449
Alzheimer's disease: 72,432
Influenza and Pneumonia: 56,326
Nephritis, nephrotic syndrome, and nephrosis: 45,344
Septicemia: 34,234
Figure 1. Top 10 Cancers: Male
Figure 2. Top 10 Cancers: Female
Figure 3. Adenocarcinoma – Lung cancer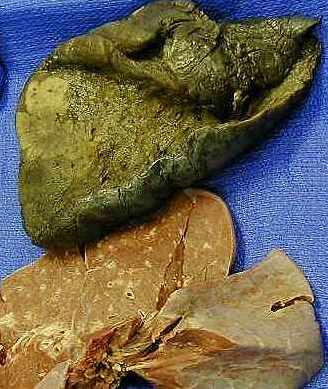 For about 40 years, the pharmaceutical and government sponsored research have waged a war on cancer, and many think that it has been a failure as the age-adjusted mortality rate for cancer is essentially unchanged over that time. But that's a deceptive metric. S. Dubner points out that the "flat mortality rate actually hides some good news. Over the same period, age-adjusted mortality from cardiovascular disease has plummeted, from nearly 600 people per 100,000 to well below 300. What does this mean? Many people who in previous generations would have died from heart disease are now living long enough to die from cancer instead."
BusinessWeek had an article on the costs of life, and as the population ages and the baby boomers start to retire, how are we to think about the costs associated with fighting cancer?
Eric C. Sun et al. ("An Economic Evaluation of the War on Cancer" (link) 2010) attempt to measure the degree to which R&D spending on cancer has benefited not only the life expectancy, but also the social and economic value to the economy.
For decades, the U.S. public and private sectors have committed substantial resources towards cancer research, but the societal
…

by ilene - March 24th, 2010 2:01 pm
Second coming of the calm before the storm; fear not, there's time to find shelter. - Ilene
Courtesy of Pharmboy, member of Phil's Stock World
This is a brief article of where the pharmaceutical industry has been, and where it could be headed in the near future. In contrast to past articles where I focused on the pipelines of GSK, LLY, MRK, BMY and 'biotechs' GENZ, GILD, and others, this is a summary of the industry. The overall market continues its grind up and I am gun-shy of its continued direction, but with the passage of the health care bill, biotechs that serve niche markets will be well positioned to see a rise both in stock price and potential M&A activity. In addition, as noted on Friday, March 19th on the laggers/leaders of the past month or so, Telecom and Healthcare were at the bottom of the pile. For the review of Big Pharma and some biotech picks at the end, generic companies are excluded from most data (Merck KGaA, Mylan, Teva and Watson).
From 2002 to 2009, the top pharmaceutical companies by sales had growth rates greater than 12% (compounded annually). Unfortunately, this growth is not sustainable and should move towards flat to nominal growth by 2014. The growth decline will challenge these companies to seek more profitable routes, including licensing and acquisitions. Picking the right companies based upon the science is at the forefront of good investing. Not they will all succeed because the science is sound, but understanding the molecule, target, and the disease helps guide smart decisions. Good management helps as well!
Let's start with a summary of potential acquirers. Table 1 is a list of the 15 largest pharmaceutical and biotech companies ranked by healthcare revenue. Some companies (e.g., Bayer and Johnson) have additional revenue which is not included the sales data.
Table 1. Top 13 Pharma Companies in Sales (2009)
Rank

Company

Sales ($M)

Based/Headquartered in

1

Pfizer

50,001

US

2

Hoffmann–La Roche

46,300*

Switzerland

3

Merck & Co.

45,930**

US

4

Novartis
…

by phil - August 29th, 2009 8:28 am
It has been a crazy few weeks!
I went back over our Long Shots list from August 9th, thinking all our picks must be doing great but really only C, with a 67% gain, is really outperforming. Long spreads on UYG and BHI are on target for nice gains but haven't moved much. Looking at our original picks in Pharmboys Phavorites from the same week, GSK is on track and up nicely already, our AZN cover is up 45% and MRK flew up 19% already. On the riskier Biotech side, ARIA's stock is up 16% and our spreads are all performing well, ONTY has been flat, OGXI is up 33% and the Jan $17.50s are up a rockin' 63% with that "cautious" spread up a surprising 75% already.
SPPI had a wild ride (as we predicted with TSCM's failed assassination attempt) and the buy/write is already up 24%, the Feb vertical is up 50% and the naked Jan put sale is up 27% and our Feb hedge play is right on track so all good there and a fine example of how following Cramer and his lackeys and and doing the opposite of what they say can be very profitable! Congrats to Pharmboy for a very fine set of picks, proving once again that there is room for research and fundamentals - not a single loser in the bunch in a choppy market! It was very timely as I had mentioned just that week in my interview with AOL Finance that XLV was my favorite sector and our IHI pick of 8/10 is up 28% on the naked Feb $45 put sale while the Feb $45 calls have already jumped 16%. It was a great call as IHI outperformed XLV and all our major indexes.
So our energy service pick (BHI) and overall financial pick (UYG) have not done much in 3 weeks and those were our leading sectors into my call to cash out our exposed long calls on Aug 13th, ahead of expirations. The Dow was at 9,400 on that day and now, a bit more than 2 weeks later, we've gained another 144 points but to listen to the MSM, you would think you are missing the rally of the century the past couple of weeks. This is one of the reasons I've gotten a bit more cynical about the…

by phil - August 8th, 2009 3:02 pm
Greetings PSW members from Pharmboy!
This is my first shot at writing a formal post for everyone on a few biotech/pharma picks that I believe have promise for nice returns over the next 6 to 18 months. Much of the work here is a compilation of readings elsewhere, summarized for you all to make your own conclusions. Here we go:
Big Pharma



GlaxoSmithKline (GSK) – has a robust pipeline in inflammation, cancer and other therapeutic areas. A few line extensions could do well generic simvistatin (Zocor) + Avandia) for cardio/diabetes. Will compete against Vytorin, and others like it. In the pipeline, GSK has an Orexin antagonist for sleep disorders (very hot area), several drugs for asthma/COPD in Phase II including a PDE-4 and FLAP inhibitor. The asthma/COPD drugs have huge potential as a monotherapy or in some combination, as they are the newest line of therapies that have come along for asthma/COPD in some time (GSKs strength). GSK also has a VLA4 antagonist for multiple sclerosis in phase II.
This is the first I have seen of this in a pipeline for clinical trials. VLA4 is the target of Tysabri from BIIB. One hypothesis is that a small molecule that binds to the receptor but does not completely knock out the receptor like a mAb may be better for MS patients. Remember, Tysabri has a potential of a rare neurological condition progressive multifocal leukoencephalopathy (PML) when administered in combination with interferon beta-1a, another immunosuppressive drug often used in the treatment of multiple sclerosis.
One other note for growth, Amgen (AMGN) revealed its commercialization strategy for osteoporosis treatment, denosumab, one of the most keenly anticipated new drugs set to reach the market for several years, naming GlaxoSmithKline (GSK) as partner in Europe and other countries. GSK has several cancer treatments as well as vaccines in various stages, so it is my belief that…