Posts Tagged 'The Fourth Turning'
by ilene - November 11th, 2009 10:29 pm
Jim believes the worst is yet to come and paints a very frightening picture, like nothing most of us have ever seen. – Ilene
Courtesy of Jim Quinn at The Burning Platform
There's something happening here
What it is ain't exactly clear
There's a man with a gun over there
Telling me I got to beware
I think it's time we stop, children, what's that sound
Everybody look what's going down
Stephen Stills wrote the song For What It's Worth in 1967. It was composed three years into the Second Turning, the Consciousness Revolution. The song has come to symbolize the turbulence, mistrust, rage, paranoia, anti-war spirit, and the anti-establishment mood of the 1960's. An Awakening era has many parallels to a Crisis era at the outset. A traumatic event or events triggers the mood alteration in the country which sets the next twenty years in motion. In 1929 the stock market crash triggered a 17 year Crisis. In 1963, the assassination of John F. Kennedy triggered a 20 year Awakening. In 2005, the housing collapse has triggered the next American Crisis which we are living through today.
"All political thinking for years past has been vitiated in the same way. People can foresee the future only when it coincides with their own wishes, and the most grossly obvious facts can be ignored when they are unwelcome."
George Orwell
We are currently at the same stage of this Crisis as we were in the Awakening when Stephen Stills wrote this deeply poignant song. An Awakening begins in an uproar of fury, passion, anger, and civil disobedience. The fury subsides during an Awakening as the passion flames out. The last Awakening period reached a crescendo in 1974 with the resignation of Richard Nixon and the country lapsed into disillusionment and lethargy as the 1970's petered out. A Crisis begins similarly with a trigger that causes pain and suffering, but instead of fury subsiding, the Crisis intensifies, violence erupts, war breaks out and danger becomes extreme. The current Crisis is about to detonate upon the unwary twittering Americans while they are mesmerized watching Dancing with the Stars and Housewives of New Jersey on their 52 inch HDTVs in surround
…

by ilene - October 21st, 2009 10:14 pm
Jim Quinn presents a most dire prediction of our national journey into a hellish nightmare, the worst yet to come.
Was it all foretold in this incredible song? – Ilene
Don McLean – American Pie – Live On Imus In The Morning
Courtesy of Jim Quinn at The Burning Platform
"The whole problem with the world is that fools and fanatics are always so certain of themselves, but wiser people so full of doubts."
Bertrand Russell
Don McLean was born in 1945 and grew up in New Rochelle, New York. He was one of the earliest Baby Boomers. He was born at the beginning of America's last High, as described by Strauss & Howe in their book The Fourth Turning. America's victory in World War II began a new 80 to 100 year cycle consisting of four turnings of 20 to 25 years. The four cycles are a High, an Awakening, an Unraveling and a Crisis. These cycles have been recurring throughout history due to the generational mood changes as people age. Don McLean grew up during a High. This was an episode of safety and security. He basked in "Dr. Spock permissiveness, suburban conformism, Sputnik-era schooling, Beaver Cleaver friendliness, and Father Knows Best family order." His idyllic life changed on the morning of February 3, 1959 when he read the headline in the newspaper he was about to deliver.
A long long time ago
I can still remember
How that music used to make me smile
And I knew if I had my chance
That I could make those people dance
And maybe they'd be happy for a while
But February made me shiver
With every paper I'd deliver
Bad news on the doorstep
I couldn't take one more step
I can't remember if I cried
When I read about his widowed bride
But something touched me deep inside
The day the music died
So bye, bye Miss American Pie
Drove my Chevy to the levee but the levee was dry
And them good old boys were drinking whiskey and rye
Singing this'll be the day that I die

…

by ilene - October 9th, 2009 2:23 pm
This is an interview of Neil Howe, co author of The Fourth Turning, published in The Casey Report. - Ilene
Into the Fourth Turning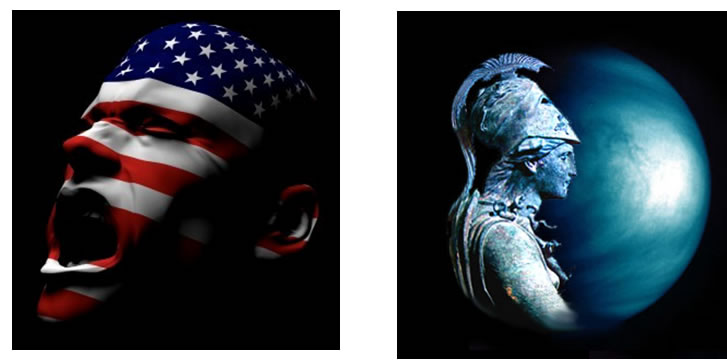 The Fourth Turning is a prescient book Neil Howe wrote with the late William Strauss in 1997. The work, which describes generational archetypes and the cyclical patterns created by these archetypes, has been an eye-opener to those exploring the notion that history repeats itself. At the time the book was published, the Boston Globe stated, "If Howe and Strauss are right, they will take their place among the great American prophets." [paraphased from Casey Research]

DAVID GALLAND: Could you provide us a quick introduction to generational research?
NEIL HOWE: We think that generations move history along and prevent society from suffering too long under the excesses of any particular generation. People often assume that every new generation will be a linear extension of the last one. You know, that after Generation X comes Generation Y. They might further expect Generation Y to be like Gen X on steroids – even more willing to take risk and with even more edginess in the culture. Yet the Millennial Generation that followed Gen X is not like that at all. In fact, no generation is like the generation that immediately precedes it.
Instead, every generation turns the corner and to some extent compensates for the excesses and mistakes of the midlife generation that is in charge when they come of age. This is necessary, because if generations kept on going in the same direction as their predecessors, civilization would have gone off a cliff thousands of years ago.
So this is a necessary process, a process that is particularly important in modern nontraditional societies, where generations are free to transform institutions according to their own styles and proclivities.
In our research we have found that, in modern societies, four basic types of generations tend to recur in the same order.
DAVID: The four generational archetypes. Can you provide a sketch of each for those of our readers unfamiliar with your work?
HOWE: Absolutely.
The first is what we call the Hero archetype. Hero generations are usually protectively raised as kids. They come of age at a time of emergency or Crisis and become known as young adults for helping society resolve the Crisis, hopefully successfully. Once the Crisis is resolved, they become institutionally powerful in…