Posts Tagged 'Top 10%'
by phil - August 22nd, 2014 7:44 am
Hang on to your hats!
Janet Yellen speaks at 10 am, EST and she's scheduled to discuss her "Labor Dashboard" and, from that, the pontiffs will then attempt to read the tea leaves of Future Fed action. She'll likely note that the Labor Market is generally improving but that there is no immediate reason to raise rates. The definition of immediate will be much debated.
If that does not confuse us enough, we will hear from 7 of the Fed Dwarves as well including Williams, Lockhart, Plosser and Bullard. Draghi takes the stage at 2pm, EST. In case Yellen's empty promises don't do the trick, Draghi is sure to have even emptier ones – whatever it takes to end the week on a positive note!
Still, we're playing the day bearish (we added bear plays in yesterday's Live Member Chat and we're short /YM below 17,000 along with other Futures) as it's hard to imagine what Yellen and company can possibly say that they haven't already said. Unlimited amounts of FREE MONEY forever is already priced into market expectations – anything less will be a severe disappointment. Any firm mention of ending QE in the next 12 months can send the markets down sharply. As "clarified" by Goldman Sachs:
With opinions mixed as to whether or not Jackson Hole will be the forum for Yellen to say something new, many are trying to figure out if it is a buy the rumor and then buy more after the fact event, a buy the rumor sell the fact event, or a do nothing with the rumors and then buy the fact if the USD is actually rallying after the fact event.
According to Zero Hedge, only "Full Doveish" statements are likely to lift the markets at this point. Those would be for Yellen to:
…

by phil - July 4th, 2010 5:57 pm
"The average age of the world's greatest civilizations has been two hundred years. These nations have progressed through this sequence. From bondage to spiritual faith; from spiritual faith to great courage; from courage to liberty; from liberty to abundance, from abundance to complacency; from complacency to apathy, from apathy to dependence, from dependence back into bondage." – Professor Joseph Olson
Is America, then, living on borrowed time? Are we so far past our prime and so into old age as a civilization that we are now senile and oblivious to our present surroundings, causing a danger to ourselves and others? Do we find ourselves living in the past and repeating the same old tales of our former glories over and over again to anyone who will listen? Are we barely kept alive by various medications that only stave off conditions that are getting worse every day while still imagining that, if there were a need, we could rise up and be strong again — but not today as there's rice pudding for desert and we don't want to miss that!
Well I have news for you – This country isn't old and it isn't sick but it has been drugged and it has been beaten down and robbed and I am going to tell you that I not only saw it happen, but I think I got a pretty good look at the 10,000 guys who did it. It was the top 0.01%! Who are the top 0,01%? They are the top 10,000 income earners in the United States of America. If you THINK you are in the top 0.01%, you are not. People in the top 10,000 know only KNOW they are in the top 0.01% but they know where they rank as well. The median ANNUAL income of a person in the top 0.01% is $50,000,0000. They have $350,000,000 in assets and, since 1978, that is an increase of 550% – how have you done the past 30 years?
Now we are (or used to be) a pretty rich country and the median income of the 118M people who earn enough money to pay income taxes is about $50,000 but the cost of living in the same country as people who earn an average of 976 times more than that is pretty high as well (see "The Dooh Nibor Economy"). Even worse, The 10,000 paid just $112Bn in taxes last year – that's…

by phil - February 26th, 2010 6:01 pm
Courtesty of My Budget 360: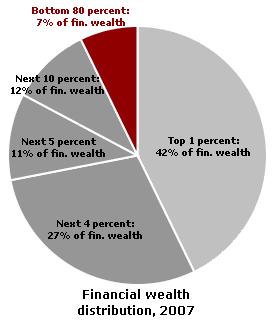 Many Americans are not buying the recent stock market rally.
This is being reflected in multiple polls showing negative attitudes towards the economy and Wall Street. Wall Street is so disconnected from the average American that they fail to see the 27 million unemployed and underemployed Americans that now have a harder time believing the gospel of financial engineering prosperity. Americans have a reason to be dubious regarding the recovery because jobs are the main push for most Americans. A recent study shows that over 70 percent of Americans derive their monthly income from an actual W-2 job. In other words, working is the prime mover and source of their income. Yet the financial elite have very little understanding of this concept. Why? 42 percent of financial wealth is controlled by the top 1 percent. We would need to go back to the Great Depression to see such lopsided data.
Many Americans are still struggling at the depths of this recession. We have 37 million Americans on food stamps and many wait until midnight of the last day of the month so checks can clear to buy food at Wal-Mart. Do you think these people are starring at the stock market? The overall data is much worse:

Source: William Domhoff
If we break the data down further we will find that 93 percent of all financial wealth is controlled by the top 10 percent of the country. That is why these people are cheering their one cent share increase while layoffs keep on improving the bottom line. But what bottom line are we talking about here? The Wall Street crowd would like you to believe that all is now good that the stock market has rallied 60+ percent. Of course they are happy because they control most of this wealth. Yet the typical American still has negative views on the economy because they actually have to work to earn a living: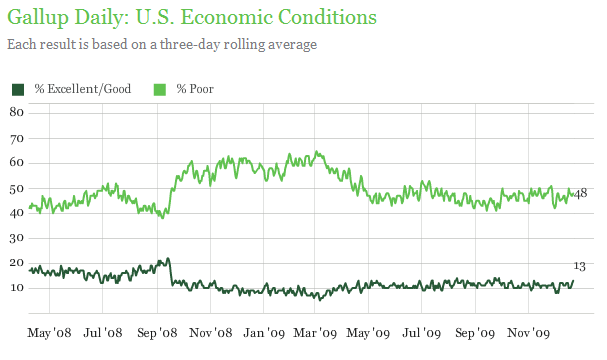 The above daily poll asks Americans about their view on the health of the economy. Only 13 percent believe the economy is good or excellent. Funny how that correlates with the top 10 percent who control 93 percent of wealth. Many Americans were sold the illusion of the bubble. They were sold on the idea that their homes were worth so much more than they really were. …