Archive for the 'Uncategorized' Category
by ilene - July 24th, 2015 3:30 pm
Courtesy of Citron Reports
TrueCar and Bankrate Tell Us how Wall Street Values Lead Generation Businesses
Citron Research has been skeptical of Zillow (NASDAQ:Z) for some time now. We first reported on the company in 2012, with frequent updates. Three years later, with no real profits to show and endless amounts of insider selling, plus round after round of lowered guidance, Citron believes that this sucker is finally ready to break, as the company has run out of tricks and finally has to show profits.
The only question is how low will it go?
*****
p.s. Zillow is at $78.50 (chart by Yahoo).
by Market Shadows - July 24th, 2015 2:19 pm
Make Phil's Stock World your regular destination for the latest market news, commentary and trading ideas.
Financial Markets and Economy

Why Swiss Franc Gameplan May Benefit From Singapore Strategy (Bloomberg)
When playing the foreign-exchange markets, Thomas Jordan might be showing too much of his hand.

That's a conclusion of Julius Baer Group Ltd. Chief Economist Janwillem Acket, who says the Swiss National Bank president could consider the approach of colleagues in another small, open economy with a large financial sector: Singapore.

The SNB's reserves have ballooned as it fights speculative attacks on the franc with interventions focused on the euro exchange rate that are then signaled in weekly deposit data. In contrast, Singapore's main policy tool is a basket of currencies of major trading partners whose exact composition isn't divulged, with less transparency on foreign-exchange purchases.
Dollar gains as Asia Pacific currencies drop to multiyear lows (Market Watch)
Several currencies in the Asian Pacific region dropped to fresh multiyear lows on Friday, while the dollar advanced against its major rivals.

"The weaker commodity price is helping to boost the dollar's value against EM currencies," said Marshall Gittler, head of global foreign-exchange strategy, at Iron FX, in a note Friday. EM refers to emerging markets, and many of those markets are in Asia Pacific.
Morgan Stanley thinks this could be the worst oil crash in 45 years (Business Insider)
Back in January, Morgan Stanley drew similarities between the current oil crash and the one in 1986— when oil prices fell 45%.

Though they have been making these parallels for six months, analysts are now saying that the current crash could fare even worse.

"On current trajectory, this downturn could become worse than 1986," Morgan Stanley's Martijn Rats wrote in a note to clients on Tuesday.
European stocks advance, but weekly losses still in sight (Market Watch)
European equities pushed slightly higher Friday, finding support as investors assessed corporate earnings, but the market remained on course for its first weekly decline in three.

The Stoxx Europe 600
…

by ilene - July 24th, 2015 1:49 pm
Did Tony Sagami miss a dot or two with a premature call for the death of PCs, and for Intel (and maybe HP)? The graphic below shows the revenue categories for Intel's products. It shows that Intel is moving its business into other areas besides the PC (Internet of Things, Mobile, Data). Further, Intel is not a PC maker, like Dell, Commodore, Gateway. That said, Tony believes INTC and HP should be avoided. What do you think?
By Tony Sagami
Do any of these names ring a bell? Amiga, Commodore, Wang, Kaypro, Tandy, Gateway, DEC, Packard Bell, and Sperry.
Those were pioneers of the personal-computer industry, and all of them are now defunct.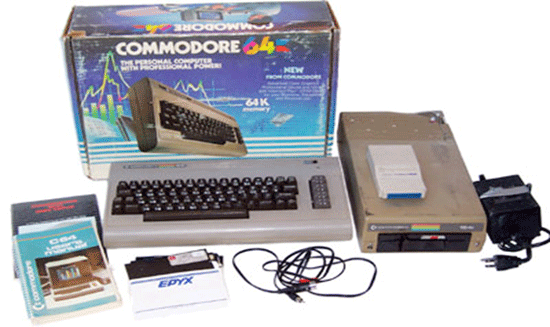 My first computer was a Commodore 64. I don't remember how much I paid for it (it wasn't cheap, and I didn't have a lot of money at the time), but I do remember that I thought it was the most amazing piece of technology I'd ever seen.
The personal-computer industry has gone through a lot of changes and while PCs still are amazing pieces of technology, the economics of the PC industry are again going through a dynamic change that may fill up the PC graveyard with some new casualties.
What am I talking about? Connect these dots and tell me what you think they say about the PC business.
June 25: Micron misses forecasts and issues weak forward guidance.
July 6: Advanced Micro Devices hits multi-year low after issuing warning.
July 9: QLogic warns Wall Street to expect disappointing Q2 results.
All those companies are part of the PC food chain, and all of them are suffering from a protracted sales slump because the Internet and the ascent of the smartphone have made the PC largely obsolete.

The real
…

by ilene - July 24th, 2015 4:31 am
Courtesy of Joshua M. Brown
The State of New Jersey is paying some $600 million in annual fees to hedge funds and private equity firms to have large portions of their pension system's funds managed.
The rationale behind pushing into hedge funds in 2010 was that traditional portfolio strategies weren't going to work anymore and hedge funds would add several percentage points to annual performance.
A 2010 memo by the State Investment Council's consulting firm said "alternative investments have significantly outperformed public markets on a risk-adjusted basis, and we believe they will continue to do so over the long term." Grady argued the strategy would "maximize returns while appropriately managing risk." And Institutional Investor magazine reported that the state's hedge-fund consultant "predicts that the pension could earn an additional 3 percent return above traditional asset classes from a diversified portfolio of alternatives."
Of course, in the five years since then, the exact opposite has been true – both stocks and bonds (traditional asset allocation) have ripped the cover off the ball while a plain vanilla 529 Plan has crushed the hedge fund indices.
New Jersey's new rationale for having a large allocation to hedge funds has changed over the last five years now that the original thesis failed. These days, instead of talking about above-average returns, they've shifted to the always convenient "risk management" and "volatility reduction" pitch:
Facing intensifying scrutiny of high fees and weak returns, New Jersey pension officials have defended their push into alternatives by claiming those assets are designed to reduce volatility and hedge against downturns. That rationale, though, is a marked shift: when Christie officials originally began plowing more retirees' money into Wall Street firms, Christie's administration and their financial consultants promoted the move as a way to boost returns over and above those that could be gleaned from low-fee stocks and bonds.
It's clear to me that NJ's financial consultants do not understand the relationship between risk and return. Hence the mission creep.
Higher returns than the stock and bond markets offer requires greater than average risk. It requires concentrated positions, financial leverage or savvy market timing. Otherwise,…

by ilene - July 24th, 2015 4:25 am
Courtesy of Joshua M Brown
The bearish case for spot gold prices here, according to Morgan Stanley, involves a worsening demand picture from China coinciding with a rise in rates here in the US. MS sees more than 20% potential downside from here ($1100 per ounce) should this scenario play out…
Scenarios: Likely vs. Worst-case

1. likely case scenario for gold = US$1,050/oz …drifts lower on Greece's latest debt resolution + robust/stable USD + weak oil price, but holds above significant $1,000/oz => implies US$14/oz silver (i.e.current Au:Ag ratio holds).

2. worst case scenario for gold = US$800/oz …requires another China equity market correction + commencement of rate hike cycle in US + central bank sell-down of reserves => implies $10-12/oz for silver (i.e. both prices + ratio, broadly correspond with 2008Q4/GFC lows).
To understand why higher real rates are such a threat to gold, have a look at the below chart: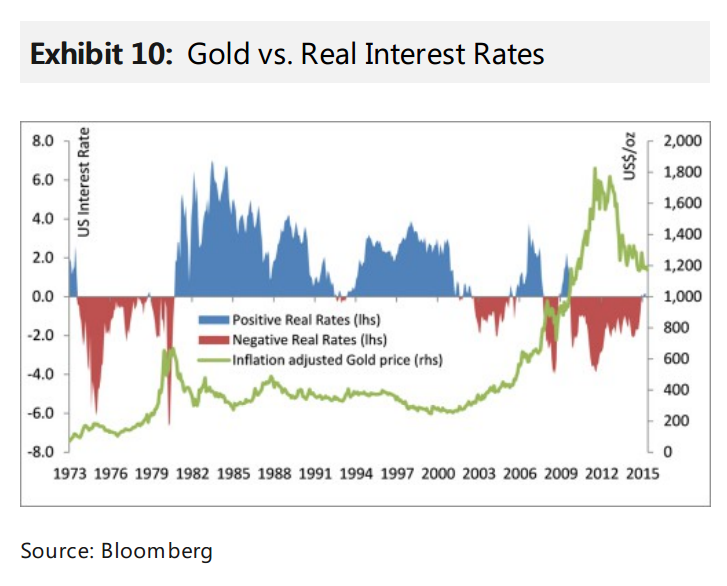 Source:
Precious Metals – Last Bastion, Besieged
Morgan Stanley – July 22nd 2015
by Market Shadows - July 24th, 2015 3:31 am
Visit Phil's Stock World for the latest market news, market commentary and investing ideas and strategies.
Financial Markets and Economy

Global trade just experienced its sharpest drop since the Financial Crisis (Business Insider)
Maybe we shouldn't take our daily corporate samples too seriously. Maybe they don't adequately represent the global economy. So IBM's revenues last quarter plunged 13% from a year ago. It blamed China and the dollar, among other culprits. But IBM's revenues have dropped for 13 quarters in a row. It's a normal IBM condition and not a reflection of the global economy.

A whole slew of other tech companies chimed in with either disappointing revenues or disappointing outlooks, or both, each blaming a variety of issues, among them China and the dollar. Chip maker Qualcomm just reported a 14% plunge in its quarterly revenues. It's having trouble in the smartphone market and will lay off a bunch of people. But maybe they're just running into tougher competitors, rather than a lousy global economy. And the PC business, which is cratering, is dragging down all those involved. That's structural and has little to do with the state of the global economy.
The Hard Truth: For Retail Investors, The NYSE Is Always Out Of Service (Nanex)
On July 8, 2015 at 11:32:57, trades and quotes stopped updating from the NYSE. Trading eventually resumed at 3:10pm.
The true cost of China's multibillion-dollar market intervention (Market Watch)
As the Shanghai Composite Index dove and panic sales spread, the Chinese government spent billions of dollars to soothe battered sentiment and shore up the stock market. But China may eventually end up paying a much higher price from delayed reforms and a distorted stock market, analysts say.

For now, the throw-everything-at-the-wall-and-see-what-sticks strategy appears to be working.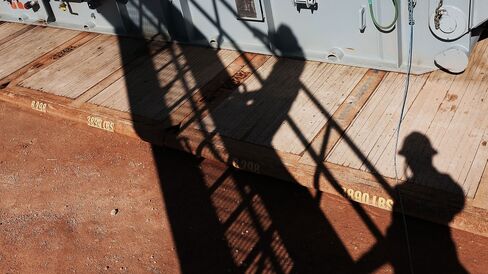 Oil Turning Back to Bear Erases $100 Billion From Shale Drillers (Bloomberg)
Oil slipped back into a bear market Thursday, disappointing U.S. shale drillers that pinned their hopes on higher prices.

West Texas Intermediate, the benchmark U.S. contract, tumbled 21 percent since June 10 to $48.45 a
…

by Market Shadows - July 23rd, 2015 2:03 pm
Visit Phil's Stock World for the latest market news, market commentary and investing ideas and strategies.
Financial Markets and Economy

Pearson Close to Selling Financial Times (NY Times)
Pearson, the British media and publishing company, is close to a deal to sell The Financial Times newspaper, it said on Thursday, part of an overhaul to focus on its growing education business.

The company said in a statement to the London Stock Exchange that it "notes recent press speculation and confirms that it is in advanced discussions regarding the potential disposal of FT Group, although there is no certainty that the discussions will lead to a transaction."
Oil risks becoming deeper thorn in markets' side (Market Watch)
Another day, another tech rout? Investors would be forgiven for some tech apprehension today after a really ugly day for Apple.

After suffering its worst one-day loss on Wednesday, Apple AAPL, -4.23% is headed for its worst week since nearly the start of the year. But on the brighter side, Jani from the CrackedMarket blog points out that while techs have been bleeding billions in market cap, the selling hasn't stretched much beyond that sector.
Oil Warning: Crash Could Be Worst in More Than 45 Years (Bloomberg)
Morgan Stanley has been pretty pessimistic about oil prices in 2015, drawing comparisons to the some of the worst oil slumps of the past three decades. The current downturn could even rival the iconic price crash of 1986, analysts had warned—but definitely no worse.
Interest rate 'dissidents' are growing inside the Bank of England (Business Insider)
Dissent against a persistently low interest rate policy is growing inside the Bank of England.

And this could lead to a split vote at the central bank's Monetary Policy Committee meeting next month, according to a note from Barclays analysts.

A subtle change in the wording in the minutes of the last meeting this month is the key.
…

by phil - July 23rd, 2015 8:31 am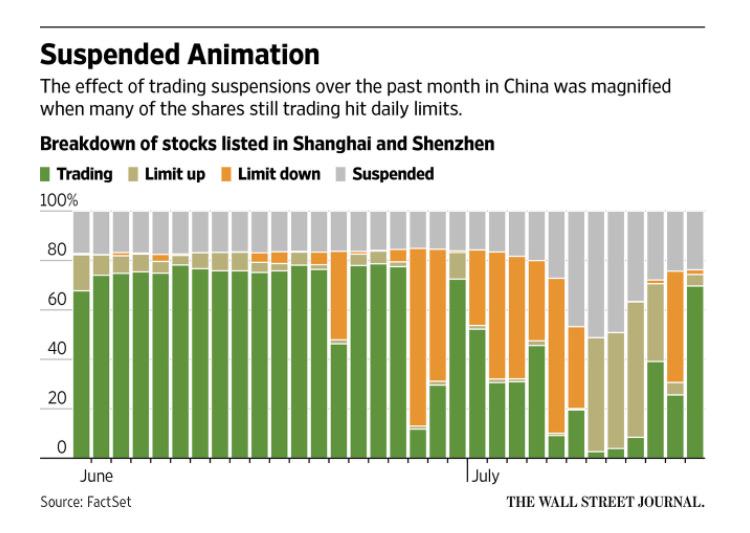 "Welcome back my friends to the show that never ends
We're so glad you could attend, come inside, come inside

"Rest assured you'll get your money's worth
Greatest show in Heaven, Hell or Earth" – ELP
As I said to our Members this morning, I was up at 3am and I did our usual pre-market skim of the news but I was so disgusted by the blatant manipulation going on at the Shanghai and in our own futures I decided to go back to sleep because it was simply too depressing to discuss.
I want to start this article by apologizing to the Bottom 90% because we're about to steal your money again. The way we (the Top 10%) do it is that we already own a lot of stocks because, well, because we have assets and you don't – because you are poor or, as Donald Trump calls it, "lazy".
You have been too lazy to get a slice of "the pie" so, as you can see, we in the top 10% now have 78% of that pie (well mostly the top 1% because we have 38% but we like to pretend the next 9% are our friends to get them to do our bidding – even while the next 9%'s share of the pie shrinks as well). If you had wanted some pie, surely you would have gone to an Ivy League School and started your own business and gone public by now – so we assume you don't like pie and we'll have some more thanks!
Before the last crash, our slice of the pie in the top 10% was around 70% and you bottom 90% people had almost 1/3 of the wealth in your 401Ks and IRS and some of you even had businesses and equity in your homes (which we lend you money to buy). We wanted more pie so we created the illusion that the pie was growing (on paper – in reality, there was no more pie) and that made the bottom 90% feel richer. Then the top 10% sold some of their pie (mostly the stale bits) to the bottom…

by ilene - July 23rd, 2015 12:50 am
Courtesy of Joshua M Brown
Jeff Gundlach thinks junk bonds could be the next big blowup. Carl Icahn agrees. Others are pointing to the burst in non-traditional bond fund inflows and the proliferation of exchange traded products that traffic in some of the less liquid and more esoteric fixed income asset classes – like bank loans and such.
I agree.
Advisors have been stuffing their clients to the gills with instruments that a) they don't understand and b) have never seen a down-cycle. Surprises will be legion, whether interest rates rise or defaults rise or some other event comes long to shake confidence and drive outflows. There's no possible way this ends quietly. The In door is always easier to squeeze through than the Out door.
I'm seeing ETF bloggers and "liquid alt" industry experts (totally captured) opine on how Icahn "doesn't understand" ETFs and I'm laughing to myself. The guy has five f***ing decades of trading and investing excellence under his belt, having started his career as one of the foremost authorities on options trading in New York City prior to making money in a Skittles rainbow of different investment strategies. Don't confuse the heavy Queens accent and the off-the-cuff rhetoric for ignorance about the creation/redemption process in the ETF market.
Besides, since when has the mechanism of a product been the critical factor that either prevented or caused a blowout? It's never the mechanics, it's always the fate of the underlying. If everyone wants to buy or sell something at the same time, the asset is going to spike or plunge, regardless of the mousetrap through which they're attempting to participate.
The Wall Street Journal has a piece today about how hedge funds are gearing up to take advantage of the next blowup:
Wall Street is preparing for panic on Main Street.

Hedge funds are lining up to profit from potential trouble at some "alternative" mutual funds and bond exchange-traded funds that have boomed in popularity among retirees and other individual investors.

Financial advisers have pushed ordinary investors into those funds in search of higher returns, a strategy that has come into favor as
…

by Market Shadows - July 22nd, 2015 9:50 pm
Financial Markets and Economy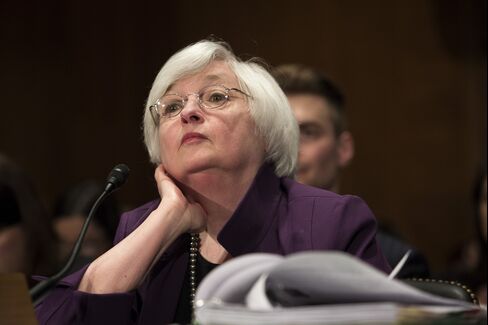 World Crises Dismissed as Fed September Liftoff Odds Stay at 50% (Bloomberg)
Six weeks of international turmoil from Greece to China have had zero impact on economists' outlook for the first Federal Reserve rate rise.

Odds for a September liftoff remain at 50 percent, exactly where they were in June, according to the median of 46 responses in a July 20-22 survey. They assigned 40 percent odds to a later move and saw no chance of a decision when the Federal Open Market Committee gathers July 28-29 in Washington.
It's possible this business cycle is not yet 'long in the tooth' (Business Insider)
Last year I talked about the modern era of expanding expansions. That is, the last few business cycles have been extremely long relative to historical cycles. Going back to the 1800's the average cycle has lasted 39 months. But here we are in month 72 of the current cycle. It is tempting to say that we're not just long in the tooth, but well past our expiration date. But perhaps that's not true.

Of course, it's probably best not to think of the economy as moving in big "cycles" based on some mean reverting "natural rate" of growth. Instead, we should think of each cycle as its own unique environment and its growth will depend on the economic trends that develop during that economic expansion…
Film Fans Pay Record for Luxury Seats at Summer Blockbusters (Bloomberg)
Ticket prices at U.S. theaters jumped to a record in the second quarter, as moviegoers shelled out for luxury seating, 3-D and widescreen formats to see blockbusters like "Jurassic World" and "Avengers: Age of Ultron."

The cost of going to the movies rose 3.4 percent to $8.61 per ticket from the second quarter of 2014, according to data released Wednesday by the National Association of Theatre Owners.
Architecture Billings Index increased in June, "Multi-family housing design showing signs of slowing" (Market Watch)
Paced by continued demand for projects such as new education and healthcare facilities, public safety and government buildings, the Architecture Billings Index
…