Author Archive for ilene
by ilene - March 21st, 2018 2:36 pm
Courtesy of Joshua M Brown
It's always hard to tell whether or not people will follow through with these sorts of memes…
This is the cover of the new Bloomberg Business magazine:
And here is the accompanying story from Paul Ford.
This tweet is getting a lot of attention this morning. Brian Acton is one of the founders of WhatsApp, which sold itself to Facebook a few years ago for billions of dollars. It's safe to say he is now out of the circle of trust…
Facebook stock has already lost $60 billion in market value since the Cambridge Analytica thing became national (international) news. That's the equivalent of one Tesla or three Twitters. My take on the controversy here:
It Takes Two
.
Here's a three year chart of FB with 200-day moving average. Would you buy this chart?
Previous violations of the uptrend turned out to have been false moves, with short-sellers being punished shortly after for assuming too much. But those times were different than this time.
This time, the company actually seems to be in crisis, the FTC is investigating whether or not they violated their own privacy settings / terms of service. Governments in Europe are up in arms. The long awaited potential entry into China has probably been vaporized (no way Beijing wants a service providing a way for third parties to warp its citizens' minds – that's their job). Civil suits and potential fines could be massive – along with the potential for new rules and regs that cost an arm and a leg to comply with, along a concomitant business model change that could render the company's ad platform less profitable or effective.
…

by ilene - March 21st, 2018 11:29 am
Tariffs won't save American steel jobs. But we can still help steelworkers

Courtesy of Morten Wendelbo, Texas A&M University and Raymond Robertson, Texas A&M University
President Donald Trump has been promising to save American manufacturing, and the steel industry in particular, since the presidential campaign. His attempt to follow through on that promise was the March 8 tariff increase on foreign steel and aluminum, arguing that the tariffs were necessary to protect U.S. industries and workers.
Trump joins a long line of presidents, both Republican and Democrat, who have used trade policy in an attempt to create or protect jobs – almost always in vain.
Research shows that tariffs only delay the industries' inevitable decline. At best, Trump's tariffs will only hurt industries dependent on steel and aluminum, like auto and construction, which together employ more than 7 million workers – compared with steel's 160,000. At worst, it will spark a trade war that will harm many other industries and, ultimately, mean higher prices for every single American.
Our review of recent research on the topic shows that the choice between tariffs and abandoning workers is a false one. More targeted alternative policies are available that can protect workers without damaging the U.S. economy – or sparking a trade war.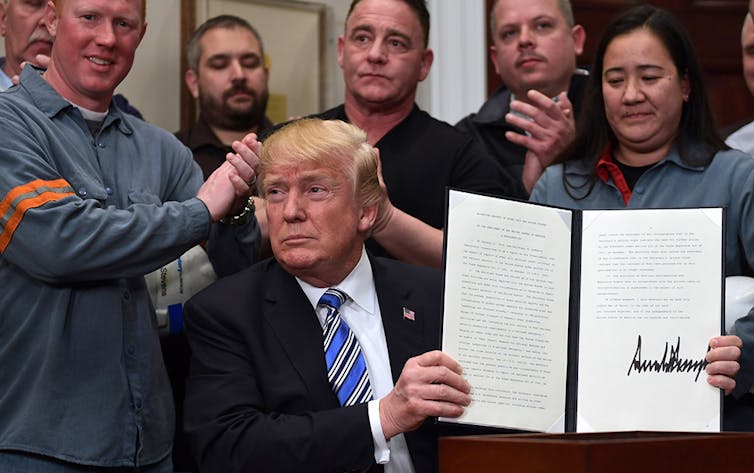 Politics of protection

Regardless of political party, promising to protect vulnerable manufacturing industries – along with blaming foreign trade for their woes – has always been an effective vote-winning strategy.
Trump's rivals in the 2016 campaign made similar promises to shield American workers from foreign competition.
Sixteen months after winning the election, Trump has followed through on his pledge by slapping a tariff of 25 percent on imported steel and 10 percent on aluminum. Both industries have experienced rapid declines in employment in recent decades.
Reality, however, isn't so simple.
US manufacturing is not in decline

Despite the political rhetoric, data from the Federal Reserve show that American manufacturing is hardly in decline. In…

by ilene - March 21st, 2018 10:21 am
Courtesy of The Automatic Earth
Hildegard von Bingen (1098-1179) German artist, philosopher, composer, mystic Cosmic Tree
All of a sudden, politicians in the EU, UK, and USA all want to talk to Mark Zuckerberg. That's a bad enough sign all by itself. It means they all either have been asleep, complicit, or they're not very bright. The media tries to convince us the Facebook 'scandal' is about Trump, Russia (yawn..) and elections. It's not. Not even close.
If Zuckerberg ever shows up for any of these meetings with 'worried' politicians, he'll come with a cabal of lawyers in tow, and they'll put the blame on anyone but Facebook and say the company was tricked by devious parties who didn't live up to their legal agreements.
After that, the argument won't be whether Facebook broke any laws for allowing data breaches, but whether their data use policy itself is, and always was, illegal. Now, Facebook has been around for a few years, with their policies, and nobody ever raised their voices. Not really, that is.
And then it'll all fizzle out, amid some additional grandstanding from all involved, face-saving galore, and more blame for Trump and Russia.
The new European Parliament chief Antonio Tajani said yesterday: "We've invited Mark Zuckerberg to the European Parliament. Facebook needs to clarify before the representatives of 500 million Europeans that personal data is not being used to manipulate democracy."
That's all you need to know, really. Personal data can be used to manipulate anything as long as it's not democracy. Or at least democracy as the Brussels elite choose to define it.
First: this is not about Cambridge Analytica, it's about Facebook. Or rather, it's about the entire social media and search industry, as well as its connections to the intelligence community. Don't ever again see Google or Facebook as not being part of that.
What Facebook enabled Cambridge Analytica to do, it will do ten times bigger itself. And it sells licences to do it to probably thousands of other 'developers'. The CIA and NSA may have unlimited powers, but prior to Alphabet and Facebook, they never had the databases. They do now, and they're using them. 'Manipulate democracy'? What democracy?
Then: 50 million is…

by ilene - March 21st, 2018 10:19 am
Courtesy of Pam Martens
Last evening, the Washington Post reported that Steve Bannon was the individual overseeing the earliest collection of Facebook data for Cambridge Analytica in 2014. The company is under investigation in both the U.S. and U.K. for data mining private information on more than 50 million Facebook users to target voters for the 2016 Trump presidential campaign.
Bannon, with funding from billionaire hedge fund manager, Robert Mercer, was involved in the launch of Cambridge Analytica in 2013. Both Bannon and Mercer served on the Cambridge Analytica Board after its founding.
Bannon is the former executive chairman of Breitbart News which also received funding from Mercer. Bannon also served as CEO of Donald Trump's 2016 presidential campaign and as senior counselor to the 45th president for the first seven months of his term until a falling out last year. Robert Mercer was a large donor to the Trump campaign.
Essentially, whatever Bannon has been connected to since at least 2013, Mercer money has been involved in the effort. Take, for example, the Government Accountability Institute (GAI). It was founded in 2012 by Peter Schweizer and Steve Bannon. Schweitzer is currently listed on its website as its President and Rebekah Mercer, daughter of Robert, is listed as its Chair. Rebekah Mercer played a major role in the Trump campaign and served on the Trump Transition Team's Executive Committee, which played a major role in selecting cabinet appointees.
According to publicly available records of the Mercer Family Foundation filed with the IRS, GAI received $5,750,000 from the Mercer Family Foundation from 2013 through 2016. Schweizer, the co-founder and current President of GAI, authored the book, Clinton Cash: The Untold Story of How Foreign Governments and Businesses made Bill and Hillary Rich. The book was released in 2015 and dogged Hillary Clinton throughout her presidential run. A documentary, based on the book, was released in 2016 and lists Bannon as a Producer, with Schweizer and Rebekah Mercer as Executive Producers.
…
by ilene - March 21st, 2018 2:30 am
"In a blockbuster report published Tuesday in the Intercept, reporter Sam Biddle cited several documents included in the massive cache of stolen NSA documents that showed that the agency has been tracking bitcoin users since 2013, and has potentially been funneling some of this information to other federal agencies. Or, as Biddle puts it, maybe the conspiracy theorists were right." ~ Zero Hedge
INTERNET PARANOIACS DRAWN to bitcoin have long indulged fantasies of American spies subverting the booming, controversial digital currency. Increasingly popular among get-rich-quick speculators, bitcoin started out as a high-minded project to make financial transactions public and mathematically verifiable — while also offering discretion. Governments, with a vested interest in controlling how money moves, would, some of bitcoin's fierce advocates believed, naturally try and thwart the coming techno-libertarian financial order.

It turns out the conspiracy theorists were onto something. Classified documents provided by whistleblower Edward Snowden show that the National Security Agency indeed worked urgently to target bitcoin users around the world — and wielded at least one mysterious source of information to "help track down senders and receivers of Bitcoins," according to a top-secret passage in an internal NSA report dating to March 2013. The data source appears to have leveraged the NSA's ability to harvest and analyze raw, global internet traffic while also exploiting an unnamed software program that purported to offer anonymity to users, according to other documents.

Although the agency was interested in surveilling some competing cryptocurrencies, "Bitcoin is #1 priority," a March 15, 2013 internal NSA report stated.

The documents indicate that "tracking down" bitcoin users went well beyond closely examining bitcoin's public transaction ledger, known as the Blockchain, where users are typically referred to through anonymous identifiers; the tracking may also have involved gathering intimate details of these users' computers. The NSA collected some bitcoin users' password information, internet activity, and a type of unique device identification number known as a MAC address, a March 29, 2013 NSA memo suggested. In the same document, analysts also discussed tracking internet users' internet addresses, network ports, and timestamps to identify "BITCOIN Targets."
by ilene - March 20th, 2018 10:09 pm
Why accountants of the future will need to speak blockchain and cryptocurrency if they want your money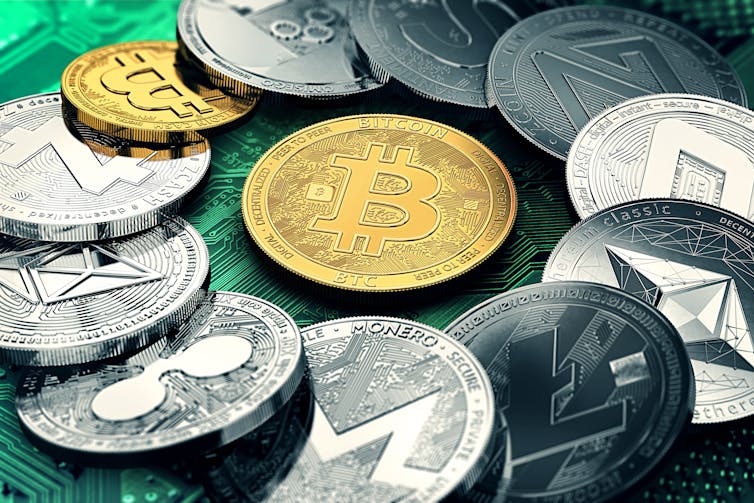 Courtesy of Anwar Halari, The Open University
If you haven't already heard of Bitcoin, you either haven't been paying attention or you're a time traveller who just touched down in 2018. Because by now, most of us will have heard of Bitcoin and some of us have even jumped on the bandwagon, investing in cryptocurrencies.
But despite its popularity, many people still don't understand the technology that underlines it: blockchain. In very simple terms, blockchain technology is an open access shared ledger that keeps a record of all the transactions between parties and allows all users to agree on its contents. New information is added in blocks linked to the previous blocks, resulting in a chain of blocks being built.
This ledger is verified by "miners" to make sure it's true – and so creating an audit trail. Past records can be viewed but not altered without the consent of the majority. And it is this technology that is behind cryptocurrencies such as Bitcoin – the value of which rose almost 1400% in the past year, but has at times, also fallen massively too.
Crypto is here to stay

It can certainly be anticipated that this evolutionary technology is set to spark a huge revolution in the business world. It's already being trialled at governmental level, from the Sweden Land Registry, to the Big Four accountancy firm such as E&Y – who accept Bitcoin as payment for its consultancy services.
The Australian Securities Exchange is also considering the use of blockchain technology to replace the current clearing and settlement system of share trading. And even the Bank of England is planning its own Bitcoin-style virtual currency.
Listen to The Conversation's Anthill podcast episode: Bursting the Bitcoin bubble
…

by ilene - March 20th, 2018 9:27 pm
Novichok: the deadly story behind the nerve agent in Sergei Skripal spy attack

Courtesy of Alastair Hay, University of Leeds
Against the backdrop of Salisbury's beautiful cathedral, a new word recently gained global notoriety. But the three people who had the right to know most about Novichok, a nerve agent, were oblivious to its sudden appearance in headlines around the world – for they lay fighting for their lives in a British hospital.
Former Russian spy Sergei Skripal, 66, his daughter Yulia, 33, and police detective sergeant Nick Bailey, were all exposed to Novichok (or "newcomer", to use its more parochial translation from Russian) in the English city on March 4. The circumstances surrounding the case are still being investigated – but the latest (unconfirmed and improbable) reports suggest that Skripal may have been exposed through the air vents of his BMW car.
[You can listen to an audio version of this article here.]
Skripal was directly targeted, and perhaps his daughter was too, although it may simply have been Yulia's proximity to her father that resulted in her exposure. Bailey was affected by the nerve agent as he was one of the first to respond and came into contact with it at a location as yet unknown. The police officer's exposure is more likely to have been through contact with the nerve agent contaminating some surface.
At the time of writing, the Skripals remain in a critical condition in hospital. Bailey, meanwhile, is reportedly making a slow recovery and may be able to speak about his ordeal, perhaps providing vital clues. Environmental sampling will provide the evidence showing where the Skripals were most likely exposed and, hopefully, how that exposure occurred.
While the full facts have yet to come to light, the Novichok attack is developing into a full-blown international incident. The UK and Russia, which Britain has blamed for the attack, are now engaged in an increasingly bad-tempered tit-for-tat expulsion of diplomats.
The UK foreign secretary, Boris Johnson, even pointed the finger squarely at the Russian president, Vladimir Putin himself. Johnson said:
We think it overwhelmingly likely that it
…

by ilene - March 20th, 2018 9:16 pm
China's new central bank governor will have to deal with massive debt and an ambitious economic agenda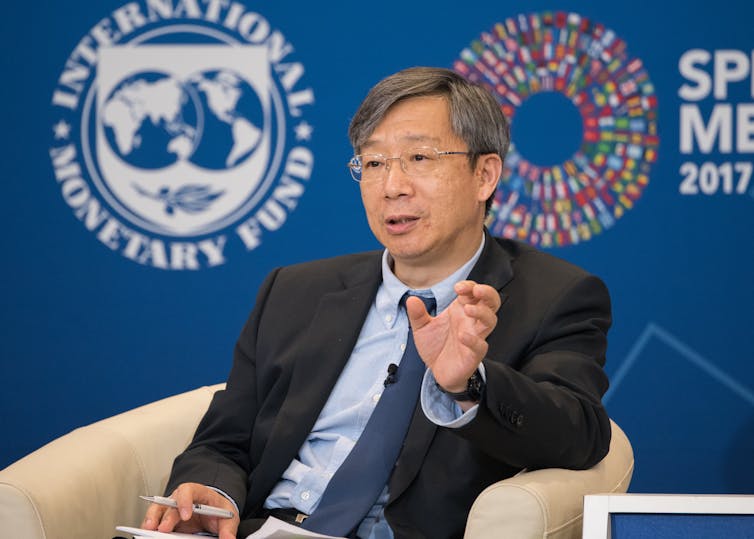 Courtesy of Hui Feng, Griffith University
The Chinese government has appointed a new head of its central bank. Yi Gang, currently the deputy governor of the People's Bank of China, will take over the leadership from Zhou Xiaochuan, who had been in the position since 2002.
As China's central bank oversees the stability of the world's second-largest economy and the world's largest pile of foreign reserves, this is a change the global economy is watching closely.
A US-trained economist, Yi received his doctorate in economics from the University of Illinois in 1986. He was a professor at Peking University in China following various academic positions in the US, before joining China's central bank in 1997. Yi is known in academia for his expertise on inflation and price instability.
Yi developed his technocratic career exclusively within the headquarters of the central bank, taking up various leading positions in areas of monetary policy, exchange rate policy, and foreign reserve management. He then became the right-hand man of Zhou, who dominated Beijing's economic policy-making for a record 15 years.
However Yi's governorship came as a surprise, given the widely circulated rumours of other powerful contenders, such as Liu He, now announced as a vice premier of China, and Guo Shuqing, the chairman of China Banking Regulatory Commission.
But the appointment makes sense if the reshuffle of president Xi Jinping's economic team is taken into account, as like-minded liberals lining up in key positions. Yi will actually work directly under Liu, who also trained in the US, ensuring that the government keeps in close consultation with the central bank while the bank does not stray politically.
Problems the new governor will have to confront

Now that the jockeying for the top position at the central bank is over, the new governor is bound to carry on Zhou's liberal legacy and to tackle some of…

by ilene - March 20th, 2018 8:49 pm
Europe's chance to fight 'fake news' with soft power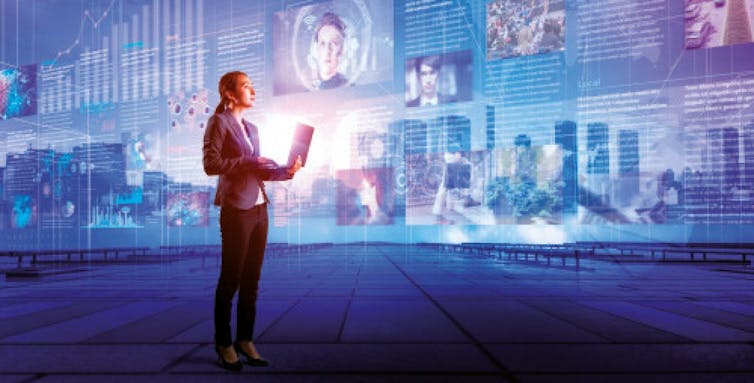 Courtesy of Rasmus Kleis Nielsen, University of Oxford
In many countries over the past few years, the political process – and social cohesion – have been threatened by various forms of disinformation, sometimes misleadingly and inadequately called "fake news". Politically-motivated and for-profit disinformation is blamed, among other things, for the UK's decision to vote to leave the EU and the election of Donald Trump as US president.
Disinformation takes many forms and is driven by many factors. Foreign states sometimes try to subvert other countries' political processes. People publish false and fabricated information masquerading as news for profit. Domestic politicians lie to their own people – and sometimes these lies are amplified by news media, by hyper-partisan activists, or spread far and wide via social media and other platforms.
These different problems are serious – and many have called on public authorities to tackle them. The question is how? Only a small part of what we encounter online is clearly demonstrable as simply true or false, and much of what ordinary people think of as "fake news" is simply forms of poor journalism or partisan political debate. In diverse societies, where we disagree deeply about many important issues, disinformation is hard to define clearly and objectively. As a result, government responses are difficult to target precisely.
83% of Europeans perceive #fakenews to be a problem for democracy.
The High-Level Expert Group on Fake News and Disinformation presents its policy recommendations and insights today ? https://t.co/Gg5nRD837l #tacklefakenews pic.twitter.com/yiifE0fDcg

— European Commission ???????? (@EU_Commission) March 12, 2018
Despite this, some are reaching for content regulation – trying to ban "fake news". Others are tasking law enforcement – or even the military and the security services – with combating disinformation. These are "hard power" responses – based on the state's ability to command, its ability to act directly. They are also often problematic responses, especially when the target remains unclear.
Content…

by ilene - March 20th, 2018 7:19 pm
Why Denmark dominates the World Happiness Report rankings year after year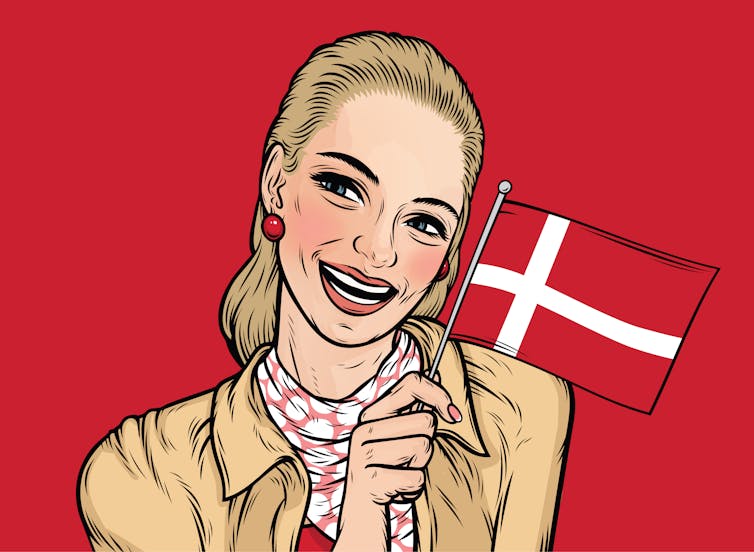 Courtesy of Marie Helweg-Larsen, Dickinson College
The new World Happiness Report again ranks Denmark among the top three happiest of 155 countries surveyed – a distinction that the country has earned for seven consecutive years.
The U.S., on the other hand, ranked 18th in this year's World Happiness Report, a four-spot drop from last year's report.
Denmark's place among the world's happiest countries is consistent with many other national surveys of happiness (or, as psychologists call it, "subjective well-being").
Scientists like to study and argue about how to measure things. But when it comes to happiness, a general consensus seems to have emerged.
Depending on the scope and purpose of the research, happiness is often measured using objective indicators (data on crime, income, civic engagement and health) and subjective methods, such as asking people how frequently they experience positive and negative emotions.
Why might Danes evaluate their lives more positively? As a psychologist and native of Denmark, I've looked into this question.
Yes, Danes have a stable government, low levels of public corruption, and access to high-quality education and health care. The country does have the the highest taxes in the world, but the vast majority of Danes happily pay: They believe higher taxes can create a better society.
Perhaps most importantly, however, they value a cultural construct called "hygge" (pronounced h???).
The Oxford dictionary added the word in June 2017, and it refers to high-quality social interactions. Hygge can be used as a noun, adjective or verb (to hygge oneself), and events and places can also be hyggelige (hygge-like).
Hygge is sometimes translated as "cozy," but a better definition of hygge is "intentional intimacy," which can happen when you have safe, balanced and harmonious shared experiences. A cup of coffee with a friend in front of a fireplace might qualify, as could a summer picnic in the park.
A family might have a hygge evening that entails board games and treats,…