Author Archive for ilene
by ilene - May 20th, 2018 1:07 am
Courtesy of Michael Batnick
Imagine Jamie Dimon made a killing shorting J.P. Morgan stock during the Great Financial Recession? And imagine he didn't get in any trouble for it?
This actually happened 90 years ago at Chase Manhattan Bank, while Albert Wiggin was at the helm. This story was marvelously told in Once in Golconda, by John Brooks.
Beginning in July, 1929, Wiggin- as astute as ever- began to see the prospects for the stock market in general and Chase stock in particular as dim. Accordingly, through one of his personal companies he sold over 42,000 shares of Chase stock short. He was then in the curious position of having a vested interest, and a huge one, in the deterioration of the institution he headed. Just as corporate officers are usually encouraged to own stock so that they will have added incentive to put out their best efforts, so Wiggin, with his short position in Chase stock, had provided himself with incentive to produce his worst efforts. This was legal; the audacity of his action was such that the question of forfending it by law had apparently never come up. Moreover, it was perfectly timed. When the account was closed that November, the whole market had collapsed as Wiggin had foreseen, and the profit to his personal company came to just over four million dollars. And no one- for several years- was the wiser; when Wiggin retired in 1932, the Chase's executive committee thanked him fulsomely for his uncounted services to the bank and unanimously voted him a life pension of $100,000 per year.
The kicker is Wiggin used a Canadian shell company to short the stock so he didn't pay taxes on any of his gains. When the Securities and Exchange act was enacted a few years later, section 16 was written to prevent such abuses of power by corporate directors. They called this the anti "anti-Wiggin" proposal.
One more wild story that happened during the Great Depression.
We joke about manipulation in the market, but when Roosevelt took us off the gold standard in 1933, there's no other word to describe…

by ilene - May 19th, 2018 12:53 am
Courtesy of Joshua M Brown
There are many edges for the modern money manager or financial advisor who is willing to unlearn the way things had been done in the olden days, the time before information was ubiquitous and investors had grown terminally skeptical of the industry.
The three uncelebrated edges I'm going to mention below are all immediately adoptable and ready to put into practice right away. They are not edges you'll hear celebrated in the media because their benefits take a long time to accrue to the practitioner and their employ does not involve the kind of acrobatic feats of alpha generation that captivates a large crowd of clickers and viewers.
But, I have found, incorporating them into one's practice and philosophy can lead to a great deal of job satisfaction and lifestyle improvement. This is because a) they are truly helpful to the recipients of your advice and b) they are promises that can actually be delivered upon, in a business where the term "guarantee" is practically a four-letter word.
1. Be boring
I did a post about how a major bank was going to open up hedge funds, private equity and venture capital to the masses with a new minimum buy-in of $100,000 for these strategies – down from the original $10 million. One of the stated purposes of this was to "increase engagement" between the wealth manager and the clients. Which is roughly translated to "keep things interesting and give people stuff to talk about." Another way of putting it: Asset management as a form of recreation.
This will work for a little while, until the annual results of this sort of entertainment start to pile up. We call these accounts cocktail chatter portfolios and they always look worse the morning after.
An advisor or money manager in search of an edge can simply avoid building up an expectation within his or her clients' hearts that the work they're doing for them will be exciting, stimulating or worthy of daily discussion. I don't have a specific academic study to site here so you'll have to take my word for this – it strikes me…

by ilene - May 18th, 2018 11:26 pm
Wildfire risks are high again this year – here's what travelers need to know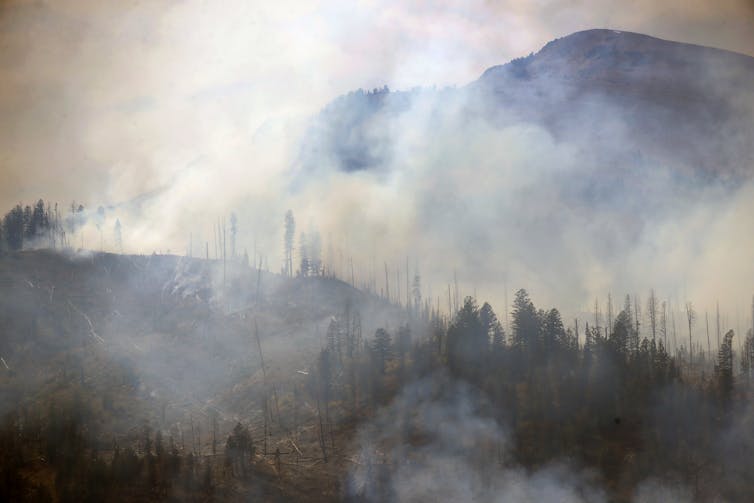 Courtesy of Ragan Adams, Colorado State University
Memorial Day marks the traditional opening of the summer travel season. This year the American Automobile Association projects that more than 41.5 million Americans will hit the road over Memorial Day weekend, nearly 5 percent more than last year and the most in a dozen years.
For many years, AAA has urged drivers to prepare for trips through steps such as testing their car batteries, checking for engine coolant leaks, and making sure their tires are in good shape. The group also recommends packing a mobile phone and car charger, a flashlight with extra batteries, a first-aid kit, a basic toolkit, and drinking water and snacks for all passengers.
But travelers should also think about conditions beyond their cars. As coordinator of Colorado State University's Veterinary Extension programs, I help people in rural and urban communities manage all kinds of threats that can affect them and their animals, from disease to disasters. When people travel in unfamiliar places, far from their social safety nets, they should know what challenging conditions exist and prepare appropriately. In particular, anyone visiting the western United States this summer should understand risks associated with wildfires, since once again the risk of fires is high in many areas.
Understanding fire conditions

The 2017 wildfire season was one of the most challenging years on record. More than 71,000 wildfires burnt over 10 million acres. Federal agencies spent nearly US$3 billion on fire suppression, and 14 firefighters were killed in action.
This year the U.S. Forest Service expects another above-average fire season. Many parts of the Southwest that depend on winter precipitation for moisture are dry. Coupled with above-average growth of grasses last year, conditions are ripe to turn a harmless spark into flames. Wildland fire potential…

by ilene - May 18th, 2018 10:51 pm
Venezuelans are boycotting their presidential election

Courtesy of Marco Aponte-Moreno, St Mary's College of California
Venezuela's May 20 presidential election may be an election in name only.
Nicolás Maduro is widely expected to be reelected as Venezuela's president despite his 20 percent approval rating and profound mismanagement of the country's humanitarian and economic crisis.
Maduro's strongest competitor is Henri Falcón, a former state governor once associated with the Venezuelan opposition. But he broke ranks with opposition parties over their decision in February to boycott a presidential election they consider fraudulent.
The government has grown increasingly authoritarian since Maduro was narrowly elected in 2013 to succeed Hugo Chávez, Venezuela's popular leftist leader and Maduro's mentor. The Socialist regime is now deploying all its amassed powers to ensure that this disliked president wins reelection.
As a Venezuelan academic who has followed the country's politics for two decades, I believe that voter participation on Sunday will merely legitimize Maduro's regime by making it appear democratic.
Reasons not to vote

Mimicking democracy is a classic trick of authoritarian leaders worldwide.
Since announcing it would hold a 2018 presidential election, Maduro's government has severely limited who can appear on the ballot. Four of the five most prominent opposition leaders have been either jailed or barred from office – a main reason for the boycott.
And since many Venezuelans view Falcón as a traitor whose bid for the presidency helps Maduro, millions of voters are without a viable candidate.
Legally, the election may be unconstitutional because it was called by the Constituent Assembly. The Socialist Party created and installed this legislative super body in 2017 to undermine the opposition-dominated Venezuelan National Assembly.
Many Venezuelans generally distrust their electoral system – for good reason.
Smartmatic, the London-based company that long provided Venezuela's voting machines, announced that the turnout to vote for Maduro's Constituent Assembly in 2017…

by ilene - May 18th, 2018 1:20 pm
Scott Pruitt's approach to pollution control will make the air dirtier and Americans less healthy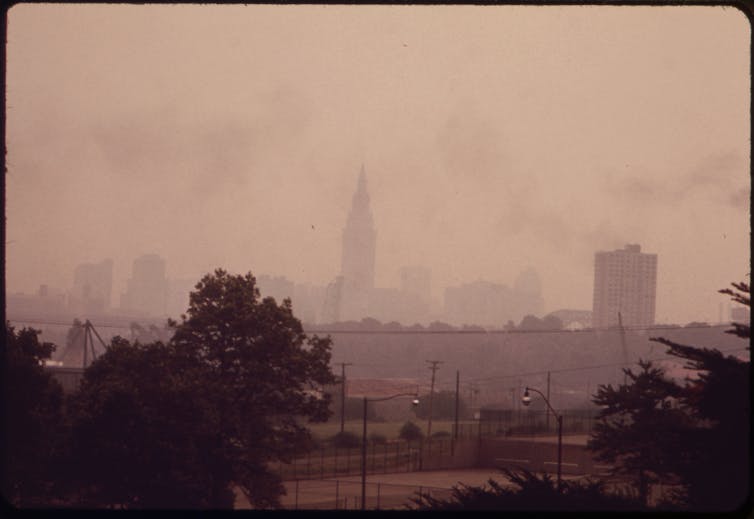 Courtesy of Robert Percival, University of Maryland
Environmental Protection Agency Administrator Scott Pruitt's ethical lapses and extravagant spending habits have distracted the public from what he is doing to roll back important environmental protections.
Pruitt helped persuade President Donald Trump to withdraw from the Paris climate accord, making the United States the only country in the world to reject the pact. At Trump's urging, Pruitt has moved to repeal the Obama administration's Clean Power Plan and EPA rules clarifying federal jurisdiction to protect wetlands.
He also plans to scrap national fuel economy standards the auto industry once embraced. And he sought to suspend regulation of methane leaks from new oil and gas wells, but was overruled by a federal court.
And Pruitt's agenda extends far beyond simply rolling back Obama administration initiatives. In a memo to EPA staff on May 9, 2018, Pruitt ordered significant changes in the process for setting air quality standards under the Clean Air Act, in the name of "cooperative federalism and the rule of law."
These standards are the heart of what has been the most successful environmental law in history. According to the EPA's own estimates, the Clean Air Act saves thousands of lives every year and generates net benefits to society that are vastly larger than the costs of complying with it.
But the law is now under attack from the very agency charged with implementing it. Pruitt seeks to undermine the scientific basis for the EPA's national air quality standards by changing who advises the EPA, restricting the data they can use, and requiring them to shift their focus away from protecting public health.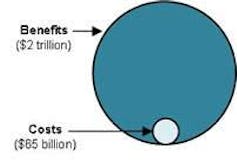 Science-based regulation

The Clean Air Act…

by ilene - May 18th, 2018 1:06 pm
Why the EPA's 'secret science' proposal alarms public health experts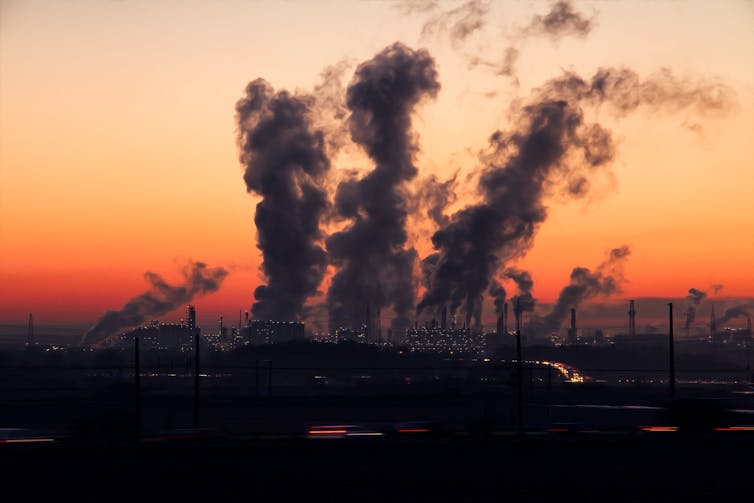 Courtesy of Bernard Goldstein, University of Pittsburgh
Later this month, the EPA could finalize a controversial rule to limit what scientific research the agency can use in writing environmental regulations.
I write as an academic who has been involved in air pollution issues for over 50 years and a former EPA assistant administrator for research and development, a political appointment position, under President Reagan. To understand why this proposed change is so controversial in the scientific community, including the EPA's own Science Advisory Board, one needs to understand a landmark study in the history of air pollution control and science policy.
Done by Harvard researchers, the 1993 Six Cities study identified fine particulate pollution that goes deeply into the lungs, largely produced from fossil fuel combustion, as being harmful to health. This core finding, along with other studies, led to new standards that saved thousands of lives.
But under the current proposal, data from that study could not be used to inform EPA policy because the underlying data was not made publicly available.
Attacking the Harvard Six Cities study as "secret science" has been central to a long and fierce onslaught in the much broader battle over the role of science in protecting the environment. This attack is now poised for success under industry-friendly EPA Administrator Scott Pruitt.
Industry pushback

When the EPA was formed in 1970, among its major challenges was controlling smoke from coal-fired power plants and industries as demanded by the Clean Air Act. The CAA requires that science, not economics, determines enforceable outdoor standards.
The gold standard for epidemiology, or the study of diseases and its causes, is the double-blind randomized control trial. In these trials half of an affected volunteer group is given the potential therapy and the other half a placebo – and neither the researcher nor the patient knows which until the code is broken.
But that is an impossible standard for environmental epidemiology. Imagine the outcry…

by ilene - May 18th, 2018 7:18 am
Courtesy of Pam Martens.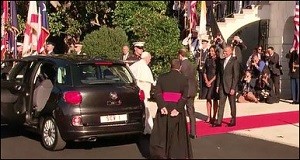 Pope Francis, Who Advocates Against Materialism, Arrives at the White House on September 23, 2015 in a Humble Little Fiat
The Vatican released a lengthy report yesterday on how the drive for accumulating money at any cost has turned Wall Street and much of the global financial system into an "amoral culture," noting that the idea that markets will be self-policing is pure bunk. The Vatican has apparently decided to keep the debate alive that Senator Bernie Sanders started during the presidential campaign of 2016 when he repeatedly railed against Wall Street for having a "business model of fraud." The Vatican's entry into this critical conversation would be much more meaningful if each time it or the Pope lectures the world on the meaning of morality they would acknowledge the Catholic Church's own moral failings over decades in protecting sexual predators of children, refusing to report the assaults to law enforcement and moving the predators from parish to parish — not all that dissimilar to the private justice system run by Wall Street as predator brokers move from firm to firm. (See our related article on the Pope here.)
That being said, there were some interesting and profound nuggets in both the press conference held by the Vatican to release the report and in the report itself, which was titled: "Considerations for an Ethical Discernment Regarding Some Aspects of the Present Economic-Financial System." H.E. Msgr. Luis Francisco Ladaria Ferrer, S.J., prefect of the Congregation for the Doctrine of the Faith had this to say at the press conference:
"The purpose of these Considerations is to state clearly that, at the root of the spread of dishonest and predatory financial practices, there are first of all an anthropological myopia and a progressive crisis of the human that have been achieved. Man, today, no longer knowing who he is, and what he is doing in the world, does not even know how to act well, ending up remaining at the mercy of the convenience of the moment and of the interests that dominate the market.
"The profit of the strongest has taken over from the authentic good and has become the real dominant factor in economic and social relations. In this way, the common good has disappeared in many environments from the horizons…

by ilene - May 17th, 2018 7:34 pm
Mueller's Russia probe: a year on, Trump is far from out of the woods

Courtesy of Clodagh Harrington, De Montfort University
As far as political tactics are concerned, the Trump administration's preferred method of distracting attention from awkward stories is Shiny Object Syndrome – the deployment of surprising and shocking ideas and statements to muffle long-term threats that could catastrophically damage the administration if allowed to dominate the agenda. Given the torrent of juicy Trump-related stories that capture the news cycle daily, it's all too easy to miss the one-year anniversary of Special Counsel Robert Mueller's appointment – and in turn, to forget the enormous significance of his ongoing investigation.
On May 17 2017, the former FBI director and Marine Corps platoon commander was appointed to lead an independent inquiry into possible election meddling by a foreign government. The probe includes an investigation of Donald Trump's presidential campaign, with a remit to search for potential collusion with Russian agencies and operatives.
When it was set up, Trump said that Mueller's investigation "hurts our country terribly". There is no doubt that Team Trump, if not the man himself, was mindful of where such an investigation could lead. Pundits were swift to roll out the Watergate comparisons, not least because within Mueller's first month on the job, Trump associates were publicly discussing the president's desire to fire the prosecutor. Their hints were an eerie echo of Nixon's notorious "Saturday Night Massacre" on October 20, 1973, when he ordered justice department officials to fire independent special prosecutor Archibald Cox. It failed to keep Nixon safe, hastening both his own political downfall and the nation's march towards a constitutional crisis.
It's possible that Trump, new to politics and equipped with at best a light grasp of history, may not have realised the resonance of his threats to Mueller. Today as in 1973, the president cannot fire the special counsel directly. Nixon ordered his attorney general to do so; when met with refusal and resignation, he asked his deputy attorney general, and then his solicitor general, Robert Bork, who complied. The decision was declared illegal by the US Supreme Court a fortnight later.
But all his…

by ilene - May 17th, 2018 7:01 pm
For Gaza's peaceful protesters, power is all about perception

Courtesy of Leonie Fleischmann, City, University of London
On the 70th anniversary of the Nakba – the displacement of Palestinians when the state of Israel was founded – the people of Gaza, who have been under Israeli blockade and the rule of Hamas for more than a decade, mobilised in their largest civil resistance demonstrations since the early 2000s. Since the protests began on March 30, the Gazans have been met with tear gas and sniper fire. Thousands have been injured, and more than 100 killed.
The world's media quickly responded with an array of conflicting reports. The debate over the protests, which have been dubbed the Great Return March, is really an argument about the extent to which the protests were violent actions orchestrated by Hamas – and, by extension, the extent to which Israel was justified in using lethal force against the demonstrators. The demonstrators have a critical stake in this debate.
Some outsiders portray the protesters as a violent danger to Israeli soldiers and citizens – and thereby justify the Israeli response as a matter of security. Similarly, when they attribute the organisation and conduct of the demonstrations to Hamas, Israel's own security rhetoric comes to the fore. That in turn provides a significant boost to Hamas's dwindling support in Gaza itself. But other coverage of the demonstrations portrays the protesters as peaceful activists unaffiliated with Hamas – meaning Israel can be said to have used excessive and unlawful force.
For Gaza's peaceful activists, the competition between these different representations is everything. The power of civil resistance, also known as non-violent struggle, lies partly in the spectacle it creates of unarmed civilians under attack by armed authorities. If the wrong spectacle is created, the power of protest is squandered.
The use of violent measures against unarmed protesters often backfires – sympathy is elicited, awareness is raised and support is galvanised. Citizens may withdraw support for their government, and soldiers or the police unwilling to follow violent commands may refuse to act. The Israeli human rights organisation B'Tselem has called on Israeli soldiers to refuse to shoot at protesters who do not "pose mortal danger". But if civil…

by ilene - May 17th, 2018 6:30 pm
The Iran nuclear deal could still be saved, experts say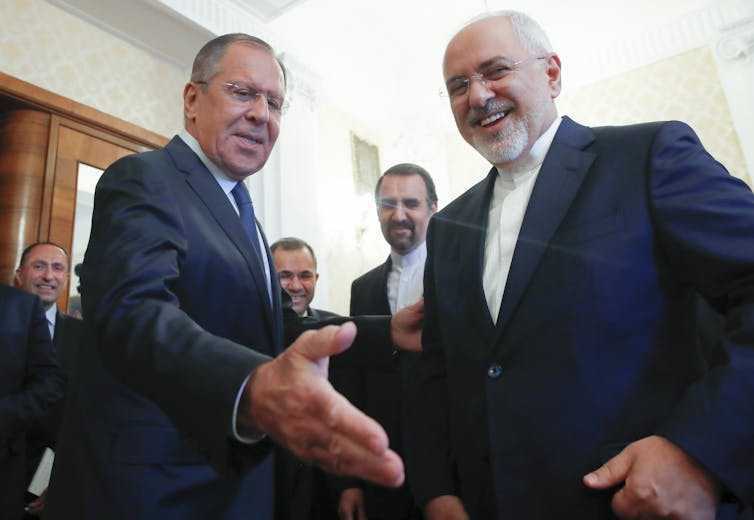 Courtesy of Jaganath Sankaran, University of Maryland and Steve Fetter, University of Maryland
"America will not be held hostage to nuclear blackmail," President Donald Trump declared in his speech, justifying the withdrawal of the United States from the Iran nuclear deal earlier this month. Trump emphasized that the deal "fails to address the regime's development of ballistic missiles that could deliver nuclear warheads."
We are scholars who have studied Iran's missile capabilities. Although we acknowledge that important players have said that revising the deal is impossible, we contend that Trump's concern about ballistic missiles doesn't have to be the fatal flaw of the deal, often known as the JCPOA. Rather, a new agreement that limits Iranian nuclear capabilities at the same time as it curbs its ballistic missile program could be worked out, thus insuring that Iran will not be able to mount a "nuclear blackmail" of American – or European – cities.
A deal on missiles

The first thing to recognize is that a deal formalizing a restraint on Iran's missile program in exchange for guaranteed sanctions relief would have many virtues.
First, it would forestall nuclear threats to most of Europe and all of the continental United States. It could also render unnecessary the planned deployment of missile defense interceptors in Poland. These interceptors are currently scheduled to become operational in 2020. Instead, these could be placed on a standby status.
Eventually, if the threat of Iranian missiles is eliminated, the missile defense program could be canceled entirely. Such a step would save a considerable amount of money, which could be redirected to install more robust regional missile defenses such as THAAD in the Middle East. This would reassure U.S. allies, such as Saudi Arabia and Israel, which lie within reach of Iran's short- and medium-range conventional missiles.
A commitment to defer the deployment of interceptors in Poland would also be welcomed in Russia, reducing that country's…