What a crazy week!
It's "Quadruple Witching Day" today, when the contracts for stock index futures, stock index options, stock options and single stock futures all expire on the same day. This hapens at the options expiration day near the end of each quarter (that's right Q2 ends in just 15 days.
With so many options finishing in the money this week it's possible that the markets are simply being pinned around 13,500 for this expiration and they will reveal their true nature next week. Of course by next week we are into the "window dressing" period for fund managers so this could continue through July 1st!
Our virtual portfolios held up great this week and made a little progress because we played for this starting way back on May 25th, when the Dow was around 13,500 and I said at the time: "If we do get a couple of week's of consolidation around 13,500 then we will have played this perfectly as that's about where we hedged out our positions, especially the calls we sold against our longer-term positions but let's keep alert and be ready to go with the flow as we are still in danger of a big break in either direction." Now I know that rising 200 points, dropping 500 points and then rising 300 points hardly feels like consolidation when you are experiencing it, but that's all it really is in the grand scheme of things.
Just like any roller coaster, you go up and down and spin and turn but then you get right off at the same place you got on! Last options expiration day (5/18) we closed at 13,556, yesterday we closed at 13,553 and yesterday was the day we took out our remaining June callers (other than those expiring OTM) as their premium was about done.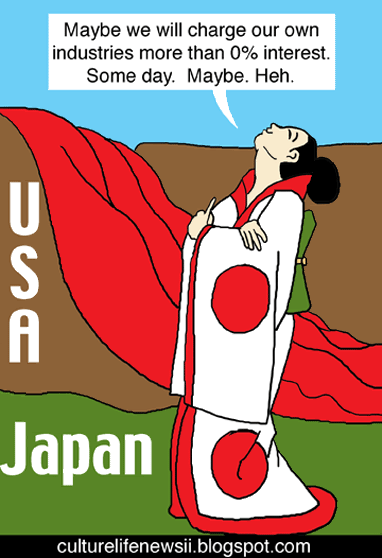 The BOJ should get us off to a good start by leaving rates unchanged, giving us a whole summer of carry trading to look forward to. As long as you (well not you per se, but rich and powerful people) can go to Japan and borrow at 0.5% and put it into – well, pretty much ANYTHING – then the global economy can continue to expand.
Unfortunately, in Japan, printing up all that money and giving it away is not helping their own economy and the BOJ will likely be forced to raise rates later this year in order to get things back on track. Of course printing money is not the sole game of the Bank of Japan:
"The Federal Reserve system pays the U.S. Treasury $20.60 per thousand notes — a little over 2 cents each-- without regard to the face value of the note. Federal Reserve Notes, incidentally, are the only type of currency now produced for circulation. They are printed exclusively by the Treasury's Bureau of Engraving and Printing, and the $20.60 per thousand price reflects the Bureau's full cost of production. Federal Reserve Notes are printed in 01, 02, 05, 10, 20, 50, and 100 dollar denominations only; notes of 500, 1000, 5000, and 10,000 denominations were last printed in 1945." — Donald J. Winn, Assistant to the Board of Governors of the Federal Reserve system
All this free money is flowing into the energy sector and has driven the CPI up to .7%, an 8.4% annual rate of infation but the same government that prints all that funny money has decided not to count food or energy costs so the "core" CPI is just .1% (1.2% annual rate) and we are going to be on a rampage today as all those non-eating, non-drinking, non-energy using market gurus take the markets up another notch.
Gasoline was up 10.5% this month but airline fares were down about a point so let's short them! The empire Manufacturing Index came in at 25.75 and anything under 50 indicates contraction but, since the last reading was just 8, this too is being considered a good thing. If you recall, we started the week with my motivational poster for the week that said: "Some days, it's better just to set your expectations low."
So let's not worry about the fact that 7.2% of all increased spending is going into the great oligopolies of the Food and Energy industries (who just happen to also be the nation's top campaign contributors) or about the fact that would be profits are being diverted from other industries as their energy costs increase. We're not going to worry about it because few people think about these things until after the fact so they party until the crash comes and then, after the fact, all the economic geniuses come out and tell us how we should have seen it coming.
When there's a party going on, even if we know it's going to end, we can still stop by and grab a beer or two. The IGW $65s at .60 should make a nice momentum play as INTC just caught an upgrade but it's a risky expiration day play. INTC Oct $25s are not too far fetched at $1 and we can sell the July $25s for .50 or so so I love this spread. GOOG should make a dash for $510 this morning but the play to make may be picking up the $500 puts for .25 and hoping for a pullback. $510 calls were .25 at the close and if I can collar them before noon I'd be willing to play it as a gamble on a move near the close but, like a horse race, it is very likely we rip up that ticket at the end of the day!
We should get some good action on our DIA Aug $138s and thank goodness for them as they pay for our losses on the DIA puts but I think the play is to take a chance and sell the late June $137s (HLKFG) for $1+ as the core CPI was actually 1.49% so had just one condo in Florida sold for an extra $10,000, we would have had a 2% reading and the markets would have crashed!
Let's not worry about levels today, we'll keep an eye on the S&P which must hold 1,530 and shouldn't have too much trouble through 1,540:
As foretold by my trader friends yesterday, Uncle Ben came out with some very bullish talk this morning and actually said (effectively) "Rah, rah, rah – Gooooooo Markets!": "In the United states, a deep and liquid financial system has promoted growth by effectively allocating capital and has increased economic resilience by increasing our ability to share and diversify risks both domestically and globally," he said in prepared remarks to an Atlanta Fed conference
We'll see if oil chooses to give us a break at $68 but since energy costs don't count, I'm going to stop worrying about them…
Come on everybody! We're going to party like it's 1999!
Do you know someone who would benefit from this information? We can send your friend a strictly confidential, one-time email telling them about this information. Your privacy and your friend's privacy is your business... no spam!
Click here and tell a friend!