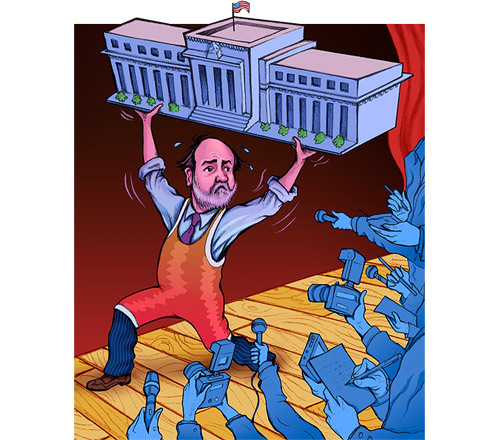 Don't you think this is a bit much?
Do we really need Bernanke AND Bush to each have a plan to save the markets from 13,250 today? Bernanke is scheduled to say something at 10, followed by the President, "who is expected to introduce a plan to reduce some of the pressure on squeezed homeowners by, among other things, changing the Federal Housing Administration mortgage insurance program to allow more people to refinance with FHA insurance if they fall behind on adjustable-rate mortgages," according to the WSJ.
We spoke extensively about this in chat yesterday and I said early on (as we pressed our Dow squeeze plays and added Nasdaq squeezes): "Bernanke can send us below 13K tomorrow or back to 13,500 with a single word (Imagine the power!). If Santy Clause doesn't come down the chimney tomorrow the market will throw a tantrum but Mommy (Paulson/Schumer/Bush) will tell us that Santa may still show up on the 18th if we're good so it's likely to be chop, chop, chop if we don't get a firm indication of a cut."
The bulls can thank Bush for giving the markets a strong kick-start but did the President schedule his statement to add what would have to be unnecessary top-spin to Ben's statement or is Bush coming on to counter the Fed statement after the Chairman wouldn't give him what he wanted?
I certainly hope that's the case as that was the plan I laid out for Ben yesterday when I said: "The only responsible thing for Bernanke to say tomorrow is that the economy is strong however certain sectors which were overheated, housing in particular, are cooling down and that the sub-prime issue is unique but controllable BUT NOT through a Fed rate cut. While the Fed stands ready to provide liquidity as necessary, we do not see it as necessary at this time and we believe that it is the responsibility of Federal regulators to step in and help resolve issues for Americans who find themselves faced with mortgages that will be difficult to maintain. That's it. I have a big stick and I'm not afraid to use it will be a lot smarter than using the stick and having everyone realize it's not big enough."
Remember it was George Bush Sr. who set up the Resolution Trust Corportation to bail us out in the last S&L crisis (which the press is VERY careful not to call this) so it's not a big leap of faith to imagine that Jr. would cotton to an idea that kept so many of his Daddy's friends out of jail. Also, please remember that the Resolution Trust Corporation was another way to pull hundreds of Billions of off-budget dollars out of the hands of the people and hand it to the wealthy even though fraud was discovered in 60% of the thrifts siezed by the federal government in 1989.
Another nice bonus when you get "emergency" powers to set up a $350Bn corporation is you get to staff it with your cronies who can then do your political dirty work, even after you are out of office. This is such a huge bonus that one might even be tempted to foment a crisis in order to be assured you would be granted extra-ordinary powers, but that's the kind of stuff you only find in spy novels…
So lots of fun in store and I'm very sorry I will be missing it this morning. Looking at our wild pre- market action I will be setting trailing stops on my index calls and planning to roll up my index puts to protect virtual portfolio gains when I come back around lunchtime. I'm going to be late for my meeting though as this is an opening I DO NOT want to miss!
Personal income is up 5%, personal income up .4%, the PCE deflator up just .1% – these numbers are simply unbelievable (as in numbers that are hard to believe) and the confluence of events this morning is equally incredible but we are going to have to continue to go with the flow today, which is definitely positive this morning!
Asia was up, Europe was up blah blah… Who cares – we're getting some action!
All the same bad news we've talked about all month is still there but IT JUST DOESN'T MATTER this morning because magic fairies are going to come down from the sky and waive their wands and suddenly all those terrible loans will become good ideas again and all those overpriced homes will become a bargain and we're going to win that war! Ok, the last one was a bit of a stretch…
Needless to say I will be taking this rally with a Lot's wife-sized grain of salt but that shouldn't stop us from profiting from the market gyrations. Mrs. Lot, if you'll remember, got salted for looking back on Sodom with regret so we will avoid the wrath of the markets by letting go of our positions with no regrets if things don't go the way we thought. We spent much of yesterday talking about levels and stops and we should pay close attention to what will constitute a breakout today.
That means it's time to go back to the old reliable Big Chart and make sure that the moves we get today actually make the levels we need to get back in rally mode:
| | | | | | | |
| --- | --- | --- | --- | --- | --- | --- |
| | | Week's | Must | Comfort | Break | Next |
| Index | Current | Move | Hold | Zone | Out | Goal |
| | 13,238 | -140 | 13,000 | 13,300 | 13,500 | 14,000 |
| | 2,825 | -44 | 2,800 | 2,900 | 3,000 | 3,250 |
| | 1,457 | -22 | 1,470 | 1,505 | 1,530 | 1,550 |
| | 9,456 | -151 | 9,400 | 9,800 | 10,000 | 10,250 |
| | 2,565 | -11 | 2,525 | 2,550 | 2,600 | 2,750 |
| | 490 | -5 | 480 | 490 | 500 | 560 |
| | 783 | -15 | 810 | 830 | 850 | 900 |
| | 23,984 | 407 | 20,250 | 20,750 | 21,000 | 22,000 |
| | 16,569 | 268 | 17,400 | 17,700 | 18,300 | 18,500 |
| | 15,318 | 476 | 13,500 | 14,100 | 14,725 | 15,000 |
| | 7,603 | 80 | 7,300 | 7,600 | 8,000 | 8,200 |
| | 5,664 | 53 | 5,750 | 6,000 | 6,100 | 6,300 |
| | 6,277 | 57 | 6,400 | 6,550 | 6,600 | 7,00 |
Those are the changes since Monday. Isn't it funny how you can get caught up in the moment and forget where we really are? The only green we gained was the BSE, which is certainly a good thing, but we lost the S&P, the SOX and the Nasdaq so unless we retake AND HOLD those levels, I really don't see what all the fuss is about.
We'll be following through with our plan to pick up XOM and other oil puts into the weekend as oil always goes up before a holiday weekend but we are still fairly bearish in the longer-term. Let's look for the XLF to make great improvements and the XLE $70s make a nice upside momentum play. We'll see if oil can take out $75 as the shorts cover ahead of the holiday during hurricane season!
Have a happy holiday
!
- Phil
Do you know someone who would benefit from this information? We can send your friend a strictly confidential, one-time email telling them about this information. Your privacy and your friend's privacy is your business... no spam!
Click here and tell a friend!