Archive for 2007
by OptionSage - September 16th, 2007 6:07 pm
OptionSage submits:
Step 1: Research Event Calendar
Bear Stearns Earnings Sep 20 (BMO – Before Market Opens)
Goldman Sachs Earnings Sep 20 (BMO – Before Market Opens)
Morgan Stanley Earnings Sep 19
Lehman Brothers Holdings Earnings Sep 18
Sep 18 FOMC Policy Statement
Week of September 17 – September 21


| | | | | | | | | |
| --- | --- | --- | --- | --- | --- | --- | --- | --- |
| Date | ET | Release | For | Actual | Briefing.com | Consensus | Prior | Revised From |
| Sep 17 | 08:30 | NY Empire State Index | Sep | | 15.0 | 18.0 | 25.1 | |
| Sep 18 | 08:30 | | Aug | | -0.7% | -0.1% | 0.6% | |
| Sep 18 | 08:30 | | Aug | | 0.2% | 0.1% | 0.1% | |
| Sep 18 | 09:00 | Net Foreign Purchases | Jul | | | | $120.9B | |
| Sep 18 | 14:15 | FOMC policy statement | | | | | | |
| Sep 19 | 08:30 | | Aug | | -0.2% | 0.0% | 0.1% | |
| Sep 19 | 08:30 | | Aug | | 0.1% | 0.2% | 0.2% | |
| Sep 19 | 08:30 | | Aug | | 1365K | 1360K | 1381K | |
| Sep 19 | 08:30 | | Aug | | 1355K | 1350K | 1373K | |
| Sep 19 | 10:30 | Crude Inventories | 09/14 | | NA | NA | -7011K | |
| Sep 20 | 08:30 | | 09/15 | | 320K | NA | 319K | |
| Sep 20 | 10:00 | | Aug | | -0.5% | 0.0% | 0.4% | |
| Sep 20 | 12:00 | | Sep | | 5.0 | 2.0 | 0.0 | |
by phil - September 16th, 2007 2:07 pm
And up we go again!
We went into the week looking for another 300 point move and, surprisingly, we went up exactly 300 – this time without giving it all back (yet). Buyers were certainly brave ahead of next Tuesday's Fed meeting but we firmed up the put side and left ourselves in a much more neutral stance than we had been in at the beginning of the week. Really folks, how many times do we have to watch this video before we understand market movements?
On Monday we were pleased to find additional evidence that the US markets continue, by virtue of their relatively poor performance, to be a less scary place to park capital than other shaky alternatives. Government shakeups in Japan and Russia and inflation worries in Europe seemed poised to squeeze some of that excess capital we've been hearing about over this way. Although it took a few days to take effect, I noted Monday morning that Japan's negative GDP revision was exceptionally well timed to save the dollar before it fell too far below 80.
Also on Monday the NYMEX pump crew decided to go for broke (making us broke and them rich of course) and started the process of bidding oil up to $80 a barrel based on "demand" while simultaneously canceling the 289M barrels THAT WERE SCHEDULED FOR DELIVERY ON MONDAY WHEN OIL WAS AT $75.75. Since Monday, oil went as high as $80.25 on "record demand" yet STRANGELY, that demand didn't extend to the traders ACTUALLY WANTING those 289M barrels as orders for October delivery were down to 197M barrels by Friday.
In what possible, legitimate way do prices go up while demand goes down? I'm not trying to beat this to death but I will continue to track this BS through it's Thursday conclusion as these thieves cancel another 150M of your October barrels next week so they can have the parrot-heads on CNBC tell you all about the oil shortages next month as well. Until you people really do open up those windows and shout "I'm mad as Hell, and I'm not going to take it anymore," expect them to stick it to you like this over and over and over again.
While I may have had to do a little adjusting on Monday…

by phil - September 14th, 2007 4:38 pm
Much stronger than I thought here, semis doing ok at the open but I'm mostly waiting to see what shapes up, glad I got off the CROX shorts, they're holding up well..
SNDK big rebound, GRMN – lots of tech that sold off yesterday is coming back. AA, CAT finding buyers. Also Ebay, YHOO, GM, OIH group… Bears beware if we hold up here (50% retrace of yesterday).
CHL at ATH – that's very interesting on a day like today. UNH confirming my bottom theory for them. RIMM is up to its old tricks. BIDU strong too.
No sense risking September puts here if we turn up, I'd rather cash out and flip to Octobers rather than take a chance on losing nice gains. My upside break points are 2 of 3 S&P 1,475, DJI 13,350, Nas 2,585. XXX
RMBS moving again!
BIDU – yes, they're October and I think whoever's buying today is very mistaken. I'm down about 10% so not worth doing anything with yet and I'm too worried about a steep drop to sell against them but I figure I can always pick up $4 for the $230 puts if I have to – that would cover a roll-up on my Octobers. If they break $234 I'll be worried enough to cover (and maybe DD if I can avg down to below $10).
Market now looking strong, strong, strong – very glad I dumped the short side. Will work back to neutral over the weekend but only October plays now – no Septembers!
GS OCT $195 calls at $6, will sell Sept calls against it later. XXX
…

by phil - September 14th, 2007 9:18 am
Wow, what a tough week!
We've been all over the place as we ride this roller-coaster headlong into Tuesday's Fed meeting.
I stick by my quarter-point cut theory (see yesterday's comments) as it would be politically tough for Bernanke not to throw us a bone BUT, with Greenspan doing a "mia culpa" about his previous easy money policy and backing Bernanke now ("We were dealing in an environment back then where inflation was easing. We could have acted without the fear of stoking inflationary pressures. You can't do that anymore….I'm not certain I would have done anything different."), it may be possible for our Fed Chair to take a stand here and JUST SAY NO!
The LAST thing this country needs with food and energy prices spiraling out of control is a rate cut so people can remortgage their homes to buy more food and energy. When prices outpace the public's ability to spend, there is a breaking point (demand destruction) at which the public stops spending, followed by a recessionary cycle in which less goods and services are purchased until the prices come down (deflation) to meet demand or (heaven forbid) wages go up to enable consumers to pay the steady prices. Following a policy of constantly funneling borrowed money to the consumer so they can keep paying higher prices CAN ONLY LEAD TO DISASTER.
Speaking of disasters, retail sales were up .3% but, ex-autos, down .4% – that's pretty damn bad! Import prices were surprisingly down .3% for Aug, and export prices (agriculture) were up .2%. Our Current account deficit came in at $190Bn as our government leads by example of some horrifically irresponsible spending habits...
Although we have many Asian subscribers, the Asian markets seemed to take yesterday's US market action as some sort of reason to rally. It looks like Aso may lose out to Fukuda in the race to lead Japan as various factions line up behind him. Fukuda is a fiscal conservative who favors tight money policies and a strong central bank – a dangerous recipe for the carry traders. Personally, I'm happy with any Asian leader whose name alone scares Western broadcasters. All kidding aside, this is a top-notch guy who is just what Japan needs. Unfortunately, what Japan needs is to stop mortgaging their future to prop…

by phil - September 13th, 2007 11:06 pm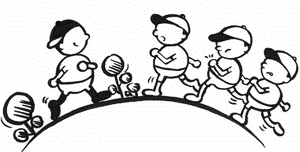 Well that was a very low volume rally and I didn't buy it for a second.
Rather than rehash it here I decided to post my day's commentary to members on the free site as I always get a lot of questions about what goes on behind the curtain at PSW and today was a good example.
The short story is that we spent the day rolling our puts up, doubling down on our puts and taking new puts, generally going against the crowd… Happy made no new entries (1 roll) on his site either and that guy is WAY MORE optimistic than I am, so that should tell you something!
Painful though it was, I made very few moves of my own taking my lumps on the bearish side of the virtual portfolio and letting myself stop out of profitable calls that slipped as the risk/reward ahead of the Fed became too skewed up at 13,450. Sure we'd love to see a breakout and a rally but it has to be based on some fundamental changes in the underlying economic situation, not based on traders and the media telling us the magical Fed is going to wave their wand and give us reasons to move up to new all-time highs.
I came closest to capitulation at 11:27, when I said: "I'm watching GOOG here as a lead indicator, if it can get over the $527 mark, it's time to put on a rally cap. Apple needs to hold $138 and Goldman needs to hold $187 with the Nas in general holding 2,600 but now the RUS is positive." but I followed with: "If the brokers have good earnings and the market is at 13,400 – what exactly is the premise for emergency Fed tightening? Oh well, I need to turn that part of my brain off!"
That pretty much sums it up for me - a mindless, baseless rally that looked more like market manipulation than legitimate buying and I simply couldn't pull the trigger, especially coming into the weekend with retail sales ahead of us and oil up at $80. The only good thing about $80 oil is we haven't had a Nigerian kidnapping since oil got back over $65 – what a happy coincidence!
by phil - September 13th, 2007 4:57 pm
This is not a broad rally yet – let's not forget the Hang Seng opened very high and dropped 300 by lunch. I'm not rushing to reposition, painful though this is. Look at CFC this morning – just silly buying…
XOM and SU I covered by selling Sept puts, I wasn't as worried about COP or XTO. Oil is DOWN .40 so I wouldn't panic, especailly in October positions. This is a very low volume day and it can all be reversed in minutes.
Look at the people going down: DRYS, CAL, POT, QCOM, COH, CROX, DD, SOX, INTC, TXN, AMD, QQQQs – is this a major bull rally you should capitulate to or is this an excellent opportunity to roll your puts higher or DD on existing positions? You need to stand behind your trades otherwise you will always be forced out by moves like this. XXX
Breaking 13,400 is hyper-critical here if they want a real rally.
Internals are strenghtening though so I wouldn't bet against it but let's watch for a rejection as even a seller on holiday sets stops somewhere!
Rolling DIA $133 puts to $134 puts for .35 XXX
HOG 52-week low (consumer)
YRCW 52-week low (transport)
MCO 52-week low (mortgages)
NT 52-week low (telco)
Pharmas are dropping off (consumer)
Bought back my oil putters.
Yes Happy New Year/Ramadan!
MA/AXP taking a dive.
DIS/HOT failing
On the plus side:
UPS making a move
JOSB coming back
TIE moving (I still like them)
SHLD coming to life
CCJ cranking
Brokers having a good day…
DIA – that's a roll of my Sept $133 puts to Sept $134 puts for .35…

by phil - September 13th, 2007 9:00 am
I got my oil rant out of my system last night so let's take a cue from our leaders and ignore it today!
Bush is speaking tonight and I'm quite confident that the White House has this situation well in hand and will wave their magic wand and make everything better so let's just accept the fact and move on…
The markets held up well yesterday despite silly concerns over energy prices. According to the latest WSJ poll (possibly the last one not directly overseen by Rupert Murdoch) the President's approval ratings made a dramatic turn-around with a full 37% of the American people now thinking it may be possible to "win" the war.
"Only" 61% of the people diapprove of the job George Bush is doing as President, down a full 5% from the June high of 66% (1002 people polled, 3.7% margin of error). 38% of the people approve of Bush's handling of the economy, despite another poll of leading economists now predicting the probability of a recession is now 36% - so congrats to the President on winning over the hearts and minds of the people!
11 of the 24 economists surveyed said there was a 50% or greater chance of a recession and don't forget, when you read these surveys, that economists have party lines too! Consensus on this year's final GDP is now 1.9%, down 24% from last month's estimate of 2.5%. Growth prospects for Q1 took a similar dip, from 2.6% to 2.1%.
According to the WSJ: Economists in the recession camp say that drops in employment — and housing declines of the current magnitude — rarely occur outside of periods around recessions. In addition, the housing-market decline is reducing household wealth and hurting consumers' ability to tap home equity. Also, the credit-market turmoil could exacerbate the housing problems and curb consumers' opportunities to borrow. The result, they say: Slower consumer spending, which accounts for 70% of economic activity.
Alliance Bernstein economist Joseph Carson, who puts the chance of a recession at just 5%, said consumers already have adjusted their spending as a result of the housing correction and a precipitous consumption drop isn't likely. And even though employment fell last month, overall incomes are growing.…

by phil - September 12th, 2007 11:48 pm
Well that was quite the non-event.
After flirting with levels as high as 13,350 the Dow closed lower for the day at 13,291. The big news of the day was oil driving to $80 on the NYMEX as traders in the pit shouted "Go, go, go!" as if they were cheering some kind of football hero rather than bidding for the chance to send another $4M per day to Iran et al.
How can the Fed even consider a rate cut, which may save homeowners $100M per month, when this month's $10 rise in the price of oil is costing US consumers over $200M per day? What kind of idiotic Federal policy could possibly justify the kind of inflation that $9 wheat and $80 oil will bring down on the American people?
$200M per day adds up to $73Bn a year out of the pockets of American consumers, then there are the markups charged right here at home by US refiners that turn a $70 42-gallon barrel of oil into $3 at the pump, that works out to $126 per barrel so after OPEC is done raping you for $70 per barrel, you are handed off to US trader and refiners who pass you around until another $50 comes out of your pocket! So $10 per barrel adds up to $17 at the pump, that's $124Bn our of our pockets IN THE US ALONE for every $10 increase in a barrel of oil.
$124Bn is enough money to lower every mortgage in America by over $100 per month. That's the markup we're paying since just August 23rd, not even a month! Since we decided to reelect The Decider, the charge for oil to EVERY SINGLE US FAMILY has risen $300 per month! Since Bush first took office – $500 per month. Thank goodness they raided the US Treasury to give everyone a tax refund or we might have complained sooner…
This is the "Food and Energy" inflation that is omitted from the Core CPI, the inflation our government pretends doesn't happen but leaves all Americans feeling just a bit poorer despite our President's assurances that "our economy is strong." Our economy is strong, strong enough to support a $600Bn annual oil tax that has been imposed on it
Bush will be on TV tomorrow. Do…

by phil - September 12th, 2007 7:21 pm
Oil – will have several soon but XOM Oct $85 puts of course!
GS – will be glad to get out of those puts. Let stops be your guide today, we could go anywhere and the next two days is a Jewish holiday which takes about 1/3 of the brokers out of the loop in NY.
IBM – today I am glad I have them. Only if the market takkes off do I want to let go of my insurance right now, they still have a lot of premium to give me but I'll be watching that $117 line closely and, if in doubt, I will buy back half…
COP/BTU – unless they top out before 10:30, I'd rather make mo plays AFTER inventory (assuming net draw is less than 2Mb, otherwise maybe hope for even more of a run).
Nice Apple-led Nas move, if GOOG wakes up we could have a party.
CY – as with IBM, I'm not willing to give up insurance unless we hold 13,250 for the day. I haven't even rolled my AAPL $130s yet and those are a train wreck compared to the IBMs…
BSX – same answer, I don't pay to leave myself uninsured when I don't like the big picture fundies.
SHLD – out of shorter calls but still happy with my 2010 $140s at $30
Good time to cover AMGN as the $55s are $1.10, they were .30 yesterday. XXX
Chasing LVS up to the Oct $105 puts as they make a new ATH.
Oil puts, other than mo plays, only picking up Octobers here.
Teeing up oil puts (still hoping for cheaper prices)
SUVR – SU Oct $90 puts, now $2.80
COPVP – COP Oct $80 puts, now $1.42
XOMVQ – XOM Oct $85 puts, now $1.92
XBTVT – XLE…

by phil - September 12th, 2007 9:13 am
Is the dollar dead?
As I mentioned in last nights post, we were at an all-time low against the Euro and our worthless currency provided a short-term boost to stocks but now traders will take a closer look at US companies to see which ones do well (exporters) in a dollar collapse and which ones do poorly (importers).
We're at a breaking point for the dollar and will be heading into uncharted territory if something isn't done to rescue our currency. The question is, does our government want to rescue the dollar in the first place? I laid out the strategy of burning dollars to fight gravity as a national policy back in December and I predicted at the time that it was for that purpose that Paulson was selected as Treasury Secretary. At the time Mr. P was jetting off to China to explain my Roach Motel Theory to them as it applied to the then $1T they were threatening to dump and we explained to them why they would keep taking our currency and loving it. China now holds $1.3T dollars…
Stage two is coming as China is being forced to ratchet up their own currency to fight inflation at home, which will further deflate their dollar reserves, making it an even worse time to dump their holdings – that is one trapped roach!
At the time I said: "So we will keep printing dollars and China will keep buying them, as will everyone else and, now that we have pushed commodities to the limit, they will start using those dollars to buy other American goods and services – maybe even an IPod!" I used this logic to set us up for a bullish year, despite the poor economic conditions but, after a 15% run by mid-July I turned a little more cautious and now we have to wonder if we've pushed things too far as the Dow is up from 12,243 since I wrote that article.
13,000 is our 50% retracement line off those gains and the dollar has given about all it has to give at this point. Right now, the dollar is pricing in a 1/2-point Fed cut next week and we could have a snap recovery back to 81 - IF Uncle Ben does the right thing and leaves things alone. …