Citi wasn't as bad as rumored!
Not exactly a rally cry but I think I'm safe with the $27.50 puts I sold. The big question for the day is: "Is the market still in the mood to pretend that the core PPI is real and the real PPI can be ignored?" That's the magic that's been holding the markets together, the ability of the American public to swallow being paid less than 3% for the money they save (passbook savings account, Social Security) while paying without complaint 6% on homes, 9% on cars and up to 21% on credit cards.
This is the basis of the mighty US financial system, which sucks up over 20% of the nation's wealth each year in the form of fees and interest rates and has built an ecomomic house of cards on the myth that infintely rising commodity prices would be paid by leveraging every last asset the US consumer has in order to pay for them and pumping up those asset prices (homes, stocks) by flooding the markets with easy money, all the while pushing to enact Draconian bankruptcy laws to make sure they get their pound of flesh when it all hits the fan.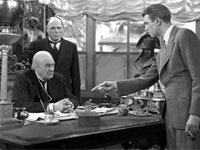 What the banks didn't plan on was that the fan would be hit so hard and so fast that "it" would fly all over the place and there simply isn't enough money left to pay off all the loans that have been made and no amount of squeezing is going to get more blood from the 2.5M homeowners facing foreclosure this year. Since the announcement of Paulson's "Plan," over a month has passed and 200,000 more families have been tossed in the streets and another 7,000 families will join them at the end of yet another day where Washington talks loudly and doesn't even bother to bring a stick.
These are sad economic realities and it remains to be seen whether the Fed will step up to the plate. I said last week that Fed action needed to be taken by tomorrow before the markets turn down too far to be pulled back but inflation is out of control over in Europe and those banks face mandates that will not allow them to bail us out. This complicates things for the Fed as another drop in rates will send the dollar to new lows and commodities to new highs – who exactly will that be helping?
8:30 update: Our own PPI just came in at 6.3% non-core, pretty much in-line with expectaions but retail sales are DOWN 0.4% vs. the up 0.1% expected, and Empire Manufacturing is flat at 9.03 vs. 13 expected. These are really bad numbers folks, this was December!
Sadly we have to go back to looking for our bottoms to hold. 12,500 for the Dow, 1,400 for the S&P, 2,400 for the Nasdaq, 700 for the Russell and 9,300 for the NYSE. Fortunately we kept our index puts in place yesterday and took advantage of the run-up to roll them higher. They should pay off well in the morning and we'll look to take them off as we hit levels, hoping for at least a small bounce.
There was no bouncing in Asia this morning as markets there gave up significant ground, including India, who had been holding us up over there. The Nikkei hit it's lowest level in over 2 years and things will not be pretty if they can't hold 14,000. The Hang Seng doesn't look quite as bad – YET but, at 630-points a day, they can catch up really fast!
Europe took our news very badly as well and markets there are down about 1.5% so far (9 am). NOK announced they will move 2,300 German manufacturing jobs to Romania to save money so everyone has their own version of outsourced jobs. While Bush is working to stop Iran from having nuclear technology, the French are bidding on who gets to build reactors in Saudi Arabia, where 19 of the 9/11 hijackers lived (none were from Iran or Iraq) - what a crazy world!
Oil continues to be the thorn in the side of the global economy but demand destruction continues apace as US consumption only grew 0.2% in 2007 and was offset by declines in the rest of the industrialized world causing total OECD consumption to drop 0.2%, the second year of declining use. Developing nation consumption continued to rise but a lot of that is due to government fuel subsidies (over $250Bn last year) which won't continue indefinitely.
Oil should take a big hit this morning and I still like SU puts. The Jan $110s at $5.80 have almost no premium and can be played as a momentum trade as we watch for a break below $103.50, but you have to keep tight 10% stops on or you can get burned. The $100 puts at .45 are a fun gamble if you can be happy with .65 as it flashes down. OlI also has potential to tumble and $70 puts are .55 but note that these are very dangerous bets and should be treated as pure gambles.
If you are not already covered to the downside, I don't think I would recommend chasing the indexes down as I do expect (hope?) them to hold our floor. Once we get below that, we're going to have to make some very hard choices but, thanks to a weak FXI yesterday, we put some key covers in place. Unlike last week, I won't be so keen to roll down here as I'm not anxious to commit more capital until we put in a solid floor.
Be very careful out there!
Do you know someone who would benefit from this information? We can send your friend a strictly confidential, one-time email telling them about this information. Your privacy and your friend's privacy is your business... no spam!
Click here and tell a friend!