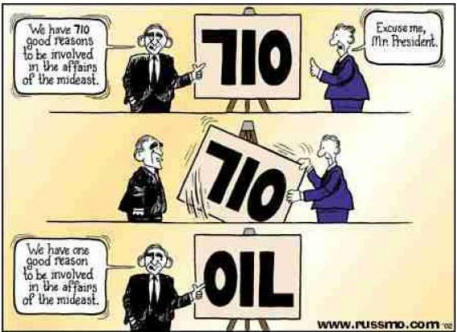 I love short weeks!
I hope everyone had a nice weekend, we had perfect weather in the Northeast and now it's raining so we don't even feel bad about getting back to work. Gas, gas and more gas was the topic of the weekend parties and even John Mauldin had a whole column on oil, which makes a nice overview to my more specific expose on the nuts and bolts of oil price manipulation. Oil is certainly the new housing so good luck to all the speculators playing hot potato with those front-month contracts, it will be fun to see who gets burned…
CNBC's new party line for oil apology is to try to tell you that the oil market can't be fueled by speculators because it physically settles but the TRUTH is that what settles on the NYMEX is just 30M out of the 7,000,000,000 barrels that are traded in an average month and those 30M barrels represent just 1/3 of one day of global consumption so the magical "settlement" that the "experts" at CNBC are pointing to is 1/100th of the actual global consumption. Just $3.9Bn to control the price of the $332Bn worth of oil that is sold each month.
That means that overpaying by just $800M on the NYMEX by traders for their "settlement" barrels will pump an extra $65Bn into the hands of their employers if they are working on the producers side. These energy traders have the motive, means and opportunity to murder the global economy by raping us with energy prices yet no one is investigating the crime scene!
The Asian markets burned through another 5% drop on the Hang Seng while we were closed although the Nikkei bounced back 203 points today after yesterday's 350-point drop. As is often the case with Nikkei "rallies" the gains all came in just 2 hours, the opening gap up and a big run from 1:30 to 2:30 so it remains to be seen whether it sticks. Gainers in Asia were led by oil companies and banks as crude was pumped back up to $133 with the US market closed in light trading – we'll see if they get a shot of reality once the pits open this morning as last week turned very ugly at the end for energy bag-holders. The Shanghai composite hit a one-month low on Monday as investor have major concerns about inflation tightening measures that are being discussed including rolling back some gasoline subsidies.
SHI's (refiner China Petroleum and Chemical) shares were suspended on Monday for a shareholders meeting and the stock dropped 4.5% on profitability concerns. Sinopec's chairman said Monday the government's tariff rebate on oil imports covered less than half of the company's refining losses. The company also said it may delay trial operations of a natural-gas pipeline from Sichuan to Shanghai by one to two months because of the recent earthquake. A rationale person would think that would lower the use of gas for a few months but don't expect a rational response from the gas markets.
Europe is also having a rough week so far with the FTSE at the 5% rule over 5 days and the CAC at the 2.5% rule and the DAX splitting the difference down 3% but looking like they are going for 5 as they fell off sharply through the 2.5% line this morning. There was no particular news, just a general sense of inflation-driven malaise and there were strikes in both England and Spain as truckers and fishermen protested high fuel costs. The time may be right for US equities to reclaim their position as the least sucky place to put your money! Sure it's lame, but it's as good as it's going to get under this administration…
Very little happened over the weekend other than the usual attack from Rent-A-Rebel over in Nigeria attempting to support $130 crude. We have consumer confidence (or lack thereof) numbers out at 10 and anything below 61 will be a disappointment. New home sales are also at 10 am, with a very low expectation of 520K, which will be bad if we miss. Tomorrow we have durable goods orders but Thursday is the GDP, jobless claims and the delayed crude inventories so not much matters until that morning. We will finish the week with big data on the PCE inflation and the Chicago PMI as well as Personal Income and Spending so we'll play things by ear, watching oil as the lower it goes, the better the markets should do this week.
Have fun out there, it's going to be interesting!
Do you know someone who would benefit from this information? We can send your friend a strictly confidential, one-time email telling them about this information. Your privacy and your friend's privacy is your business... no spam!
Click here and tell a friend!