Is today the day we break the pattern?
I predicted a wild week on Monday morning and we have been having a fabulous time as it only took me until 12:51 on Monday afternoon to point out to members that we were following a virtually identical pattern to the previous week. That enabled us to anticipate the gap down on Tuesday morning, as well as yesterday's stick save. In fact, I predicted the Dow would close at 8,050 and missed it by 7 points. Our short plays that day were MA (which we cashed in yesterday with a huge gain), BIDU and FSLR. The last two are still trading up and I really like BIDU as a proxy for a possible disappointment from GOOG this evening. Also, we got a downward revision to China's GDP today to "just" 6.1% growth.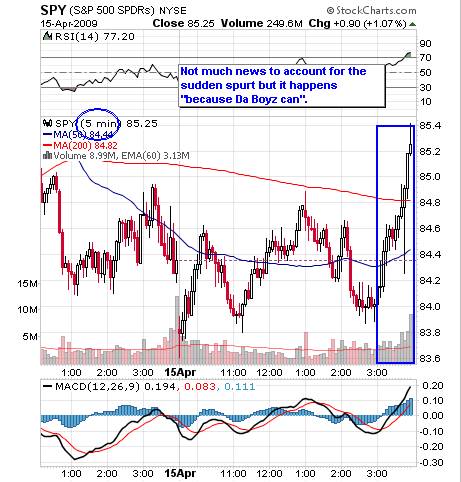 I often say to members "We don't care if the markets are fixed, as long as we know HOW they are fixed" and yesterday was a great example of that as we digested the Beige Book report and, at 2:53, with the S&P spiking down to 839, I was able to post a reminder "20 minutes until stick save" and put up a trade idea for the FAS $6 calls at $2.15 (because they had almost no premium), which closed out at $2.90 an hour later (up 34%).
We did not, however, change our overall cover stance at the close of 55% bearish. I would have been more bullish if we had NOT moved past 848 on the S&P, there was a sort of frenzied overkill to the "rally" that made me think we would not get the follow-through that we got last Thursday. Also, we had to take into consideration that last Thursday closed the week so we have an extra day (and it's options expiration day!) to play with so, as I said to members in yesterday's chat, it pays to error on the side of caution – just in case.
Today we have the usual 650,000 people losing their jobs (yawn) along with anemic Building Permits and Housing Starts (550K each expected) and the Philly Fed at 10 am. The Philly Fed is our biggest worry as it is almost certain to be worse than the -32 expected because it says right in yesterday's Beige Book: "Third District manufacturers reported further declines in shipments and new orders, on balance, from February to March. Around one-half of the manufacturers surveyed noted decreases in both measures, and around one-tenth reported increases. Among the District's major manufacturing sectors demand remains especially weak for primary metals, industrial machinery, electrical equipment, and measuring and testing equipment. Several firms in these sectors noted that demand for products related to autos or housing ranged from "weak" to "horrible."
Weak to HORRIBLE – Now there's a rally cry if ever I heard one, right? When your own Central Bank uses the word HORRIBLE in connection with ANY part of your economy – you may want to be just a little bit concerned… On Tuesday morning I told you: "GGP is facing a dangerous end-game with bondholders that may force liquidations that will rock the commercial real estate market" and this morning they did file for bankruptcy – putting a damper on our otherwise happy futures just ahead of Europe's open (3am). JPM saved us from a really bad open (so far – 8 am) with a nice beat but they already had their rally yesterday afternoon so I'm not looking for too much but holding the 200 dma ($32.20) by itself will be quite a victory for the financials. Now we need to get past our 8:30 data to see what kind of day we will have.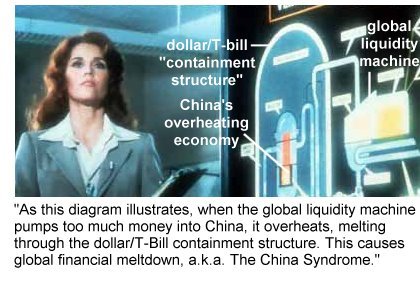 8:30 Update: Oops, housing starts were terrible at 510,000 (down 10%) and Building Permits were down 9% but who cares as Jobless Claims fell 53,000 to 610,000 so it's party time in the futures pit as "only" 20,000 people a day were given pink slips last week – heck, that's just one person every 4 seconds being laid off and, according to Realty Trac, that "only" led to 341,000 home foreclosures in March so we can look on the bright side and say almost half the people who lose their jobs manage to keep their homes – Yay I guess…
We expected a possible gap up this morning but I put out an early alert to members today, warning them of a possible "China syndrome" as the Hang Seng had a wild day, dropping 200 points in the last hour but really just retesting the morning low where they had dropped 500 points from a ridiculous gapped up open that had sent our futures UP almost 100 points at their open, so lots of shenanigans as people are being flushed both ways ahead of expirations. To recap the Hang Seng's day – they opened gapping up 400, were down 150 an hour later, up 100 30 minutes after that, flat for 3 hours then up 100 in 30 minutes then down 150 an hour later before finishing down 86 for the day. Pull back to the weekly view and we call that hitting mild resistance at the 40-week moving average at 16,000. For the US markets, it's that 10 am Philly Fed report that will likely make or break our day.
The rest of Asia drifted slightly lower for the day as well but, as with the Hang Seng, nothing to be alarmed about after such a huge run. The Nikkei also had a roller-coaster day but there was only one turn as that index gapped open 100 points, rose 200 more points into lunch and then gave all of it back in the afternoon. Playing the Nikkei down after lunch has been a good bet for 2 weeks now. LG Display lost $191M selling (or NOT selling) LCD displays but claims they are turning a corner and expect a 20% increase in shipments for Q2. Are they overly optimistic or are we seeing "green shoots"?
It's 9am and Europe is thrilled with our data and JPM's earnings and they are trading up about 1.5%. This is interesting because data in the EU shows Industrial Production there fell 18.4% to record lows and inflation was cut in half to 0.6% for March, also a record low. Overall Capital Goods Production was off 24.7% for the year but the markets are liking the inflation number as it gives the ECB room to add more stimulus as their mandate is to keep inflation just below 2%. This means the bank may follow-through with additional cuts as Trichet had been concerned that too many cuts would fuel inflation – clearly we're far from it at the moment (but we'll get there!).
We'll have to play it by ear into the Philly Fed, ready to get bearish if we can't hold our levels which are currently: Dow 8,000, S&P 847, Nas 1,585, NYSE 5,321 and Russell 456. Yesterday's build in crude took the US inventories to 19-year highs yet oil remains stubbornly at $50 on continuing NYMEX shenanigans. This is going to end very badly I think but, other than the OIH, we've been scared to short energy as the pump monkeys are in firm control of the energy pits this month. Natural gas inventories are at 10:30 and we'll see if a build there can knock the wind out of the NYMEX but probably not.
It's all about Google tonight and we made some plays yesterday and will surely have more today as it's always fun with earnings on expiration day. In addition to JPM, we got good news from CCK, BAX, CY, FCS, GCI (yay!), ITW, ISRG (yay again), KNL, NOK (that's a surprise), PII and SHW (more of a shock than a surprise) with LUV, HOG, VIVO, PH, BGG, IIIN, SON, TITN, UTEC and UMPQ disappointing us so it's turning into a bit of a stock picker's market – our favorite kind!
Let's have some fun today but stay mindful of the meltdown – we need to watch our levels carefully and get bearish the minute we lose 3 of 5.
Do you know someone who would benefit from this information? We can send your friend a strictly confidential, one-time email telling them about this information. Your privacy and your friend's privacy is your business... no spam!
Click here and tell a friend!