Yay 11K, we did it!!!
I think the only person more fed up than I am with this nonsense is David Fry (his chart with my note on volume), who summed it up nicely saying: "There's no need to make this stuff up anymore since end-of-day stick saves are right there and in your face. No pretense or deception is necessary anymore. When you have "other people's money", including the taxpayers to work with; you can do what you wish and not be called-out on it. Who's going to do that anyway, the financial media? LOL!!! Anyway, the media got the headline number they wanted and Main Street is no doubt impressed… Monday's volume was pathetically light; so managing the market higher was easy for those who could. Breadth was positive per WSJ data below."
It's all about S&P 1,200 now that the Dow has made it's magic number. As you can see from the chart, 1,200 is not even proper resistance, it's just a stopping point that should not take so long to resolve in a proper rally but, then again, a proper rally usually has volume and we've had none at all – especially when you consider that of the entire NYSE listed volume yesterday of 4.6Bn shares traded, C, ABK, BAC and FNM made up 25% of the trading. With S, GE, FRE, AA, F and RF adding up to another 10%, that leaves just 3Bn transactions spread out among the other 4,000 listings. The bottom line is volume is far, far lower than it appears and it appears to suck…
None of that matters though, as David says, it's right in your face and the people manipulating the market can't even be bothered to pretend not to be doing it anymore. I've already sent out an Alert to Members this morning with our last major disaster hedge of this cycle in preparation of HAVING to go bullish if we make S&P 1,200. I say having to to go bullish because I'm still convinced it's a different kind of bull that's driving us higher and we'll be making few long-term commitments for the first few weeks but if we have another 10% more to gain on our indexes – there's no point on sitting it out, is there?
As you can see from this Fallond Stock Chart of the S&P, this train has already blown through a sell signal on the 8th and the top of the channel is rising to 1,220 with 1,200 ready to become the bottom of the range if we can punch through here. The VIX has crashed but they are still willing to give money away to the bulls on the Dow. Here's a simple example of how you can make a 500% return by simply betting the Dow holds 11,000 through May options expiration (21st):
Buy the DIA May $108 calls for $3.20
Sell the DIA May $110 calls for $1.85 (net $1.35)
Sell the DIA May $107 puts for $1.05 (net .30)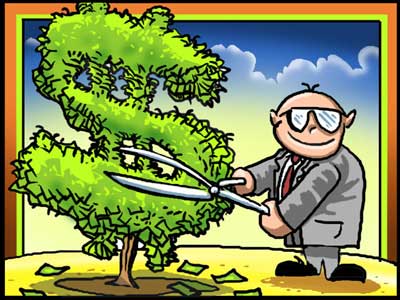 This is a very simple play in which you buy a "bull call spread" that pays you net $2 if DIA finishes at $110 or higher (currently $110.18) on May 21st so your bet is, effectively, simply that the Dow doesn't fall below 11,000. Since you are a bull with conviction, you can sell a $107 puts for $1.05 to subsidize the spread, bringing your net cost to .30 with a possible $1.70 upside (566%) that is already completely in the money.
What is your downside? The downside is, if the Dow goes below 10,700, DIA will be $107 and you will lose the .30 you laid out and be forced to buy the DIA for $107, no matter what price it fell to. This is your "put-to" price. If you are a "buy on the dips" investor, this should be thrilling for you! Of course there are many ways to adjust that and avoid the assignment – that's the kind of things we teach our Members over at PSW and, as I said earlier, we sent out an Alert on a downside play that pays 4,900% so we can buy one of those for every 10 of these and we have a lot of really cool ways to make money, no matter which way the market moves!
Since our protection covers us out to October, we can make plays like the one above 5 times – all protected by the same hedge. That's what I mean when I say we're going to be going with the flow on the market – there's little need for us to worry about individual stocks when we can follow the trade-bots up to mindless new highs while we collect ridiculous ETF returns that are, ultimately, simply fallout from Uncle Ben's Free Money machine. It's not supposed to be this easy to make money to the upside but, as I often say: We don't care IF the game is rigged as long as we can figure out HOW the game is rigged and play along!
I'm not going to talk about fundamentals this morning because fundamentals don't matter. If we make our levels, then we can go higher and if we don't make our levels – we're probably doomed (but we're already playing for that!). Oil failed $85 yesterday and hopefully will save our OIH shorts as it continues to slide into next week's contract rollover. Gold is still insane at $1,156 and copper is unaffordable at $3.59 but that doesn't matter because no one is actually building anything or driving anywhere (see yesterday's chart) so they can charge whatever they want for things no one is buying.
I'm selling an old soda can for $8.5M and I'm declaring it as an asset but my bank isn't stupid and they're only going to allow 50% of that price to be used as collateral for my loan – if I need to borrow more I'll have to go back to the 7-11 and "invest" another dollar for another can and then put that up for sale as well but I'm a little concerned that trying to sell 2 cans at once may flood the market so I'll hold onto them, like the banks, and keep them both on my books at a slightly reduced price, maybe $6M each…
Japan fell 90 points at the Yen rose to 92.5 to the Dollar but was rescued into the close as the Dollar was pumped back up to 93.2 Yen but, now that the Nikkei is closed and the show is over, the Dollar sunk right back to 92.5 Yen. Like Dave said, they don't even bother to hide it anymore! The Hang Seng dropped 250 points off the open but was saved at the 22,000 mark and "rallied" back to 22,103 for a net 34-point loss on the day and the Shanghai got such a huge boost into the close that it ened up 1% on the day.
Europe is back to flat after a poor open and our own futures are well off a very nast bottom in overnight trading. Greece sold $2.1Bn worth of bonds with strong demand as the implicit EU backing of their debt means 4.85% sounds pretty good to investors for 6 and 12-month notes that are priced in Euros.
We'll just be watching our levels this morning, mostly S&P 1,200 will cause us to trigger the upside DIA play and below that, we already have our downside hedges with our eye on many, many more good candidates to short with our sidelined cash. It's the buying game that's going to be tricky so let's wait and see.
Do you know someone who would benefit from this information? We can send your friend a strictly confidential, one-time email telling them about this information. Your privacy and your friend's privacy is your business... no spam!
Click here and tell a friend!