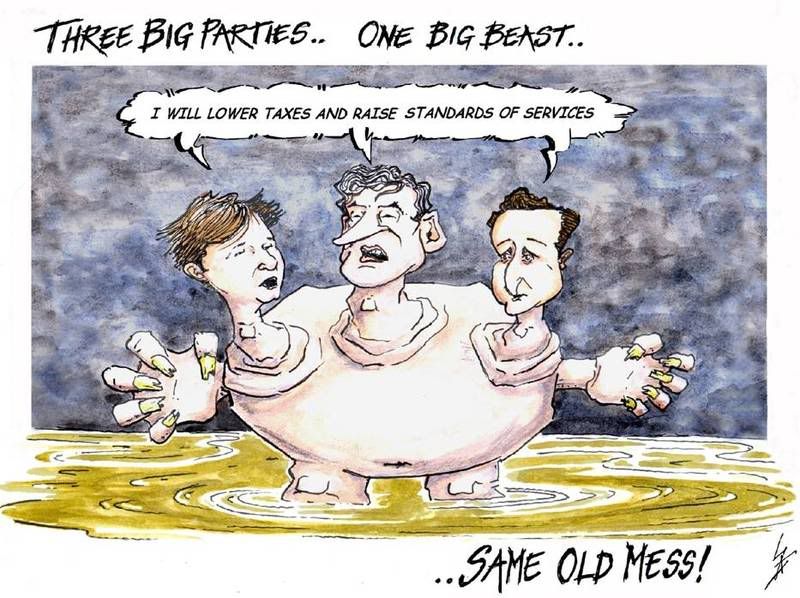 Europe is trading down 2% at lunchtime (7:30 EST).
The Euro fell below $1.25 this morning and the Pound plunged all the way to $1.45 as the new government of the UK gets the fastest "no confidence" vote ever delivered by the financial markets. Keep in mind that only 36% of the people in the UK wanted Conservative leadership. The Labor Party got 29% of the vote and further left Liberal Democrats got 23% of the vote with crazy parties getting 12% of the vote. This is the problem with multi-party systems – MORE than half the people are unsatisfied with the result of almost every election.
Thank goodness America avoids this kind of thing by having a one-party system that pretends to be a two-party system but every once in a while that illusion is totally blown as candidates switch parties as if their former ideologies were mere youthful dalliances. Arlen Specter was only 70 when he decided to leave the Republican Party after 20 years as a Senator. Specter has gone from voting with Democrats 16% of the time to voting with them 97% of the time during his current Senate term and the funny thing is he wonders why the voters don't seem to trust him…
So if our country is run by two parties that have no soul, imagine how chaotic it is in England, where 3 parties vie for power and the far left and the far right are forced to effectively share the Ministry in order to get rid of the moderate. And if that seems crazy to Americans, think of Germany, who have FIVE (5) major parties, three of which are different brands of Democrats: Christian (yes America, Christians can be Democrats too!), Social and Free all of which are more conservative than the "Green Party" who are seen as more conservative than the "Left Party." Personally, I'd be voting for the Pirate Party (pictured below, won 2% of the vote) on name alone – I'll bet they have the best bumper stickers!
Only two countries as screwed up politically as England and Germany could come up with an idea as screwed up as the EU government, which is impossible to explain in a single day but can be summed up very simply by pointing out that it's currently Spain's "turn" to head up the Council, who's 27 ministers form a bicameral legislative branch with the Parliament, who's 14 Vice Presidents representing 736 MEP's meet with Jerzy Buzek to guide consensus among the 7 major parties represented there. Jerzy's last real job was being Prime Minister of Poland back in 2001 (one term) and, while I'm sure running a nation of 35M people with a GDP of $650Bn for four years makes him more qualified than most – surely we'd like to have someone else steering the $15Tn, 500M population EU past the economic icebergs that lie ahead.
Der Spiegel has a frightening article this morning titled "The EU Could be Facing a Double-Dip Recession." I know Cramer said you "don't need to constantly obsess about Europe's debt problems" but please – humor me and read this one… Graph 1 (of 9) above shows our little piggies and the rest of the EU is scary too and, don't forget, the UK is not in the RU and are worse than most! In fact, there's a new list of major worries that we will be keeping track of at PSW and those are France, UK, Ireland, Nukes, Greece, Spain, California, Russia, Eastern-Western Europe and Dubai – as soon as we come up with some sort of acronym using those letters, we'll let you know…
OK, enough worrying about the silly Europeans and their crashing currencies (sorry Cramer), let's see how the rest of the World is doing this morning: Asia took a big dip this morning with the Hang Seng flopping 277 points (1.4%) and that was lock-step with the Nikkei (-1.5%) and the BSE (-1.6%) so we know computers are controlling the action over there as they simply react to our news. Fundamentally, there are riots in Bangkok as another group of global citizens get as mad as hell and decide they are not going to take it anymore.
I already sent out an Alert to Members this morning in which we chose to go long on the oil futures at $73. Oil is now pulling back from $74 so a nice win there and we may get a chance to reload if they hold $72.50 (they should). I had said to Members in chat yesterday "What on earth makes you think they are being truthful about the size of the spill?" and, sadly, it turns out I was right not to trust our Government (not trusting BP was a given) as estimates are now that the spill is 5-20 times more than reported, already approaching the size of the Valdez spill but this one is in progress with no end in sight. Nonetheless, I also made a play on BP as they got so beaten down in pre-market that they are finally looking attractive.
We bought DIA $108 puts for 74 cents yesterday morning along with QID $16 calls at .95 but we mostly took our crazy profits off the table ahead of today's data, hopefully for a nice bottom and another buying opportunity. Retail sales were not all that bad and we'll simply have to say what levels stick today and I think these charts are self-explanatory:
Gold is going to be a tempting short off $1,250 but scary into the weekend – I feel better going long on oil as a speculative play (ERX is $37). Still, it will take a lot to get our cash off the sidelines as we expected 10,700 to be tested again and a quick bounce off this level won't satisfy us – we need some consolidation down here to get more comfortable with the upside. That's going to be a tough trick to pull off into option expirations next Friday!
So be careful out there and have an excellent weekend,
– Phil