Oops, now it looks like Hungary is blowing up!
This is a big concern to me because I just asked "What will be the 'shot heard round the world' that sparks the next global revolution" and, wouldn't you know it – it's Hungary again! It was also in June (of 1914) when the assassination of Archduke Ferdinand of Austria and his wife triggered a series of events that plunged the planet into World War I. Today Hungary is the first of the Eastern Europe block to step into the economic confessional as a spokesman for Prime Minister Viktor Orban was quoted this morning as saying the nation's economy is in a "grave situation."
Before WWI, Hungary was the 2nd largest nation in Europe (behind Russia) but the Treaty of Trianon (June 4th, 1920!) carved it up into 7 countries. Modern Hungary has about 10M people and a GDP of $185Bn ($18,500 per capita) so it is not, by itself going to bring Europe down but keep in mind this is EXACTLY where we predicted we'd be last Friday, when I put up the chart of the Cycle of Fiat Currency Failures. So let's take this seriously folks – next on the list after the baltics is the UK and France and then it's our turn!
They say those who forget the past are condemned to repeat it and maybe that's why we are able to stay ahead of the game. Yesterday we became concerned that Obama's prediction of strong jobs numbers on Wednesday were already baked into the 200-point rally they sparked so I called an end to "short-term, unhedged, upside plays" in Member Chat at 10:04 and we added an aggressive upside play on BGZ that is designed to pay 1,000% if the market falls. We also got more aggressively bearish on our Mattress Plays so to say we're not expecting a big push on the jobs number is an understatement.
Ahead of the close, I had commented to Members that, even if we get a big pop on the jobs number (need 600,000+), then we would likely short into it - looking for 10,350 at best to settle out but it the jobs come in below 450,000, then "look out below!" Volume was unimpressive yesterday and, even though we benefited from the daily stick save, it wasn't strong enough to impress us.
The futures were looking like they were heading to my 10,350 target before the Hungarian news broke but now they are down about 1% and the EU markets fell off a cliff from a bullish open but are steadying out down about 1% ahead of our jobs numbers – which now have a tremendous amount of pressure on them.
8:30 Update – WOW – HUGE MISS! What the hell was Obama thinking? Only 431,000 Jobs added and 90% of them were census takers. That's right, just 41,000 jobs were "saved or created" in the private sector. Somehow, unemployment rate fell to 9.7% but that's bad too as it doesn't make it more likely the Fed will react to the jobs number with more free money. Fortunately for Seeking Alpha readers (and, of course our Members) I had posted a great hedge in Stock Talks on April 28th, after calling for the cash out on April 16th:
EDZ June $35 sold at $1.25 vs. June $38/44 bull call spread is $2.80 and is 100% in the money at net $1.55 on the $6 spread
EDZ is now at $51 with 2 weeks to expiration and that play will close up 287% as will many of our Members disaster hedges. I stopped posting trades in Stock Talks because I got nothing but negative feedback on the trades that didn't work (and feel free to go over the list and count what a small percentage that was) so it just wasn't worth the hassle. Now that Membership on PSW is near full and about to close, we have started making some of my daily commentary available in Seeking Alpha's Instablog as a new experiment. No trade ideas (Members only), but certainly everything you needed to know about today's drop was indicated in yesterday's comments.
EDZ is an example of the "Disaster Hedges" we have ON TOP OF our normally hedged long-term positions in our Buy List, which I'll be updating this weekend as we once again have some nice entry opportunities thanks to this fiasco!
Speaking of fiascoes – Europe is quite a mess. The nationalization of Spanish bank, CajaSur, is causing a lot of urest in that country and now France (who are next on our Default Cycle list) is up in arms over derivative problems at Société Générale. UKs HSBC Bank caused jitters with a research note to clients in which it downgraded Europe excluding the U.K. to underweight from neutral. "There remains too much uncertainty about the health of banks, about the future arrangements for the euro, about sovereign debt and about growth for us to want to take risk in this region for the moment," said HSBC.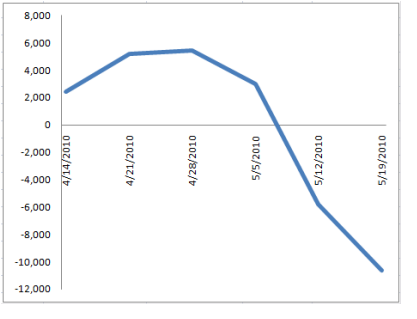 That caused the Europ to plunge to $1.20 this morning and the Pound bottomed out at $1.455. The Yen (surprise, surprise) bottomed out into the Nikkei close at 92.88 and then jumped to 91.96 once the exporters stopped trading. It's amazing that I can point to this daily, and lucrative, con game for weeks now and it just keeps happening every day. Just like the US stick saves and Futures Follies – it's adding to the global list of concerns that has Frederick Sheehan asking "Should Investors Boycott the Stock Market?" Actually Fred, they already are – as we can see from this Option Monster chart of money flow – they already are!
So down and down the market goes – where she stops, nobody knows but, we can make some educated guesses:
Those red lines are the supports we must hold to stay in a longer-term uptrend, which I think we can keep so we are still looking at this sell-off as a buying opportunity and will treat it as such until proven otherwise. It's going to be a very exciting trading day and there's tons of money to be made for those of us still playing the markets but we'll be well-covered into the weekend so we can enjoy our summer, even in these crazy times.
Oh – and this is a FANTASTIC day to buy TBT at $39.46 or sell the July $40 puts for $2.15 or buy the Jan $43 cals for $3.15 – all great ways to play my favorite hedge against inflation.
Have a great weekend,
- Phil
Do you know someone who would benefit from this information? We can send your friend a strictly confidential, one-time email telling them about this information. Your privacy and your friend's privacy is your business... no spam!
Click here and tell a friend!