We are off to a super start already!
I was inspired to write up this virtual portfolio as an example of the kind of investments that would benefit my Mom and her friends down in Florida, who have little risk tolerance but NEED to draw a consistent income from their retirement accounts. The state of financial planning from "expert advisers" is woeful to say the least so our intention has been to test-drive a virtual portfolio of $500,000 and see how it performs over time, our goal is going to be collecting $4,000 a month, nearly 10% without touching the principal.
One of the principles of a retirement virtual portfolio is to make it as low-touch as possible. Here we have our first two-week check-up but, once things are set up, we should be able to visit less often than that – hopefully quarterly as long as the market remains in our range.
Be sure to read the original post for my caveats regarding this type of investing, as well as the goals we have for long-term savings. Most importantly, be aware that I am not a financial adviser – everyone's situation is unique and you need to consult with someone who is familiar with your overall financial situation. In this particular case, were looking at a scenario where someone has $500,000 to invest and hopes to draw about $4,000 a month. Our first trades were as follows:
3,000 NLY at $17.23 ($51,690), now $17.58 (up $1,050)
30 NLY 2013 $12.50 calls sold for $4.95 (-$14,850), now $5 (down $300)
15 NLY 2013 $15 puts sold for $2.05 (-$3,075), now $2.05 (even).
No cash used to live on yet
Of course we don't worry about being called away and it doesn't matter too much what happens to the put and call prices as long as we are on track. The bottom line is we put $17,925 in our pockets with and expectation of being called away with a $14,190 loss at $12.50 ($37,500) so a net gain $3,735 is expected on the stock + options combo on $33,765 cash committed is just 11% over 18 months but we are playing this one for the .62 quarterly dividend, which is another 14% with the next payment due in June ($1,860). As we "only" need $12,000 a quarter and this takes care of 15% of it with just 6.5% of our cash and margin committed, this "very conservative" trade has a high probability of success and gets us well on our way to our goal.
One of the biggest problems we have with Members tracking these conservative trades is regrets. The stock jumped 2% in two weeks and we "only" made $750 but we're not in this trade to make money on the stock. The only thing that any move over $15 does for us is give us more of a cushion but it won't change our long-term income profile. In fact, on the whole, we'd rather see it stay flat so we can roll the calls to 2015 eventually and keep this 14% dividend train rolling!
Also, these trades are BORING! Ideally, we should have nothing at all to do until about 6 months to expiration, when we will begin to consider rolling the caller and maybe the puts out another year or two. Other than that, we just get to go to sleep and let the cash roll in. I know – torture…. Eventually, 75% of the virtual portfolio will look like this.
2,000 AGNC at $28.31 ($57,020), now $28.78 (up $540)
20 AGNC June $28 calls sold for $1.10 (-$2,200), now $1.25 (down $300)

$2,200 withdrawn from this trade

.
Don't cry over your caller's gains – we already sold this stock for $29.10! If that works (called away over $28 in 54 days), then we keep a net $56,000 but that would be a $1,020 erosion of our principal and is not our intention. What we are expecting to do is roll the caller forward once the premium wears down. As our first two trades were in the real estate sector, we decided to hedge with a real estate ETF:
200 IYR Jan $50 puts at $2.20 ($43,000), now $1.70 (down $10,000)
100 IYR May $57 puts sold for $1 (-$10,000) .22 (up $7,800)
No cash used to live on
This is what we expect to happen if our longs are doing well. Had we not taken a conservative cover, this would be a winner but then it wouldn't have been a hedge, would it? It's always important to keep straight WHY you entered a trade and not to confuse your hedges with your bets. Those of you following the $25,000 Virtual Portfolio know very well that we're well on our way to selling $43,000 worth of short puts to turn this into a free hedge. Unlike the long-term spreads, these hedges do require active management and a stop should be placed on the puts at .30 (.10 trailing stop).
3,000 FTR at 7.99 ($23,970), now $8.04 (up $150)
30 FTR 2013 $7.50 calls sold for $1 (-$3,000), now .95 (up $150)
30 FTR 2013 $7.50 puts sold for $1.30 (-$3,900) now $1.25 (up $150)

$1,800 withdrawn from this trade

.
Isn't this fun? We made $450 with $150 in each direction – that's pretty good for 10 days! Why? The declining VIX knocked down the value of the puts and the calls while the stock, of course, had no premium to lose. In addition to the $6,900 cash we collected up front against the $1,470 loss expected if our position is called away at $7.50, FTR is also a 9.3% dividend payer with $570 expected in June.
2,000 GLW at $20.05 ($41,000), now $20.39 (up $680)
Buy 20 GLW 2013 $25 calls for $1.65 ($3,300), now $1.70 (down $100)
Sell 20 GLW 2013 $17.50 puts for $2.40 (-$4,800), now $2 (up $400)
Sell 20 GLW Aug $20 calls for $1.30 (-$2,600), now $1.50 (down $400)
$2,050 withdrawn from this trade
This one triggered a purchase on Thursday as GLW got over the $20 mark. The stock portion of this trade stops out a $20 going the other way (notice I allowed .05 for filling the order) so it flips more bearish automatically. We LOVE GLW and WANT to own them long-term. We were hoping they would do worse and we'd net in very cheaply – that was the design of the trade but now we'll have to be content to be long over $20. So far, so good as we withdrew $2,050 and already made $780 of it back!
Sell 10 KO May $65 puts for .65 ($650), now .32 (up $330)
Sell 20 INTC May $20 puts for .75 ($1,500), now .11 (up $1,280) – offer to buy back at .10, stop at .20.
Sell 20 PFE May $20 puts for .47 ($940), now .81 (down $680)
Sell 10 T May $30 puts at .45 ($450), now .24 (up $210)
Sell 10 KFT Jan $30 puts at $1.60 ($1,600), now $1.10 (up $500)
Sell 10 EXC Jan $37.50 puts at $2.20 ($2,200), now $2 (up $200)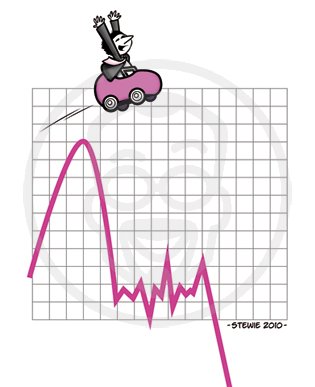 Isn't that fun? We're up $1,840 in just two weeks buy simply committing $34,028 of margin to positions we REALLY do want to get into at the net price. If we don't get to buy the stock at the low price we agree to, then we make our money as the premium erodes from our put-sellers! On the whole, it looks like we're going to be DISAPPOINTED and NOT get our entries except for maybe PFE, who we'd love to own at net $19.53 with their nice 4% dividend – especially after we turn it into a buy/write and boost our net dividend over 5%. We don't withdraw any money until we cash out but then it's all extra cash we can play with!
Still, we're only two weeks in and we already withdrew the $4,000 we needed for April and we have $2,050 out for May already on the GLW trade. If the short puts hold up then we've already got May's cash requirement in the bag and we still have 80% of our margin on the side – not bad! With INTC, once you have just $100 left it's simply not worth tying up $3,975 worth of margin to collect it with so much time (4 weeks) remaining on the contract.
On Thursday I added the following trade idea for HCBK in Member Chat: Sell 10 HCBK Jan $10 puts for $1.50 (now $1.30). That would raise $1,500 against $3,200 of margin ($1,700 net) so we'll be on the lookout to add that one to our short puts. The VIX is really awful at the moment (14.69) so selling puts is not all that attractive. We also pulled the trigger on JAG last week, which I had mentioned at the end of the original Income Investing post on the 9th but I forgot to specifically tag them for the Income Virtual Portfolio and NOBODY reminded me so we won't count it here but, please, when we are in chat and you think something would work for this virtual portfolio – just remind me and I will put in specifics or tell you why I don't like the trade enough to include it.
GE is getting interesting at $19.95 but they'd be much more interesting at net $15.40 so I like selling 20 GE 2013 $17.50 puts for $2.10 ($4,200), which is going to use net $3,400 in margin and $7,500 in total margin for us to be on the hook to buy 2,000 shares of GE at net $30,800, which is net $15,400 in margin (possibly) used down the road – all very reasonable to get $4,200 today in what is known as the J. Wellington "Wimpy" Option Strategy where we will gladly pay you Tuesday (buy the stock in the future for a lower price) for a hamburger (the cash in our hands) today.
IN PROGRESS
Do you know someone who would benefit from this information? We can send your friend a strictly confidential, one-time email telling them about this information. Your privacy and your friend's privacy is your business... no spam!
Click here and tell a friend!