Wheeeeeeeee, what a ride this week!
Since we went bearish on Tuesday afternoon, the Dow has dropped 450 points. That pushed our White Christmas Portfolio over the top (as we flipped bearish, of course) with a virtual balance of $26,075 including $2,565 of unrealized gains on our still-open (and still bearish) positions. That's up $11,075 (73.7%) from our $15,000 start on October 24th and we'll be getting back to cash and going for another $10,000 (our original goal) before Christmas.
How did we do it? We teach keeping trades short and simple in a choppy market as we stick to our trading range. Trades in the WCP were very much like the trade ideas I published Wednesday morning, from our Tuesday Member Chat at 3:21. As we had a little BS rally Wednesday afternoon, many of the trades were still makeable that day. In fact, in Seeking Allpha, where the post didn't even go up until later that morning, Jamesbwood was able to take advantage of the XOM $77.50 puts at .14 (less than our original entry) and took a double off the table at .28 – a 100% day trade!
All of those trades ideas are great examples of the kind of trades we look for in our White Christmas Portfolio (our current, virtual, short-term portfolio) – ones we can get quickly in and out of with nice gains. We were quite satisfied with our oil shorts and cashed those out yesterday and, had President Obama followed my advice and sold those 140M barrels for $100 (could have gotten $102), he could have bought them back yesterday at $98.50 for a quick $210M profit – enough to pay for at least an hour's worth of the deficit! Percentage-wise, he would have been better off subscribing and taking those trade ideas from our Member Chat. Those Wednesday morning trade ideas were:
GOOG $625/620 bear put spread at $3.10 is a nice downside play – figure risking $1 to make $1.90.

GOOG is at $600 and this spread will likely expire at $5 today – up 61.3%

MMM $82.50 puts are $1, also a good trade for a crash tomorrow.

MMM finished the day at $80.43 and the $82.50 puts were $2.35 – up 135%

WYNN $130/125 bear put spread at $1.90.

WYNN finished the day at $120.78 and this spread will likely expire worthless today at $5, up 163%

XOM $77.50 puts at .21 are a fun play too.

XOM finished the day at $77.86 and the puts were .43, up 105%
That's how you put together a 66% gain in a month – a few winners like that and intelligently manage your losses on the losing trades (yes, we have those too) and you can come out nicely ahead. Our final trade idea in that set was shorting oil futures (/CL) at $99.90. After a rough ride (see yesterday's post), as I mentioned for the President, we were able to exit at $98.50 for a gain of $1,400 per contract, not including any rolling or other option moves we advocated as the price (and certainly not the value) of oil went flying.
I've been talking about the scam they run over at the NYMEX and we've been tracking those open contracts to illustrate what a con job oil trading is (as if the fact that we can make 100% in 2 days doesn't prove it already!) and, as I predicted on Wednesday, they have already cancelled 100M barrels worth of contracts scheduled for December delivery. This is essentially taking America's oil supply and dumping it into the ocean for the sole purpose of creating an artificial shortage of December stockpiles in order to drive up the price you pay at the pump – as well as to heat your home, etc.
Click for
Chart

Current Session
Prior Day
Opt's
Open
High
Low
Last
Time
Set
Chg
Vol
Set
Op Int
Dec'11
98.61
99.82
98.01
99.82
07:24
Nov 18

–

1.00
6525
98.82
41461
Call Put
Jan'12
98.65
99.97
98.06
99.97
07:24
Nov 18

–

1.04
36520
98.93
337987
Call Put
Feb'12
98.64
99.94
98.00
99.94
07:24
Nov 18

–

1.04
6877
98.90
81870
Call Put
Mar'12
98.59
99.92
98.31
99.92
07:24
Nov 18

–

1.03
4508
98.89
95868
Call Put
Notice not only are there just 41,461, 1,000-barrel contracts left in December on the last day of trading (and even 10-20,000 of those will be cancelled today by the crooks at the NYMEX) but now they are FAKING demand for another 337 Million barrels in January. Let's keep things in perspective. The US only imports 8M barrels of oil per day so these evil, disgusting, THIEVES at the NYMEX are SCAMMING the United States and it's citizens by ordering 42 days worth of imports for the month of January, OVER 90% OF WHICH THEY WILL CANCEL SO THEY CAN RUN THE SCAM AGAIN IN FEBRUARY.
As noted yesterday, this little con job is costing US Consumers $25 for each barrel of oil we consume with a burdened cost after refining and moving through the system of approximately $60 per barrel as it increases the price of food, materials and electricity as well. A $60 per barrel crime that's committed 20M times a day is $1.2Bn or $438Bn per year in EXCESS charges over and above the $1Tn we pay for oil in the first place!
$438,000,000,000 is a theft of almost $1,500 from every man, woman and child in this country and it's not only costing us millions of jobs but half of that money is sent overseas and some of that excess money (and it doesn't take much, does it?), which is stolen from our pockets, finds its way into the hands of terrorists and goes towards funding the very armies our own military is fighting overseas. That's right – thanks to the criminals at the NYMEX, we're funding both sides of these wars!
My comments to Members in yesterday's Chat sum it up nicely for oil:
Meanwhile, think about what BS the entire crude market is. Wednesday, they HAD to have crude at $101, $102 and $103 but today they can't find buyers at $99? How obviously fake does a market have to be? Meanwhile, Dec 2013 contacts were actively traded at $92.80 today, which is why you could short with great confidence at $102 – because you know you can buy a barrel to cover for $92 next year! If you don't mind waiting until Dec 2015, a barrel of oil can be had for $89.62.

Think about it. Imagine if the 2014 AAPL $350 calls were $7 instead of $107 – wouldn't you think there was something seriously wrong with AAPL's current $377 price? That's all these oil futures are, options contracts. It's just that they don't bother to manipulate the long months because the public doesn't pay attention, the Media only reports what their sponsors want them to report and the Government is paid not to notice.
It's a sickening situation yet how many of you have been reading my posts this week and watching every single thing I predicted come true and paid your extra $25 for a tank of gas and yet not even taken the time to send an Email off to your Congressperson demanding that something be done? You can break up a con game by simply letting the crooks know you are watching them – the NYMEX, as I mentioned yesterday, is nothing more than a 3-card Monty game, a group of criminals who team up with Banksters and their paid media hounds to con the American people out of hundreds of Billions of Dollars – THEY MUST BE STOPPED!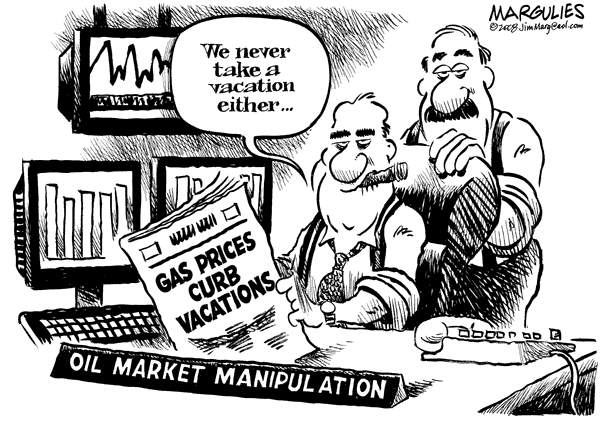 You are free to send these articles on the oil scam (Wednesday, Thursday and today) to as many people as possible (and if you have a blog, you have my permission to use them too) and encourage people to send them to as many other people as possible because we NEED a National discussion on this issue – we NEED to let Lloyd Blankfein and Jamie Dimon and the Criminal Narrators Boosting Crude know that we are not the complacent idiots they think we are and we're not ready to go another year having our pockets picked to fatten their wallets. I don't care if you are in the bottom 99% or at the top of the top 1% – why should you be a victim? Why should WE, the people, be victimized by these crooks?
In other manipulation news, the Dollar was jammed down to 77.80 from 78.55 at yesterday's close (down 1%) and that picked the futures off the floor but, as I warned Members in Chat at 7:03, don't be fooled when the devaluation of the Dollar drives up the PRICE of the stocks those Dollars are exchanged for. The Dollar has become subject to wild swings this year and, if anything, the lack of a major market rally off a 1% drop in the Dollar this morning is a sign of weakness, not strength.
Our short-term goal is to get back to cash into the long Holiday weekend next week. There's only 3 days left to trade before Thanksgiving and the markets have a short day on Black Friday to make sure every one of us has time to perform our patriotic duty and head off to the Malls. Should Black Friday be a bust next week – we'll have a much blacker Monday in the Markets so, even in our long-term portfolios, our goal will be to cover up tightly – just in case.
AAA released its annual report on Thanksgiving travel plans today, and it looks like a mixed bag. The automobile association predicts a 4% rise in the number of Americans traveling over the holiday. That means 12M more people will be traveling at least 50 miles to visit family and friends than was the case a year ago. Now the bad news: Due to the high price of food, gas and lodging, they'll likely be spending less. Less on airline tickets, rental cars and lodging. See how that works?
Have a great weekend,
– Phil