When Black Friday comes
I'm gonna dig myself a hole
Gonna lay down in it 'til
I satisfy my soul – Seely Dan
Shop or we'll drop! That's the message from the markets to consumers this morning as it's do or die (literally) for the Retail Sector this weekend against a background of a collapsing Euro-Zone and – get this – the S&P warning that Japan now, is in danger of losing it's AA minus credit rating.
S&P's Takahira Ogawa says the agency is getting closer to downgrading Japan's AA- rating, due to its finances "getting worse and worse every day, every second." Ogawa's remarks follow an IMF warning that Japan is at risk of a "sudden spike" in bond yields that could make its debt unsustainable.
JAPAN??? But we're not done freaking out about Europe yet! I guess this may be a sign that the EU is bottoming though as Fitch hit us with a downgrade of Portugal to JUNK yesterday and Moody's did the same to Hungary. Both of those countries also have a "negative outlook," indicating junk is just too good for them. Small wonder then, that the Dollar has spiked up to 79.75 this morning (up 1%) pushing our Futures, of course, down 1%.
Even oil is taking a hit now – at $95.14 but we'll play for the bounce on (/CL) on the $95 line with very tight stops below it as that SHOULD have a bit of support into the weekend. Gasoline (/RB) can also be re-longed (we did this on Wednesday) off the $2.50 line – the last run took us back to $2.55 and, at $420 per penny per contract – that put a lot of turkeys on the table for Thanksgiving!
The Euro itself is hitting the $1.3225 line but the Pound is hanging tough at $1.55 as not joining the EU may have been the best decision England has made this century (well, it's been a pretty bad century for the British Empire). While tempting to go long – we're in a bit of a full-blown panic here and we're going to exercise patience (see yesterday's post) as Monday could go big in either direction although, as I said in our early morning Alert to Members, I think Fundamentally, they markets have suffered enough and it may be time to do a little bottom-fishing but it would be nice to get a VIX closer to 40 first.
Echoing my comments to Members this morning, Dutch Finance Minister, Jan Kees de Jager, endorses greater intervention by the ECB "as a last resort" following similar comments out of Finland. Attitudes about ECB action in the Netherlands and Finland are considered similar to those of the Germans, so the comments could be of some significance. Clearly we are reaching the end game as bond yields in Spain and Italy break 7%. Multiply Italy's $3.5Tn debt by 7% compounded over 10 years and you get $6.8Tn – run up some more debt underneath it and you get what economist call FUBAR.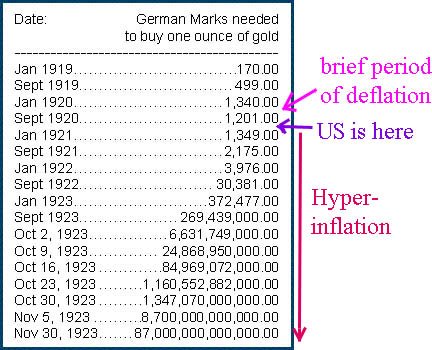 So, are we heading, globally, towards 7% borrowing rates for all countries as the reality of our unsustainable debt loads hits the bond markets, causing our current global $60Tn debt to sell to over $120Tn this decade or – will something else happen? If you answered: B) Something else, then you can crawl out of your bomb shelter and buy some stocks because IT'S SILLY to believe that this will continue. It won't continue because it can't continue and I stand by my often-repeated premise that only Goblal Hyper-Inflation will get us out of this.
Rates WILL go higher – they have to. At a certain point, there's simply not enough money to lend to cover everyone's debt rollovers. The only way for countries to cover their debts, then, is to either A) Find more people to lend it to them (possibly by raising rates to attract more cash) or B) Print more money. A is hard, because we've kind of already tapped out all the lenders and now we can only take money out of stocks or commodities but then we will exhaust those as well (for a great chart of ALL THE MONEY IN THE WORLD – click here) and then it doesn't matter how much interest you offer – all you are doing is competing for money that someone else needs to borrow and clearly, if one Nation collapses, we're all screwed so what good does it do us to offer 8% when Europe offers 7% if all we accomplish is bankrupting Europe?
That leaves B – PRINT MORE MONEY – and we're already doing that, of course, but now we have to give some to the poor people as well, through wage increases and stimulus, to kick-start the flow of money – which will make more money available for our Government to borrow.
THAT's my bullish premise – it's very simple, no one is going to let the World end in the end – our leaders will do what they have to do to keep things going and what they have to do is lead us down the path to hyper-inflation, which will allow all debts to be paid – albeit with money that is worth less (worthless) but we avoid all the messiness of default and we placate the masses by handing out raises and bonuses that they'd better spend fast or it will melt and banks will pay a reasonable rate of return for money saved so old people can once again live off their savings (ie T-Bills) and, of course, the price of homes can once again shoot up, as they did in the 70's and the 00s to make our nation's 100M homeowners feel rich again as the homes they bought for $300,000 sell for $1M and they pay off all their debts and have $500,000 to spare, which they put in the bank at 7% and get a $35,000 annual income to supplement their dwindling Social Security payments.
Is it a perfect solution? No, of course not, but it beats the alternative and that alternative starts with the fact that the bottom 150M people in this country, which include 15M children who live in poverty and 8M children in families that lost their homes – realizing that the top 400 people in this country – not the 1% (3M) but the top 400 individuals – have more money than all 150M of the bottom 50% put together! Despite the best efforts to crush the Occupy Movement – the huddled masses are starting to wake up to the fact that they don't have to take this anymore and, when they do – heads will roll!
Do you know someone who would benefit from this information? We can send your friend a strictly confidential, one-time email telling them about this information. Your privacy and your friend's privacy is your business... no spam!
Click here and tell a friend!