Archive for 2011
by Zero Hedge - December 11th, 2011 11:59 pm
Courtesy of ZeroHedge. View original post here.
Submitted by EconMatters.
By EconMatters
Exactly 20 years to the day after the creation of the European Union (EU) and the Euro currency, German Chancellor Angela Merkel successfully secured an historic agreement from all 27 current members of the EU, except Britain, forging a deeper economic integration in the euro zone on Friday, 9 Dec.
The Euro crunch summit also came away with an agreement to provide up to €200 billion ($268 Billion) in bilateral loans to the International Monetary Fund (IMF) to help it tackle the crisis, with 150 billion euros of the total coming from the euro zone countries.
The date that the European Stability Mechanism (ESM), capped at €500 billion ($666 billion), operation was also pushed up, the pledge to make private investors absorb losses in any future bailout for a euro nation is also to be scrapped.
While this new pact might be better to prevent future such sovereign debt crisis, others (including the US, andthe IMF) view is that the summit has failed to adequately address the more immediately and urgent issues.
Ticking Euro Debt Bombs
Euro zone has to repay or roll over more than €1.1 trillion, around$1.5 trillion, debt due in 2012, with about €519 billion, or $695 billion, of Italian, French and German debt maturing in the first half alone, according toBloomberg. (See Graphic below from Spiegel with a shorter time frame sans Germany).
…

by Zero Hedge - December 11th, 2011 10:51 pm
Courtesy of ZeroHedge. View original post here.
Submitted by Tyler Durden.
Zero Hedge has been lucky to have reported from the front lines on that historic day, March 18, 2009, when at precisely 2 pm the Fed formally expanded its LSAP program to include Treasuries, and more MBS, in what become formally known as Quantitative Easing (Episode 1). On that day, nearly three years ago (when gold was trading at $925) our commentary was the following: "Maybe one should really start buying stocks ahead of the uber-hyperinflation that will imminently ensue. We recommend wheelbarrow stocks.This is textbook back against the wall. But at least the stock market takes another crutch up." and of course: "Print, print, print… God help us." Needless to say it has been downhill ever since, and even though the global economy now is in the worst situation it has ever been precisely due to this unbridled printing, it is somehow conventional wisdom that all in Europe will be well… if the ECB does what the Fed did on that Wednesday in March nearly three years ago. The sheer idiocy of the logic is dumbfounding. Yet what we wanted to demonstrate is the intraday kneejerk response in the EURUSD which we caught just as it happened: the European currency moved by 400 pips from 1.31 to almost 1.35 in minutes. Which begs the question: in order to prevent a dollar spike, much as the situation of pre-QE March dictated, is the low 1.30s level the magical threshold where if the ECB does not, then the Fed will print? We make no forecast, and merely want to show that should the Euro proceed to tumble, the Fed has more than enough weapons, well, weapon, in its arsenal to reset the global devaluation game all over again. Because a soaring dollar will be the next inevitable step in the global liquidity collapse, which can and will be delayed (if only briefly) in only possible way: the "way" which will see gold doubling yet again over the next three years (if not far shorter).
by Chart School - December 11th, 2011 10:42 pm
Courtesy of David Grandey.
In uptrending markets, it's all about the Pullback Off Highs pattern — in other words, sitting back and letting stocks come to you and buying them at low risk alternative entry points. 
That's exactly what we did with ATHN on Friday.  After ATHN cleared resistance at the blue line and got back above its 50-day average, we added this stock to our watch list.
We then patiently waited for ATHN to pullback to support at those levels.  Friday, ATHN blasted above the pink Pullback Off Highs line triggering a long side trade at $59.53.  By the close ATHN was already over $61!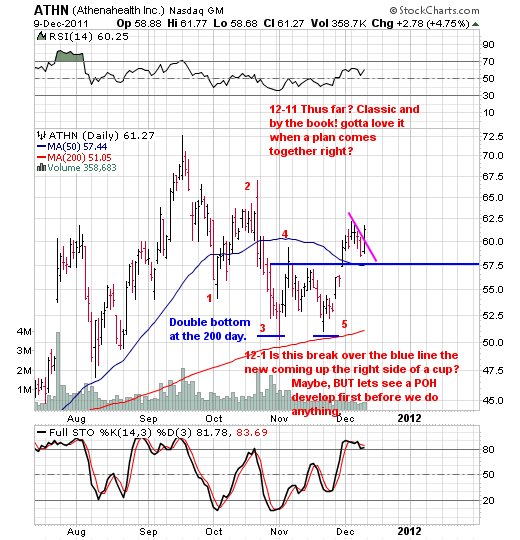 Now take a look at APA.  It looks a lot like ATHN did before it took off to the upside: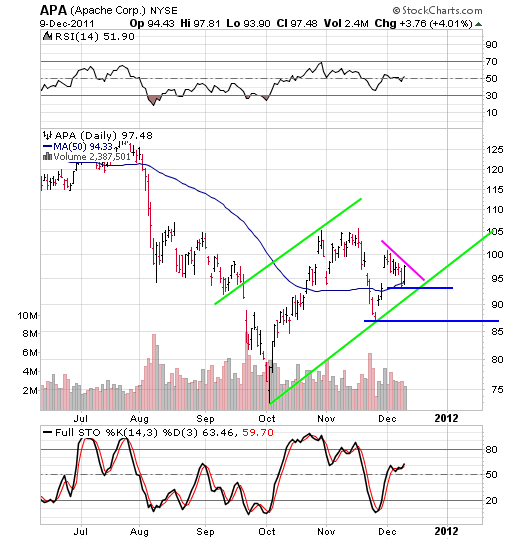 Success in today's market comes from the following game plan:
Buy leading stocks at alternative, low-risk entry points
Sell stocks that are retesting recent highs
Always sell into strength
Enjoy your profits and wait for stocks to come back to you
To learn more, sign up for David's free newsletter and receive the free report from All About Trends – "How To Outperform 90% Of Wall Street With Just $500 A Week." Tell David PSW sent you. – Ilene
by Zero Hedge - December 11th, 2011 10:26 pm
Courtesy of ZeroHedge. View original post here.
Submitted by Tyler Durden.
From Bill Buckler's latest edition of The Privateer
The Inmates Don't Know It's An Asylum

There is a line from Ayn Rand's The Fountainhead which we have always enjoyed. It is stated by the main villain of the story – Ellsworth Toohey – in a one-sided conversation in which he is explaining that he was always after political power and never hid his ambitions but nobody wanted to "believe it". The quote goes like this: "Never bother to examine a folly. Ask yourself only what it accomplishes."

Lenin had a different take on the same problem faced by all would be power mongers. He knew he had to be reasonably obvious in what he told the people about his plans and goals. But not too obvious. He knew he had to tailor his pitch so that it would have the maximum amount of resonance with the maximum number of unthinking people. He doted on such people. He called them "useful idiots".

Today, the "movers and shakers" of the financial world abound in such useful idiots. It has been a long road from the 1930s Keynesian mantra that "we owe it to ourselves" to today's masters of the universe with their incomprehensible computer "algorithms" fuelled by the ability of modern computers to crunch almost unlimited sequences of "1s" and "0s". The entire road has been paved with one goal in mind. To convince the "people" that the only road to financial "safety" is to give up their thinking processes and "delegate" them to those who claim to know what they are doing.

The problem today is that the results of this delegation are so obvious that the methods of those who produced them are beginning to be questioned. It has been a long time coming. When we reach a market situation where nobody wants to play unless the game is terminally rigged, then the whole idea of "markets" has gone by the boards. Nobody wants to "punt" unless their bets are guaranteed in advance. That's no way to run a horse race – or a global financial system.
by ilene - December 11th, 2011 10:16 pm
Courtesy of www.econmatters.com.
By EconMatters
In addition to decades of overspending beyond means, there are also some less discussed contributory factors leading to the current debt crisis in the Euro Zone, particularly when compared to the United States.
The following charts from the Telegraph illustrate how regulations and poor administration have held back Portugal, Ireland, Italy, Greece and Spain's economies, using data from the Doing Business project, which carried out by the World Bank, measures the time and cost of common business activities.
The charts compare eight European Union (EU) countries (Italy, Greece, Portugal, UK, Germany, France, Ireland, Spain) and the United States, in terms of days it takes to
get construction permits,
get commercial electricity connected,
enforce commercial contracts
export goods
Overall, the United States leads with an average of 100 days to carry out business in the above categories whereas it take 420 days in Italy. (See Graph Below)
One glaring example is contract enforcement.
Contracting is an essential and integral part of transacting business and contributing to a country's economic growth. Enforcing a contract takes about 9 months, which is not that great, yet it takes more than two years to enforce a contract in Greece, and more than three years in Italy.
One interesting statistics is that the U.S. leads the pact in getting construction permit in less than a month, which probably partly explained the housing bubble. The same process takes more than 8 months in Italy and Portugal to get a construction permit.
Another example is that while it takes 17 days to get commercial electricity connected in Germany, and more than two months in the US (which is bad enough), the same task takes over six months in Ireland and Italy.
Exporting and importing a standardized cargo of goods by ocean transport also takes longer in Italy, Portugal and Greece compared to other European countries as well as the the U.S. Telegraph also pointed out that it takes nearly three years to resolve a commercial dispute, compared to a year in Germany and France due to Italy's highly bureaucratic judicial system,.…

by ilene - December 11th, 2011 9:11 pm
Courtesy of Lee Adler of the Wall Street Examiner
The following is an extended excerpt from the Wall Street Examiner Professional Edition weekly Treasury update. The subscriber link to the full report is at the end of this summary.
Last week was a light auction week with a net of just $3 billion in new supply settling on Thursday. That took the pressure off stock and bond prices. The fact that neither market could mount a sustained rally suggests that markets are weak. Stocks and bonds gyrated wildly but in the end remained in a tight range, in spite of all the bullish ballyhoo in the media. You would have thought that the Europeans saved the world on Friday. I don't think so, and within the data there's plenty of reason to continue to be concerned, if not scared shitless.
Withholding tax collections remain weak and the government had to raise $9 billion (11%) more than forecast last week. Next week the overshoot will be around $13 billion. That means that the economy is significantly weaker than government forecasters had foreseen just 5 weeks ago when these estimates were issued. The clues were available in the data at that time and I correctly guessed that the auctions would begin to balloon in size.
At the same time, foreign central bank purchases of Treasures are falling off a cliff again. But the markets aren't paying attention or have not noticed these negatives because they have not had to. Massive tidal waves of panic capital flight have been overwhelming the Treasury market in never before seen numbers. The indirect bid tendered on the 4 week bill last week was a mind blowing $61.8 billion, or 5 to 10 times the norm! Even more startling, Primary Dealers (PDs) bid $268 billion on that issue. That's over a quarter TRILLION! One third of the PDs are foreign banks. Seven of them are European banks. Is something rotten in Denmark, Brussels, Rome, and Paris? You bet your bippy.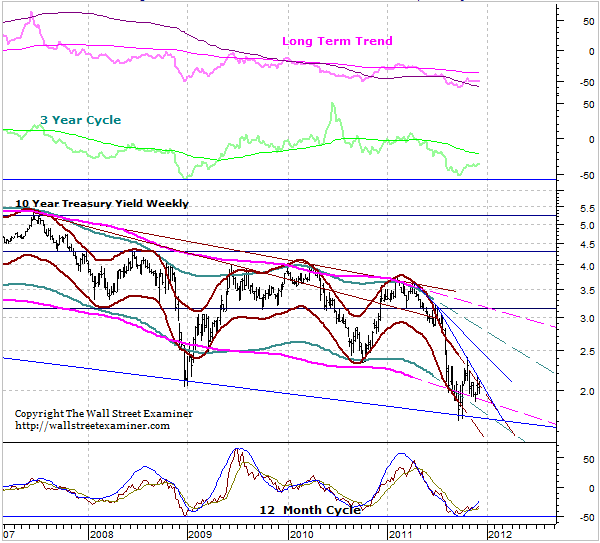 Notably, the panic buying was limited to the 4 week bill. The indirect bid was weak on the 13 and 26 week bills. This is short term cash looking for a safe place to park, not long term investable funds. It remains to be seen if this panic will slosh over into longer term Treasuries. With the 10 year at a major inflection point near…

by Zero Hedge - December 11th, 2011 8:54 pm
Courtesy of ZeroHedge. View original post here.
Submitted by Tyler Durden.
Last week we pointed out some curious observations from Fortress on commodities and the state of the Chinese market courtesy of secondary industrial metals, notably steel: "The investment landscape for industrial metals is becoming increasingly more difficult to navigate. As highlighted in last month's letter, we are continuing to see a rapid deceleration of growth in China, specifically within the cyclical industries. A recent trip to visit steel companies outside Beijing underlined the impact of extremely tight liquidity and continued restrictive policy in the Chinese housing market. Steel capacity cuts – through idling or accelerated maintenance outages – are now commonplace and the speed of these cuts has certainly surprised the market. Construction is the principal end-market blamed for this weakness; given the very large inventory overhang and the continued lack of liquidity, this is not surprising. In our equity universe, we have also seen numerous companies expressing concerns regarding China construction demand. Zoomlion, China's second largest construction machinery company, recently said, "Demand for construction machinery has shrunken drastically and growth will no doubt continue to slow next year." Within the context of declining housing starts, plummeting transaction volumes and the beginning of a meaningful move down in housing prices, these shifts in the steel market have been an interesting harbinger of more substantial problems in the Chinese economy. Our principal concern is the extension of housing weakness into the banking system through the mechanism of both failing developers as well as the opaque and informal lending. We are concerned that the recent strength in iron ore, steel and copper has been misinterpreted by the market. In our view, any suggestion that the Chinese market is undergoing a substantial restock is misplaced." Today, we get a confirmation of just this warning courtesy of Citigroup which has charted weekly Iron Ore China port inventories and of broad steel inventories. Needless to say, domestic steelmakers, who better than anyone know the state of domestic end product demand, have seen the writing on the wall, and have one message for the world: short Brazil and Australia.
h/t David
by Zero Hedge - December 11th, 2011 8:27 pm
Courtesy of ZeroHedge. View original post here.
Submitted by Tyler Durden.
From Lance Roberts oF StreetTalkAdvisors
STA Risk Ratio Turns Up – We've Seen This Before
The market rallied this past week, albeit in a very volatile manner, to end the week on a positive note as the hopes of a final resolution to the Euro crisis has been reached. In reality, today's announcement of the EU treaty is only the first step and there are many legal challenges that will still have to be resolved. While the reality is that there is still a very long road ahead before anything will actually be accomplished the implication that the with the ECB willing to buy bonds, at least for the moment, and the coordination of two bailout funds the Eurozone can play "kick the can" for a while longer. Those headlines, even without much substance were enough to drive return starved managers into the market for the year end rush.
Even with the rally today the markets have made very little progress since the beginning of this year. With that I thought it was time update our STA Risk Ratio indicator to see where we currently stand. For reference the STA Risk Ratio indicator is a weekly composite indicator comprised of the Rate of Change of the S&P 500 Index, two different ratio of bullish and bearish sentiment, new highs versus new lows and volatility. This indicator is weighted and then smoothed using an 8 week average. The purpose of the indicator is not to provide trading signals for speculative stock trading but longer term asset allocation changes to adjust for market trend changes and risk management.
As shown in the chart as the indicator rises above 50, and eventually above 100 on the index, the market is becoming overly bullish. Therefore, as a contrarian investment indicator we begin to look for a turn down in the indicator as a sign to begin reducing portfolio risk by raising cash, increasing fixed income exposure, reducing portfolio beta or adding hedges. Conversely, as the indicator falls below 0, and eventually -50 on the index, the market is becoming excessively bearish and we begin to reverse the allocation process.
For example, back in April, and early May, of this year we reduced our portfolio equity allocation levels to…

by Zero Hedge - December 11th, 2011 8:12 pm
Courtesy of ZeroHedge. View original post here.
Submitted by Tyler Durden.
From Clive Hale's View From The Bridge
Rule Britannia
If you have never heard the rendition of this anthem of anthems (up there with "Jerusalem") at the Last Night of the Proms you will not understand the British psyche and the glue that binds this nation together. We have been branded the pariah of Europe for rejecting the treaty amendments, proposed by Germany and reluctantly seconded by France, which, in the great scheme of things, will achieve the square root of very little.
Alexander Graf Lambsdorff, head of Germany's FDP group, part of the European Liberals, says it was "a mistake to let the British into the EU". Over here some of us would lay the blame for accession at Edward Heath's door… "Britain must now renegotiate its relationship with the EU," he said. "Either hey do it on their own initiative, or the EU refounds (sic) itself – without Great Britain. Switzerland is a model towards which Britain can turn itself." Bring it on!
Meanwhile Daniel Cohen-Bendit, joint leader of the Greens in the European Parliament has labelled Mr Cameron "a weakling". That's up there with being savaged by a lamb Geoffrey Howe style, although Danny la Vert is in all probability a vegetarian…
Surprisingly it was the French newspaper Le Monde, seemingly keen to avoid further damaging relations between the French and English, which spoke to its readers of all the things they love about the UK, which, it said, are "impossible to number"; but they gave it their best shot. "From the concept of habeas corpus to the BBC, to Elizabethan poetry to John Le Carre, from rock to the invention of the Sixties, from London springtime concerts to Wimbledon, via Liverpool FC." And all that from a French newspaper! Well one thing is for sure; we will "never walk alone"!
That this meeting of small minds has been hailed as a triumph – German Chancellor Angela Merkel said that the European Union summit achieved a "breakthrough" to a "lastingly stable euro" – leaves me lost for words, but not expletives, although I will spare your blushes dear reader.
She would like you to believe, as obviously she does and presumably along with the 25 other governments that can find no other place to hide, that by March the "fiscal compact"…

by ilene - December 11th, 2011 8:05 pm
Courtesy of John Rubino.
The thing to understand about inflation is that if one major country does it, all the others have to do it too. A single country can benefit by making its currency less valuable, because a falling exchange rate gives its exporters a pricing edge in global markets. But the pop in exports comes at the expense of competitors who then demand that their governments join the currency race-to-the-bottom.
This happened to Switzerland in September, as global capital poured into what was seen as a financial safe haven. The Swiss franc soared, traumatized local exporters complained, and the government pegged the Swiss franc to the euro, in effect putting it on the same road to oblivion as Europe's doomed common currency.
Now it's Japan's turn:
Car Maker Cuts Profit Goal by 54%; Strong Yen Is 'Destroying' Japanese Industry

TOKYO—Toyota Motor Corp. slashed its profit outlook by more than half, reflecting the corrosive effect of the strong yen and signaling a deeper threat to car maker's recovery.

The Japanese auto giant Friday also lowered its global sales outlook to 7.38 million vehicles for the fiscal year ending March 31, an admission Toyota could lose its crown as the world's largest car maker this year, a title it took from General Motors Corp. three years ago.

Toyota has been wounded by two natural disasters and the rise of the yen against other currencies. Just as the company's production was rebounding after Japan's massive earthquake in March, it was hit by flood damage to key component suppliers in Thailand and a record yen.

Those setbacks have eroded Toyota's position against global rivals including Hyundai Motor Co. and Volkswagen AG, and pose longer-term worries for one of Japan's most important industrial giants. Toyota has lost 2.5 percentage points of the U.S. auto market for the 12 months ended in November. Its stock price in New York has fallen 33% since the end of February.

Toyota officials have said that at exchange rates below 80 yen to the dollar, the company loses money on subcompact exports such as the Yaris. The dollar and euro weakness against the yen reduces the price competitiveness of Japanese exports in overseas markets and erodes the value of foreign profits on corporate Japan's balance sheets.

Satoshi Ozawa, Toyota's chief financial officer, said one of the
…