I played poker this weekend.
I entered a few tournaments in Atlantic City, made it to a couple of final tables but didn't win any. It did remind me that a bluff can only get you so far – at a certain point, you have to actually have the cards in order to win. As I pointed out to Members this morning – the Global Markets have bluffed their way through the first quarter and now comes earnings season and it's time for the economy to show it's cards and now we'll see who ends up with all the chips!
Just this morning we got this disturbing data:
These are NOT cards you want to be playing with unless you are forced. That's the thing, GS, JPM, MS, Fund Managers, etc – they HAVE to play. Since they have to play whatever cards that are dealt – they do the logical thing – THEY BLUFF! Although what's scary about the Banksters is that, when they bluff, it's like the dealer bluffing because they control so much of the game and their only real goal is to get you to play so they can rake your money (see Friday's post for more on this scam).
Europe is CLEARLY in a Recession, yet no one is willing to call it. Asia has been contracting all year and there's nothing too exciting about the US data either (only when compared to the crash) yet the markets are partying like it's 1999 – as if there is literally not a care in the World. Yet US Corporations – the same ones that are supposedly doing so great – have dropped the equity participation of their pension funds to decade lows.
We've already discussed record levels of insider selling at US Corporations and, as you can see from the chart on the right, volume is drying up as the markets rally – indicating the "smart" money is heading for the exits as those fools rush in to hold the bags. Speaking of bagholders – congrats to all of our GRPN shorters as that company is finally imploding as the Company reports "Material Weaness" and restates their quarterly revenue. Gee, maybe they aren't worth $10Bn with $3Bn in revenues and no profits…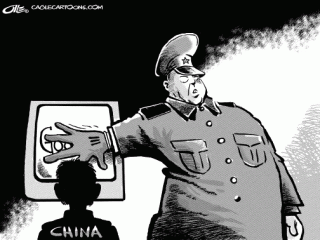 Don't worry though – it's almost time for Facebook's IPO and shares of that soon-to-be-disappointment traded at $44.10 in their final SharesPost auction, which gives them an implied market cap of $104Bn. Meanwhile, China has been busy cracking down on their own social media sites like SINA and Tencent, arresting 6 people and closing 16 websites for "fabricating or disseminating on-line rumors." I call dibs on the "Free Mark Zuckerberg" T-shirt franchise!
Meanwhile, China may be right to put a stop to this who "Web" thing as Hackers used the infamous Internet to steal 1.5M North American Visa accounts this weekend. GPN, the provider that was breached, is/was the Nation's 7th-largest and handles/handled $120.6Bn in volume. The data was only just stolen, the repercussions from this will cause ripples throughout the industry. Global Payments had been on Visa's list of compliant processors as late as Friday afternoon. It was listed as having met Visa's standards as of July 31, 2011.
Now they want us to have credit cards with RFID chips in them that BROADCAST our information – gee, what could possibly go wring with that plan? Both MA and V are on our Long Put List (see Friday's Member Chat for most recent update) and are still playable. These issues are likely to lead to a Senate Investigation and possibly some new security rules and, of course, we're not so thrilled with the outlook for Global Consumers anyway – certainly not enough to give MA a p/e of 28.32, which makes V look like a bargain at 20.90. For one thing, smart phones are going to chew into traditional CC business by next year.
As you can see from our Big Chart, we have still not done any technical damage to our major indexes and that's keeping us from being gung-ho bearish at the moment. The NYSE over 8,250 is going to be a bullish sign, as would the Russell retaking and holding 840 (but 836 is our shorting spot on /TF Futures). The 820 line on the RUT will be our first bad break of the week as it will also be the 50 dma so that, 8,200 in the NYSE and $102.50 on oil are going to guide our technical trading for the moment.
The Dollar was all the way down to 78.90 again pre-market but, as we move closer to reality, it's flying back to 79.40 and that does not bode well for our open. That suits us fine as we did follow-through with our plan on Friday and added a bunch of short positions into the closing rally because – as I said in that morning's post – we don't care IF the markets are rigged, as long as we can see HOW they are rigged and place our bets accordingly.
Let's be careful out there.
Do you know someone who would benefit from this information? We can send your friend a strictly confidential, one-time email telling them about this information. Your privacy and your friend's privacy is your business... no spam!
Click here and tell a friend!