Wheeee, what a ride!
We were bearish on Wednesday so you know it was time to flip bullish on Thursday and we did off that bad open where my morning Alert to Members added some aggressive positions:
XLF/FAS is still my favorite bullish play to speculate with. FAS July $83/90 bull call spread is $2.60 and you can sell a JPM Jan $29 put for $2.30 to knock the net down to .30 and, if you stop the bull spread out at $1.30 (50% down), then you are in the short JPM Jan $29 puts for net $1 and your worst case is owning JPM for net $28, which is 18% below the current price.

Oil is also interesting (and I still like gasoline (/RB) over $2.65) at $82.50 and USO is down over 20% since May 1st so I like the USO Aug $35 calls for .53, selling the Aug $27 puts for .58 for a net .05 credit and your worst case is you are long on oil 13% below the current price or about $72 a barrel.
Needless to say they are all doing quite nicely and that Futures trade on gasoline is the same one I mentioned right in Wednesday morning's post, when we caught that big spike up to $2.69 for a $1,680 per contract gain so, of course, we were thrilled to get another crack at $2.65 yesterday morning and we got another run to $2.69, where we took our non-greedy exit again.
Oil futures ran up $1,500 to $84 and the USO spread shot up to .15 for a quick 200% on cash for the day and our FAS spread is looking very good with Sheila Bair paying JPM a backhanded compliment this morning, saying:
They made a big mistake. I think it proves my point these banks are too big and too complex to centrally manage. But at the end of the day it was not any kind of loss that would threaten the viability of the bank.
Believe me, that was harsh compared to the parade of JPM flunkies posing as Senators who stumbled over each other as they competed to see who could bend over backwards the farthest for Jamie Diamon, asking him how he'd like the regulations to be written instead of WTF he was thinking when he decided to gamble with Federally insured money.
"We're here quizzing you," Senator Bob Corker (R-TN) explained to Dimon in a typical exchange. "If you were sitting on this side of the dais, what would you do to make our system safer than it is, and still meet the needs of a global economy like we have?" Some Senators even asked Dimon what regulations he'd like to dismantle. "I would like to come away from the hearing today with some ideas on what you think we need to do, what we maybe need to take apart that we've already done, to allow the industry to operate better," said Senator Jim DeMint (R-SC).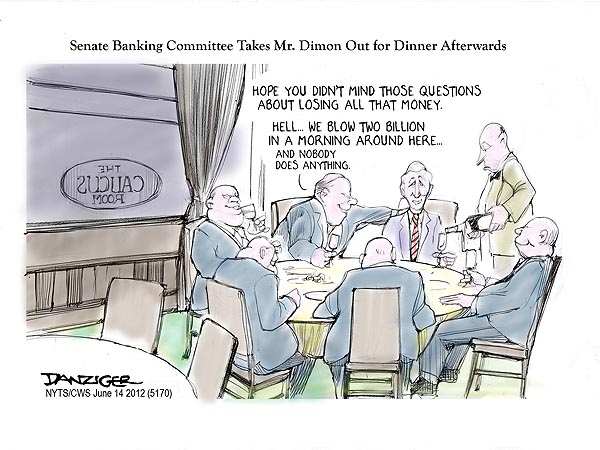 Rather than focusing on the clear and present danger presented by JPMorgan's risky financial maneuvers, Corker then invited Dimon to opine on the "societal good" of his bank, and asked, "What would society be like without these institutions?"
Dimon eagerly expounded on the value JPMorgan chase provides to the public, particularly "mothers and veterans." Instead of pressing for tougher controls, Senator Mike Crapo (R-ID) asked Dimon, "What should the function of the regulators be?" ProPublica had a nice article titled: "Charting the Cozy Connections between JPMorgan and the Senate Banking Committee" that's sickening but a good read.
Of course there's no need to buy all those Senators when you can just buy yourself a President. Shelly Adelson, the LVS casino magnate who donated $21 million to a super PAC supporting Newt Gingrich and followed up this week with $10 million to a pro–Mitt Romney super PAC, will apparently donate "whatever it takes" to defeat President Obama, a source toldForbes. The owner of the Las Vegas Sands casino will reportedly make "limitless" donations to get Romney elected, the source said—which certainly is in line with Adelson's recent comments that he could donate as much as $100 million to Romney's campaign. To make a comparison, the $10 million Adelson just donated to the Romney campaign is equivalent to an American family with a net worth of $100,000 donating $40.
Meanwhile, anticipation is high but we'll have to wait for the weekend to see what kind of market rally the G20 is willing to pay for.
Have a great weekend,
- Phil
Do you know someone who would benefit from this information? We can send your friend a strictly confidential, one-time email telling them about this information. Your privacy and your friend's privacy is your business... no spam!
Click here and tell a friend!