$76,103 – That's not sales, that's profit!
Every minute of every day, AAPL is making $76,103 (at $40Bn a year) on the sale of $316,120 worth of products. No company on Earth comes close to that kind of metric and, overall, the stock's performance clearly indicates that but, if you listen to the MSM, you would think AAPL is finished.
We had a nice, in-depth discussion about AAPL in Member Chat this morning and we not only concluded it's still a buy but we came up with a lovely spread that has the potential to turn $3,000 into $45,000 between now and Jan 2015 if AAPL simply holds $600 – needless to say we're very proud of that as it's always nice to have a trade or two in your portfolio that returns 1,500% and we rarely get a chance to do them with a blue-chip stock like AAPL.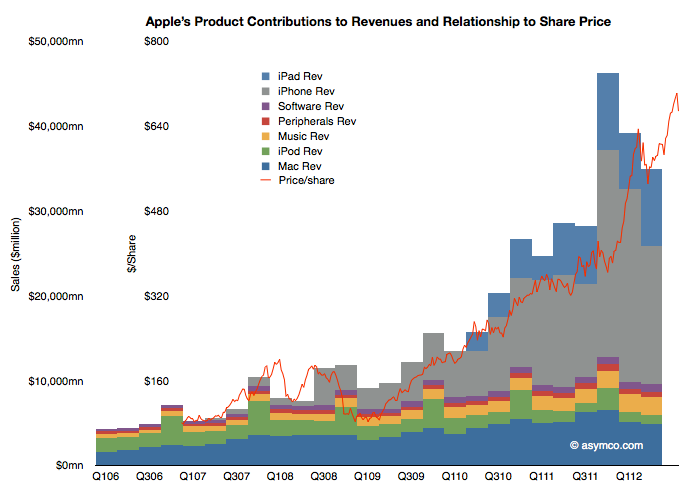 Note in the above chart, that AAPL is still a relative outperformer this year – shown priced against HPQ, DELL, INTC, IBM, CAT and ISRG – all good companies that have simply failed to keep up. We also like HPQ at this level, now $14.30 as their REDUCED guidance has them earning $3.62 per share next year after earning $4.05 this year and that's still 25% back on your money, which sure beats TBills and we're not even counting the $18Bn in cash they have on hand, which is quite a lot when you consider that their entire market cap is now just $28Bn. Small wonder HPQ spent $9Bn buying back their own stock last year, when it was priced 100% higher.
HPQ is a pretty good candidate for a buy/write, where we Buy the stock for $14.30 and Write 2014 $15 puts and calls (sell short) for $5.50 and that nets $8.80 on the trade and, if HPQ is below $15 in Jan 2014, then another round of shares will be put to you at $15 for an average entry on 2x of $11.90, which is 17% below the current price and, if HPQ is over $15 in 16 months, then you get called away at $15 for a $6.20 profit on cash (75%). Buy/writes are our favorite tools for making long-term entries – see "How to Buy a Stock for a 15-20% Discount."
As we mentioned INTC in the above chart, let's look at a similar trade idea for them. INTC is nicely beaten-down at $22 but may go down to $17.50 before stabilizing so this is a bit early but we can buy the stock for $22 and sell the 2015 $20 calls for $3.70 and the $15 puts for $1.50 and that drops the net entry to $16.80, which is 23.6% off the current price and lower than we think it's likely to fall and we're only committing to buying another round at $15, and that's 32% off the current price, which would give us an average entry of $15.90 – worst case. If called away at $20, our gain is $3.20 of our net cash investment of $16.80 or 19% over 28 months – not a bad return for betting Intel simply doesn't fall more than 10% lower than it is now but nowhere near as exciting as HPQ because it's considered less risky and we're being more cautious as we don't think it's bottomed yet. INTC is also kind enough to pay you a .90 dividend while you wait – adding another 5.3% to your annual return! This is better than T-Bills folks…
Now, back to the markets. As we can see from our Big Chart, we're having a bit of a pullback, with the Nasdaq and Russell down 5% from the September highs and the other indices down roughly 2.5% so far.
The Nasdaq made a critical failure yesterday as it fell below it's 2.5% line AND it's 50 dma at 3,082 while the Russell is right on their 50 dma at 824 and in danger of failing their 2.5% line at 820 as well. The S&P is our most important indicator and it looks like they are right on that critical 5% line at 1,440 – our only index not to fail that level and that is all of our remaining hope so we'll be watching them VERY closely this week.
Should the S&P fail – then the Dow has no support down to 13,295 so they'll make a nice short but we're still hoping we won't have to pull the trigger on that one. Going into this dip, TZA was our primary hedge in the Income Portfolio and our April $15s have gained .40 since Friday (16%), well outpacing the 2.5% drop in the Russell for a nice offset.
Otherwise, we're still long-term bullish as nobody notified us that the Fed has withdrawn QE3 and it was just yesterday that China threw another $40Bn into the markets. What's bumming everyone out this week is worries about earnings (not so bad so far) and all these TERRIBLE pronouncements from the IMF's meeting in Tokyo this week on the state of the Global Economy. At PSW, we've been telling you the Global Economy sucks for months so it's not surprising to us but it seems to be shocking the sheeple – who are now running for the exits but, as noted on the Big Chart – certainly not at anything like an alarming pace so far.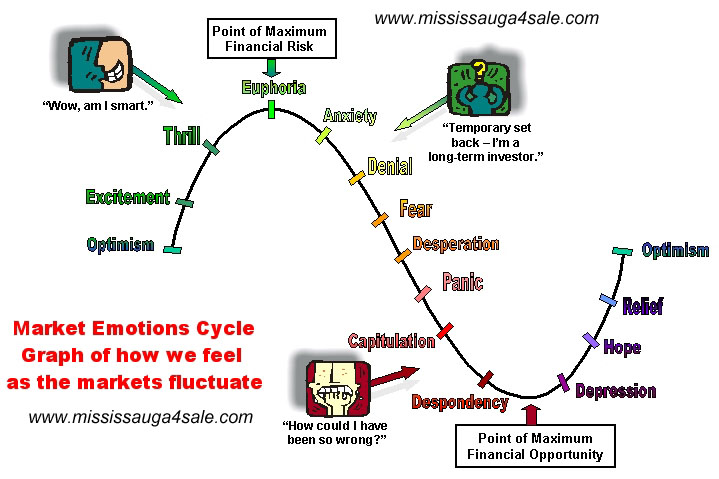 In order to climb a wall of worry, we need to first recognize and accept those worries and what we have here is the beginnings of capitulation after a very long period of denial (where bad news was good news into the Fed). This is why we prefer to buy now with a 20% downside cushion – we're a little early to call it a bottom but the FACT of QE3 means we may not make too low of a trough on the way down so we're using this earnings season to do a little bargain hunting.
Tell us when something new happens that we should be worried about but, so far, China's slowdown we've been discussing all year, Europe's mess is 2-years and counting, California Cities in debt crisis also old news, Japan staggering under 220% debt is bad, but just 10% worse than 2 years ago and 7.8% US Unemployment is the best reading since Obama took office and the only thing we have to worry about there is whether or not Jack Welch's head will explode if we go down to 7.7% next month.
So far, earnings are coming in better than expected – we'll see how the week plays out but this correction may be shallow indeed if it turns out we've underestimated the recovery in the US and overestimated the impact of China and Europe slowing down.