And up we go again!
On April 7th, Draghi promised us MORE FREE MONEY and the Dow went from 14,600 to 14,875 in a couple of days. On June 6th, Draghi promised us MORE FREE MONEY and the Dow went from 14,900 to 15,300 in a couple of days. Yesterday, Draghi promised us MORE FREE MONEY and the Dow closed at 14,988 and we'll see if we can crach 15,200 on this run, which is still 5% BELOW our "Must Hold" line on the Dow (16,000). But then the trick it to hold that for at least two straight days or we still don't have any kind of bullish signal.
We do have a bullsh*t signal as the market surged higher on essentially no volume Monday morning and again on tuesday morning and again at noon on Wednesday but, otherwise, the selling is relentless. Russell 1,000 is the only Must Hold line likely to get crossed on this morning's pump job and that would make it 3 of 5 if they do hold it with both the Dow and the NYSE (9,500 goal) not even over their -5% lines. So, even if we do get that Russell cross, we still need the Dow to confirm.
As you can see from the Doug Short Chart on the left, we're still well above our 2007 highs on the S&P – although things didn't go so well after that what with China collapsing and Europe having trouble and our Corporate Citizens turning in a disappointing Q3. I'm sure THIS TIME it's different – for one thing – it's only Q2!
Nothing really matters today until we get our Non-Farm Payroll numbers and those don't matter as of Tuesday, when we begin to get those Q2 earnings reports. There's no certainty that it's going to be bad news. We have a lot of indications that are keeping us cautious but the real question is – can the news be GOOD ENOUGH to sustain all-time highs on the S&P?
As I said in Tuesday's post: "Show us the money" – then we're more than happy to get bullish again but, for now, I feel a lot better preparing to be disappointed.
8:30 Update: 195,000 jobs were added in June (much better than 165K expected) but the big news is a 70,000 job upward revision to the prior two months. Nonetheless, the unemployment RATE is still 7.6%, which is good from the perspective that it keeps the Fed's foot on the gas as so many people are entering the work-force that it's washing out the job gains.
Not to put a damper on things, but the number of persons employed part time for economic reasons (sometimes referred to as involuntary part-time workers) increased by 322,000 to 8.2 million in June. That's keeping hourly earnings very depressed. These individuals were working part time because their hours had been cut back or because they were unable to find a full-time job (A-8 on the tables). Also not counted are 2.6M people who are "marginally attached" to the labor force – people who have been unemployed but have not looked for work in 4 weeks and are thrown off the official tally.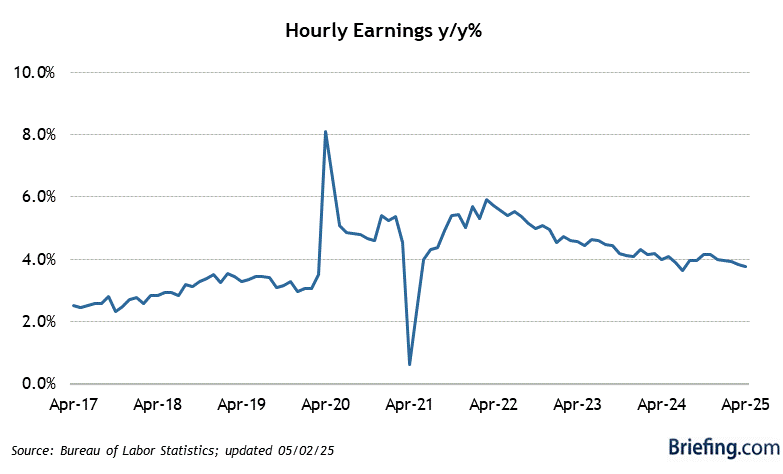 So, encouraging headlines but that's about it and we're certainly going use this rally to press our shorts into next week's earnings – and then we'll see what's real and what's not.
Have a great weekend,
– Phil