And up we go again!
AAPL had OK earnings and it's up about 3% overnight so that's pumping 0.6% into the Nasdaq from that stock alone. The big news of the day is Euro-Zone PMI Reports coming in better than expected, pretty much across the board. Forget the fact that they are, overall, at 50.1 on a scale where 49.9 is contracting – 50.1 is NOT CONTRACTING!!!
Not contracting? That is FANTASTIC! Let's have a party. And a party is exactly what Europe is having, with the indexes up 1% or more across the board. Sure, unemployment is at a record high – but you can't make an economic omelette without breaking the hopes and dreams of a few million workers – can you?
Of course, what people tend to forget is that the Purchasing Managers Index is a survey of the expectations of Purchasing Managers for the NEXT 6 months. In other words, Draghi promises free money, people with high-paying jobs who are not unemployed believe him, and their expectations improve. This is what's raising the market 1% – isn't that silly?
Even sillier is that, in Europe, good news is good news but, in China, BAD news is good news too as their PMI FELL to 47.7 (clearly contracting) and investors in the US and Europe are hoping that means China will jump on the stimulus bandwagon and flood the World with even MORE FREE MONEY.
Asian investors, however, think bad news is still bad news and China's stocks fell for the first time in three days, led by financial and commodity companies, as an unexpected decline in a preliminary manufacturing index boosted concern the economic slowdown is deepening.
Another "positive" being spun in the Western World is Japan's exports rising 7.4% from last year to 6.06Tn Yen. That's also exciting the EU and US markets ahead of the bell but boy oh boy are they schmucks! Surely I can't be the only person in the Western World capable of doing currency conversions, can I?
The reason the Nikkei futures (/NKD) are languishing at 14,850 while our Futures celebrate Japan's export numbers is because, last year 6,060Bn Yen converted at a rate of 78.5 Yen to the Dollar, so $77.2Bn and this year, 6.060Bn Yen converts at 100 Yen to the Dollar for $60.6Bn. That's a drop of $17Bn (28%), not an increase of 7.4%!
Why does no one in the MSM report this? Why would they treat a catastrophe like a victory? Are they trying to fool you – or are they fooling themselves? Perhaps you should ask your favorite media pundits WTF is going on over there? Usually, we ignore currency fluctuations because they are relatively minor and not worth the mental strain but THIS is a massive change in the value of the Yen, purposely engineered by the Prime Minister (Abe) and the Central Bank (BOJ) to devalue the currency and create exactly this sort of false recovery. Does that mean we all have to actually play along?? No thanks….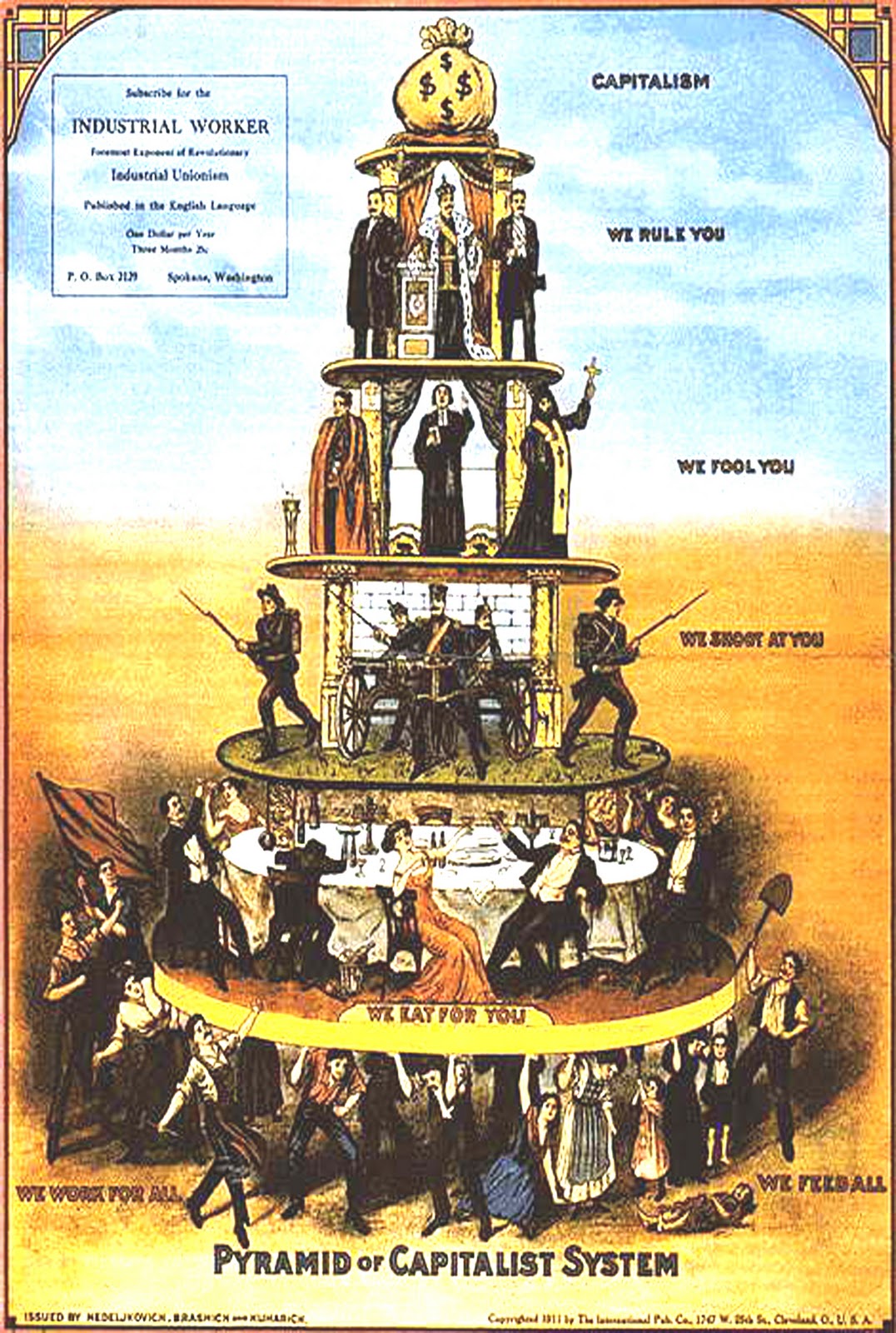 And, if they are lying to you about Japan, what other lies is the media telling you? I often put up the "Pyramid of Capitalism" to make a point and today I'll point out that the Church ("We Fool You") has been replaced in modern society by the Media (see Marshall McLuhan) and most of us spend a lot more time worshiping the idiot box than we ever did at the pulpit.
It's not even called "the idiot box" anymore. Not because it's any less idiotic but because the generation that grew up without them and thought that people staring at flashing images for hours on end were being turned into idiots have been replaced by their idiot children and their idiot children had children (my generation) and now my children think anyting that happened in "black and white days" was pure rubbish.
Those idiot boxes ended up making so much money that the companies that ran them have now taken over all of the media and almost all of our entertainment to the point where we now only have to say: Viacom, Disney, Time Warner, Clear Channel and News Corp to list the owners of 90% of the media in America.
Time Warner also runs the magazines and publishes books, Rupert's Fox is into book publishing and newspapers and also happens to own Dow Jones and Company – who publish Barron's, Smart Money, the Wall Street Journal and, of course, the Dow Jones Industrial Average. What kind of "news" do you think you're going to be getting from them?
Capitalism is great, Billionaires are great guys, taxes suck, regulation are killing jobs, rich people are creating jobs, Elliott Spitzer is a villain and Jamie Dimon's a hero… that kind of news!
Speaking of villains turning to heroes (or vice versa, depending on which end of the top 1% or bottom 99% you reside at), the Wall Street Journal is celebrating today the $5M annual payday snagged by former SEC Enforcer, Robert Khuzami, as he takes a position with one of the law firms (Kirkland and Ellis) that represent the clients he used to prosecute. Well, not actually prosecute – as no one on Wall Street actually gets prosecuted, do they?
Fortunately for Kirkland, keeping their clients out of The Clink is big business, with the firm billing $2Bn last year. That's just one firm! The SEC's entire budget, which the Republicans want to cut in half, is currently $1.3Bn. Have you ever gone to a trial where your side had one attorney and the other guys had five? How did that work out?
Now that I've gotten that out of my system, the next question we need to ponder is: Is it then, a bad thing that the media is owned by business and spins stories to favor the elite of this nation, who control almost everything we see and hear? After all, it's a consumer-driven economy and a happy/complacent consumer is one who spends and that spending keeps the money flowing and, ultimately, puts people to work and gets the economy going (the old trickle-down theory).
This isn't a new thing, it's been going on since after WWII, when propaganda techniques that were developed to destroy our enemies and bend them to our wills were turned on American Citizens by our Corporate Masters – in order turn us from a nation of savers into a nation of spenders. In fact, it worked so spectacularly that we've since racked up over $16Tn in National Debt – enough to boost our GDP by 5% for the last 4 decades!
Would we bet better off or worse off in a less robust economy? Is it wrong to use psychological pressure to get you to go into debt to buy more clothes than you need, more food than you need, bigger homes than you need – to be embarrased to drive a car that's 5 years old – or is it just good Capitalism?
All those same tools that get you to BUYBUYBUY consumer products are now being employed by the media to get you to BUYBUYBUY stocks. Traditional valuation metrics are downplayed and "story" stocks are celebrated. Think about it, what are you going to click on – "10 Summer Stocks that are Ready to Sizzle" or "Our Favorite Long-Term Value Plays"? That's right – good doggie!
I think we're being sold a bill of goods with these "record" market highs. The earnings simply aren't supporting the prices and it's all very likely to end in tears. I hate to stay bearish as we seem to be missing out and I hope the above gives you a little more insight as to why I'm so skeptical.
As I said yesterday, and last week, and often before – it's not like we don't have any bullish plays, we have new ones evey day. But they are long-term, sensible plays, not chasing after the hot stocks of the moment. I know it's hot out – let's just try to keep our cool.
After all – despite all our rage, we are still just rats in a cage…