Are we about to drop 2.5%?
Those 50 dmas are about 2.5% below where our indexes are and 28 companies that reported yesterday gave us negative guidance vs 9 that guided up. As I noted yesterday, this is not an encouraging trend and certainly not a trend that says "new highs ahead".
On the Russell, the 50 dma is 5% below it's current 1,054 and the NYSE isn't even at 10,000, down 3.5% from that level and 8.5% behind the Russell. That's notable because the NYSE and the Russell, two broad-market indexes, usually move in tandem but, since January of this year, the Russell has gone INSANE and is now widely ahead of the much bigger NYSE.
That's why the Russell, via TZA, is one of our "go to" shorts in our Income Portfolio – just in case gravity turns out to be more than just a theory… Gravity doesn't seem to bother AMZN, who missed by a mile on Earnings (-.02 vs +.07 expected) and missed on Revenues by a little (though up 22% for the year) and had a 76% drop in Free Cash Flow DESPITE record-low borrowing costs AND they guided down for next quarter.
Is the stock down? Barely ($3 of $300) In fact, Jefferies RAISED the price target to $350 from $300! Don't expect any insights from me, I think it's nuts. If all goes great, AMZN will earn about $1.25 this year, giving them a p/e of 240 and, if things go spectacularly for another year, their earnings may hit $3 a share and knock the p/e down to 100 (unless it's at $350 by then). Are we grading on a curve now? What does it take to get investors to take profits these days?
Of course, the bullish arguement (which I made myself at the beginning of the year) is – where else are you going to put your money? Commodities? No. Bonds? No. Banks? No. Emerging Markets? No. Japan? No. China? No. Europe? LOL, now we're just getting silly…
Thanks to a whole lot of macro manipulation, money is being forced into the stock market DESPITE the fact that the overall economic picture is fading fast.
Just look at this GDP chart – it's frightening – but only to rational-thinking investors, and those are few and far between these days (as evidenced by price action on AMZN). Remember, it's the US economy ($16Tn) everyone else is counting on to hold up the Global Economy ($60Tn) so, if they decline 3% ($1.8Tn), we only have to gain 10% – no problem – just have Bezos lose another Dollar per share and we'll be there!
We had an opportunity to cash out our Short-Term Portfolio even yesterday morning and we should have taken it because we had a short play on AZMN (Aug $250 puts at $2.25) as well as SBUX (Aug $72.50/70 bear call spread at $1.55) and TSLA (Aug $110 put at $5) and all went the wrong way on us last night. We were, fortunately, long on FB and FFIV and short on oil – so not a total loss but there's not much rhyme or reason to a lot of these moves.
Next week is going to be just as crazy as we have the Fed on Wednesday but it's already August by then and the Summer is half over and there was no drop. Actually, in May, the S&P topped out at 1,687 and I called for a cash out and now it's at 1,690 so it's not like we missed much but, within that index, some of these individual stock moves have been spectacular.
TSLA is the poster child for irrational stock buying and, just this morning, the stock was upgraded by Deutsche Bank to a Buy with a target of $160 (from $50!), shooting the stock up to $130 pre-market. Not since Nigerian hyper-inflation have so many zeros been added so quickly to the price of a stock.
But, why not? Look at all the FREE MONEY sloshing around at the top 1% – it's got to go somewhere and it's going to things the top 1% like, like TSLA and SBUX and NFLX and WFM and BBY & AMZN (toys) and STZ (drinks) and GNW (managed money), which was my White Cristmas Pick from 2011 (as seen on TV!, over 100% ago). This WAS our bullish premise in 2011 (see interview) and we fully expected the market to go higher BUT – now it IS higher (40%) and we think it's MORE than fairly valued – and very likely to head lower at this point.
As I said on that BNN interview in October of 2011, this isn't flip-flopping – we're simply playing a trading range and it's not a betrayal of capitalism to realize that we're stretching the bounds of a rational "recovery," over 100% higher than where we consolidated in 2008-9 and 150% off the 666 bottom on the S&P (see Doug Short chart).
Last Friday, as the S&P tested 1,690, we added 50 of the SPY Sept $173 puts at $6.10 to our Income Portfolio with a stop if the index breaks over 1,700. So far, so good and the puts are still $6.10 – in case you missed them last week. We still like them for the same reason as portfolio protection that should make about 50% ($9) if the S&P drops back 2.5% (1,650) and, with a 20:1 payout ratio against an index move, you only need to allocate 5% to insurance to protect your entire bullish exposure. Now THAT's HEDGING!
This is the kind of stuff we'll be teaching you at our Philstockworld Investing Conference this November (10th & 11th) at Caesar's Palace in Las Vegas. Please make sure you sign up early to lock in the best prices as well as to help us lock in all the needed reservations. We've got VIP check-in and Free Wi-Fi for the rooms and our own Options Sage, who wrote "Winning Stock and Options Strategies" for our Education Section as well as many of our Educational Articles, is going to be teaching with me live for the first time!
We're rolling our TSLA puts (as planned) and keeping both our SBUX short play and our AMZN puts ahead of the Fed next week, though it's SBUX that worried me most, as that was a fantastic earnings report and we'll probably adjust our bet to make it a more bullish spread.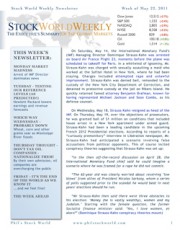 Other than that, we remain very skeptical that the Fed will be able so keep things going next Wednesday and, if they can – heck, we have plenty of bullish plays. In fact, that's WHY we're short-term cautious (bearish). Just yesterday we picked up long plays on CROX, along with a bullish gamble on EWJ (which failed, but only playing the bounce off our Wednesday short play – 800 points ago!) and, as I mentioned, FB and FFIV, which worked our very well.
All three of our trade ideas from Stock World Weekly were winners last week, so make sure you check that out over the weekend as well. LQMT opened Monday at .12 and hit .22 before coming back to .18, still up 50% in a week. GM is right on target at $37 and CMG is right on target at $400. Whichever way the market goes – we'll certainly find something to trade!
Have a great weekend,
– Phil