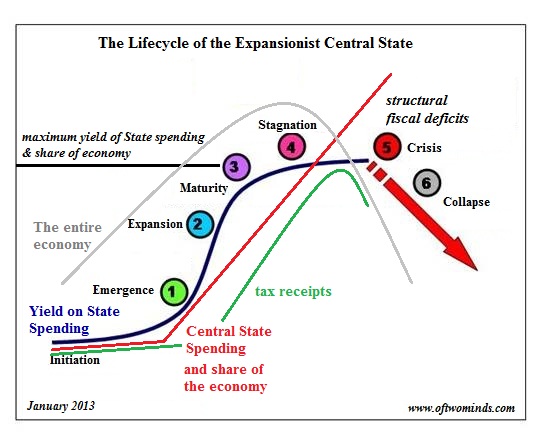 Always in a hurry, I never stop to worry,
Don't you see the time flashin' by.
Honey, got no money,
You got to roll me and call me the tumblin',
Roll me and call me the tumblin' dice. – Stones
The chart on the left is from an excellent article by Charles Smith titled "Bernanke -The Only Game in Town: Really?" which is a quote from Senator Schumer as he incredulousy questioned the Fed Chariman as to the need for the Fed's constant monetary machinations.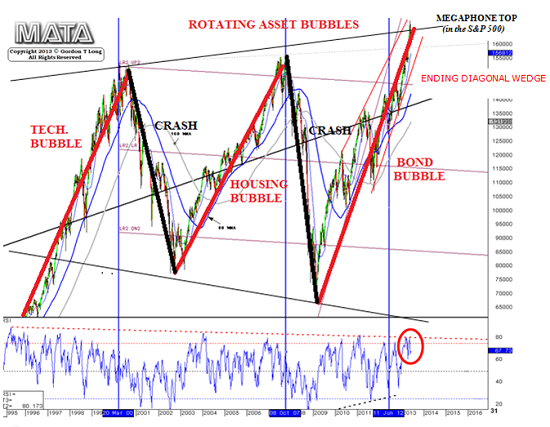 As pointed out by Smith:
Complex systems weakened by diminishing returns collapse under their own weight and are replaced by systems that are simpler, faster and affordable. If we cling to the old ways, our system will disintegrate. If we want sustainable prosperity rather than collapse, we must embrace a new model that is Decentralized, Adaptive, Transparent and Accountable (DATA).
This morning, in Member Chat (see morning tweet), we discussed the possiblity that ECRI may be right and that the US may be headed back into a recession. Why else would the Fed be keeping their foot on the gas with the market up 200% from it's bottom?
The leading indicators have been turning sharply lower since January, which means it's not very likely that our Q2 GDP number (released tomorrow at 8:30) is going to hit the expected 1.1% target set by leading Economorons. More likely we have a sharp dip, possibly below 0%, like the one we had in Q3 of 2011, that dropped the S&P off a very sharp cliff (in the last week of July), from 1,356 to 1,100 (19%) in just two weeks and, ultimately, to 1,074 – for the full 20% correction.
We are not worried about a correction – we NEED a healthy correction. Hopefully it won't be 20% but the expections reflected in equity prices simply aren't matching up with the reality of the economy, or the earnings we're seeing this quarter. You may have thought yesterday's action wasn't that bad but it may surprise you to know that 919 stocks advanced on the NYSE while 2,145 stocks declined. On the Nasdaq it was 789/1,705.
As I noted to our Members early yesterday morning, heavy-weight stocks like AAPL were pumped up to mask the fund managers running for the exits in the majority of their positions – leaving the retailers to hold the ever-expanding bag.
Cramer was doing his best to herd the beautiful sheeple into the markets by extrapolating 3 mergers to 300. The ELN deal was known for a long time and the stock is really just now back where it was last year. SKS has also been on the table since May and and the OMC takeover was not only baked in but the terms caused them to drop back to $64 yesterday, after opening at $70.
This does not stop Jim Cramer from telling his followers to run out and BUYBUYBUY everything that's not nailed down – whipping them into a frenzy and making them susceptible to all sorts of M&A rumors (like TSLA being bought by AAPL) – no matter how silly they may be (like TSLA being bought by AAPL).
M&A rumors often mark the blow-off top of a market as it allows the carnival barkers to throw valuation out the window. The timing of real M&A deals is, of course, coordinated by the IBanks, who then use the sector pops to sell off other stocks they've been pumping up into the deal as fresh money is drawn in.
I'd like you to travel back in time to July 21st of 2011, when the market was running up into the Fed and the ECB rate decision (sound familiar?). Though I was on a cruise ship in Monaco that day, I could see from 3,000 miles away that it was time to get more bearish. Cramer, of course, disagreed and the Dow rallied 152 points that day saying "there are so many ways to win" and urged his sheeple to buy and hold and not listen to the "news" or pay attention to "fundamentals." My reaction the next morning (Friday, July 22nd) was – "Short it some more" in what I called "Fully 'Fixed' Friday – Extend and Pretend Edition," with this chart:
On August 9th, just two weeks later, the S&P was down 19%, to 1,100 – right after that 150-point blow-off top. As you can see above, we were simply playing the odds that the S&P was not likely to have the energy to sustain a move over the top based on the data we were seeing. Here's what a longer-term chart looks like today:
In a one-year chart, we don't account for inflation but, in a 13-year chart, it would be ridiculous not to, right? Now an optimist might say that perhaps then, we have no resistance until 1,785 and that person would be correct – except TA people rule the waters and they don't care about silly things like inflation or actual values – they care about big, round numbers and squiggly little lines that make pattens like a Rorschach test that they can point to in order to "prove" whatever it is they are looking for.
Note the pattern of 2007 – the top, the dip, the bigger top and the much bigger dip. M&A news was rampant then and you couldn't short anything because either that stock or one from it's sector (often commodity plays, financials and small tech) would leap up on the rumor du jour but, at the time, there were plenty of real deals going on but again – these deals are scheduled to close months in advance by the same banks that are allowed to bet on the market. It's not insider trading if you bet on a different stock in the same sector!
Speaking of manipulating the markets – JPM is accused of manipulating power markets in California and the Midwest from September 2010 to June 2011, obtaining tens of millions of dollars in overpayments from grid operators, the U.S. Federal Energy Regulatory Commission alleged today. JPM has agreed to a fine of $400M – 2% of their annual NET profits, which is nothing but the good news is it gives the Senate more leverage to shove JPM and their cohorts out of the commodity business (or else we'll take a look at the next 2 years as well!).
More class warfare from the President today and Consumer Confidence at 10 but it's all up to GDP and the Fed tomorrow and then the ECB Thursday. As with July of 2011, hope can spring eternal – until it doesn't anymore.
Please be careful out there!