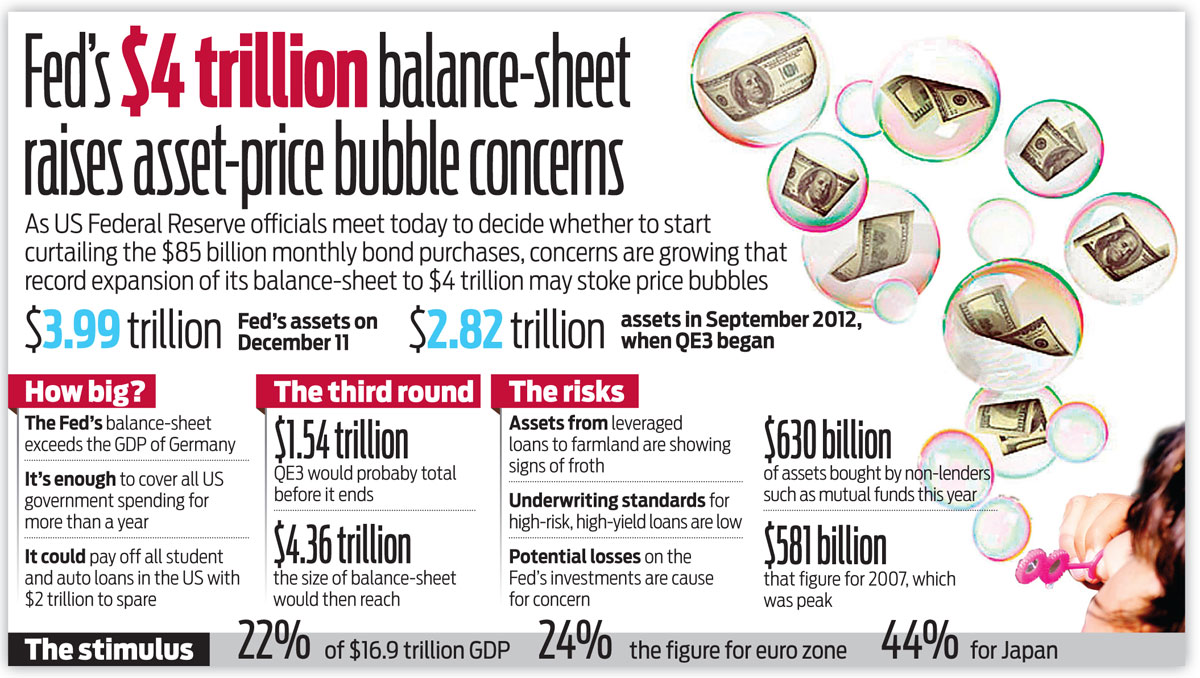 It doesn't matter what the Fed did yesterday.
Let's make that clear at the start. The Fed has been tapering all year but what they have been tapering is their INCREASE in bond buying and thank God they have because the Fed balance sheet is now over $4,000,000,000,000.00 – that's a lot of money!
As noted in the chart above, $4Tn is the entire GDP of Germany or Japan, the level of stimulus has added up to 22% of our GDP since 2009 or about 4% a year. Our GDP is only 2.5% WITH the 4% added stimulus – what will it be without it? Fortunately, we don't actually have to worry about that because the Fed will be rolling that $4Tn over, at a rate of roughly $800Bn a year to keep the party going forevermore.
This is what is misunderstood by – well pretty much everybody. The Fed is not cutting us off, they are just not adding to the already biblical levels of stimulus we've grown accustomed to.
As each Fed bond or other asset is redeemed, the Fed will still buy a new one to replace it. And, since our Nation's NEED for money has decreased by 2/3 – it means they are now buying a SURPLUS $300Bn or more of assets each year. Hmmmm, now who will that be bailing out I wonder?
That's right, the Fed will continue to pump $300Bn or more each year into the coiffers of our beloved Banksters for many years to come. The more Obama reduces the deficit, the more money (our money) the Fed can funnel to their Bankster buddies – what a fantastic system – don't forget to vote for more of the same on Tuesday! .
On the whole, we don't really give a crap. We pretty much cashed out our Member Portfolios with huge profits for the year and that leaves us free to have fun day-trading and playing the futures while we get ready to enjoy our holidays.
Just this morning, in fact, I put out an Alert to our Members (and even Tweeted it as a holiday gift to the cheapskates) at 4:51 am saying:
/ES (S&P Futures) just got rejected at 1,180 and that's still a bearish signal and we can short them below the line or be more aggressive shorting /TF (Russell Futures) at 1,145 — buy you know how scary that can be. If /ES goes over 1,180 – GET OUT OF THE SHORT POSITION! If /TF goes over 1,145 – GET OUT OF THE SHORT POSITION.
We caught a nice ride down to 1,132.50 – up $1,250 per contact and that's the line we just flipped long on, as well as some others I'm simply not going to discuss for free.
Of course, that was nothing compared to the move we called in the FREE LIVE WEBINAR on Tuesday, where we laddered into a Russell short that gave us a $9,390 winner yesterday, surpassing last Wednesday's win from last Tuesday's Live Webinar (that one was Members only) of $4,560 – better than 100% improvement and WE GAVE IT AWAY!!!
So I feel that I've done my good deed for the month and I certainly think I've done all I can to show you why you MUST attend our Live Last Vegas Seminar which starts a week from Saturday, with a Member's dinner at Nobu in Caesar's Palace, followed by a poker tournament. On Sunday we will discuss the economy, trading strategies and our top trade ideas for 2015 followed by a Live Futures Trading Workshop. Monday we will do live trading all day.
Remember, we can only show you HOW to make money in the markets, we can't MAKE you make money – that's up to you! For example, our Trade of the Year for 2014 was AAPL and our trade idea was selling 10 2016 $450 puts for $4,100 (pre-7:1 split) and buying 10 2016 $450/600 bull call spreads for $65,000 for net $24,000 with an upside profit potential of $126,000 at $600. I even took the time to go on TV and tell people about it – BECAUSE IT WAS SO DAMNED GOOD!
How good? Well, AAPL is now at $107.34 and we multiply that by $7 and that translates to $751.38 which is already more than 20% over our target for a 525% profit just 7 months after I revealed our Trade of the Year on TV (our Members had it much cheaper at the Las Vegas Conference last November).
Even if you weren't an options player and just bought the AAPL stock at $70 at the time, it's still a very nice 53% gain since my call – not bad for a year's hard work, right?
So don't fear going back to CASH!!! Cash is king in this economy and there are so many fun things we can do with cash – like last week's long calls in our Top Trade Alerts on HAS, IRBT, HOV, GSK and RRD – all up huge in just 10 days.
It's holiday season – let's enjoy the rest of our year!
Do you know someone who would benefit from this information? We can send your friend a strictly confidential, one-time email telling them about this information. Your privacy and your friend's privacy is your business... no spam!
Click here and tell a friend!