Archive for 2015
by ilene - November 8th, 2015 11:28 pm
Courtesy of Mish.
A major showdown with Madrid is in the works as the Catalan Parliament to Vote on Independence from Spain.
The Catalan independence campaign heads for a potentially perilous new phase on Monday, as the regional parliament prepares to vote on a resolution to "disconnect" from the rest of Spain and renounce all rulings from the country's constitutional court.

The resolution commits the recently elected parliament to the "creation of the independent state of Catalonia, in the form of a republic".

It also calls for the passing of new legislation to set up an independent tax authority and social security system within 30 days.

Most controversially, perhaps, it states that the Catalan parliament is no longer bound by the decision of Spanish institutions and, in particular, the constitutional court, the highest tribunal in Spain.

The resolution is the first fruit of the uneasy alliance between the two main pro-independence groups, Junts pel Si and the Popular Unity Candidacy (CUP). The two groups won a majority of seats in the Catalan parliament in September, but are divided on key issues of strategy and policy.

The CUP, a radical leftwing party that opposes Nato and EU membership, has so far refused to back Artur Mas for another term as president of Catalonia. Mr Mas, a senior figure in Junts pel Si, hails from a moderately nationalist, business-friendly political background. But he has steadily moved towards a more hardline pro-independence stance.
What's Next?
If the vote is for independence, what will Spain do? Call out the army?
What will president Obama say?
Is it acceptable for the US to back Egyptians demanding a government overthrow, and orchestrate a coup in Ukraine, while denouncing the right of self-determination to Catalans?
No, it's not acceptable, and it is hypocritical, but it's exactly what one should expect.
Mike "Mish" Shedlock
Picture via Pixabay.
by Insider Scoop - November 8th, 2015 11:00 pm
Courtesy of Benzinga.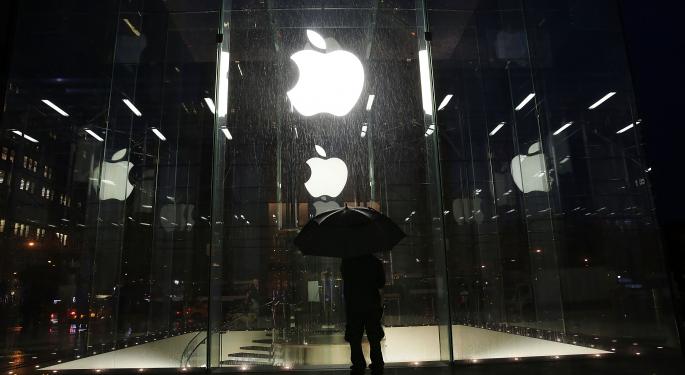 Apple Inc. (NASDAQ: AAPL) shares are down 5 percent in the last six months, amid significant volatility.
FBR & Co's Daniel H. Ives maintained an Outperform rating on the company, with a price target of $175.
Ives mentioned five predictions that could propel Apple's growth story in 2016 and "carve out a new chapter for Cook as he looks to transform/expand this golden consumer brand."
Analyst Daniel Ives believes that Apple continues to be "a battleground stock," with bears remaining worried about tough iPhone 6 comps and iPhone 6s growth prospects, negative indications by the supply chain, worries related to China, and challenges for Apple Watch sales.
Ives added that many analysts may not be "seeing the forest through the trees on the story heading into 2016." He added that Cook and Cupertino seem to be "entering a major inflection point period for Apple," with several growth drivers that should fuel a healthy FY16 and "lay the seeds of growth for a "blockbuster" iPhone 7 product cycle for FY17."
Related Link: Positives And Negatives Apple Investors Must Know, According To UBS
Ives enumerated five key predictions for Apple that would likely fuel Apple's growth story in 2016:
iPhone sales could beat Street's initial estimates for FY16, backed by robust 6s sales with a boost from legacy 6 upgrades
Streaming TV to be announced in 1H16, which could open up "a major "game-changing" opportunity for Apple to penetrate the consumer living room"
China will be a $100 billion market opportunity for Apple on the iPhone front, "remain white hot despite macro fears," and comprise the company's biggest geographic region by late 2017
iPad Pro sales will help reverse the negative tablet trend witnessed over the last year, with success in the enterprise market, and represent 15 percent of Apple's revenues, up from the current ~10 percent
Apple's electric car endeavor, code-named Project Titan, will
…

by Insider Scoop - November 8th, 2015 11:00 pm
Courtesy of Benzinga.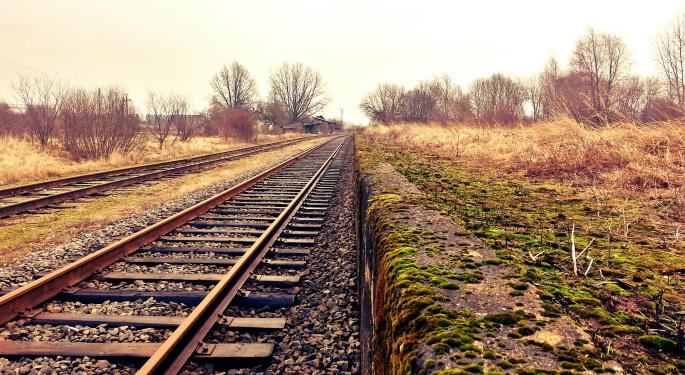 Update: In a press release, Canadian Pacific said there is no material news at this time. CP said it does not comment on market rumor and speculation.
Shares of big railroad companies were spiking on Monday afternoon.
The surge followed news about Canadian Pacific Railway Limited (USA) (NYSE: CP) considering a takeover of Norfolk Southern Corp. (NYSE: NSC).
On a possible industry consolidation, shares of Canadian Pacific were trading up more than 6 percent; shares of Norfolk, up more than 11 percent; shares of CSX Corporation (NYSE: CSX), up about 3.7 percent; shares of Kansas City Southern (NYSE: KSU), up almost 3 percent and shares of Union Pacific Corporation (NYSE: UNP), roughly 2 percent. Other railway stocks were also on the rise.
On Monday afternoon, a Bloomberg article informed that Canadian Pacific Railway, the second-largest biggest railroad in Canada, was considering a takeover of Norfolk Southern Corp., a big-cap U.S. carrier.
The article assured that, in a move aimed at consolidating the North American industry, Canadian Pacific was raising financing and had "held early-stage merger talks with Norfolk Southern."
Related Link: Norfolk Southern Announces Service Changes In Response To Upcoming Positive Train Control
However, the note added, "Discussions are preliminary and talks may not progress or lead to a deal," sources familiar with the issue said. Representatives for both companies involved declined to comment on the issue.
Author Ed Hammond noted that the acquisition of Norfolk Southern, the second-largest railroad in the Eastern region of the U.S., "would revive Canadian Pacific's effort to build a transcontinental carrier after talks with CSX Corp. failed last year."
Hammond continued, "In floating the idea of a CSX tie-up, Canadian Pacific Chief Executive Officer Hunter Harrison upended the long-held view in the industry that it was fruitless to even discuss another merger because regulators would object."
Disclosure: Javier Hasse holds no positions in any of the securities mentioned above.
Image Credit: Public Domain
Posted-In: Bloomberg Ed HammondNews Rumors M&A Movers Trading Ideas
by Insider Scoop - November 8th, 2015 11:00 pm
Courtesy of Benzinga.
Iconix Brand Group Inc (NASDAQ: ICON) shares jumped 26.09 percent to $8.70. Iconix Brand Group reported a Q3 loss of $0.13 per share on revenue of $88.935 million.
UCP Inc (NYSE: UCP) surged 25.41 percent to $8.34 after the company reported upbeat Q3 earnings.
Sterling Construction Company, Inc. (NASDAQ: STRL) gained 16.39 percent to $4.90 after the company reported better-than-expected Q3 earnings and appointed Ronald Ballschmiede as EVP and CFO.
Plum Creek Timber Co. Inc. (NYSE: PCL) shares jumped 15.29 percent to $46.45 after Weyerhaeuser Co (NYSE: WY) announced its plans to buy Plum Creek Timber in an $8.44 billion deal.
Apache Corporation (NYSE: APA) shares surged 11.52 percent to $53.16. Apache rejected a takeover bid from unidentified buyer and is working with Goldman Sachs, according to Bloomberg.
Edap Tms SA (ADR) (NASDAQ: EDAP) rose 10.20 percent to $6.05 after the company reported that it has received the FDA approval for Ablatherm HIFU.
Relypsa Inc (NASDAQ: RLYP) shares climbed 9.14 percent to $20.59 after gaining 0.64 percent on Friday.
Horizon Pharma PLC (NASDAQ: HZNP) rose 7.81 percent to $22.64. Horizon Pharma issued a strong FY16 sales forecast. It projected FY20 sales of $800 million to $1 billion.
Blount International Inc (NYSE: BLT) shares surged 7.65 percent to $6.61. Blout International reported Q3 earnings of $0.25 per share on revenue of $209 million.
Dean Foods Co (NYSE: DF) shares gained 6.74 percent to $19.15 after the company reported better-than-expected earnings for the third quarter and issued a strong forecast.
NewLink Genetics Corp (NASDAQ: NLNK) jumped 6.63 percent to $19.13 after announcing promising clinical data on Indoximod.
RealD (NYSE: RLD) shares rose 2.55 percent to $10.84 after the company agreed to be acquired by Rizvi Traverse for $11 per share in cash. RealID reported a Q2 loss of $0.15 per share on revenue of $38.5 million.
Posted-In: Market GainersNews Intraday Update Markets Movers
by Insider Scoop - November 8th, 2015 11:00 pm
Courtesy of Benzinga.
Following the market opening Monday, the Dow traded down 0.78 percent to 17,770.13 while the NASDAQ declined 0.70 percent to 5,110.94. The S&P also fell, dropping 0.81 percent to 2,082.31.
Leading and Lagging Sectors
In trading on Monday, utilities shares rose by 0.01 percent. Top gainers in the sector included Exelon Corporation (NYSE: EXC), up 2.4 percent, and Chesapeake Utilities Corporation (NYSE: CPK), up 2 percent.
Cyclical consumer goods & services shares declined around 1.3 percent in Monday's trading. Meanwhile, top losers in the sector included Kandi Technologies Group Inc (NASDAQ: KNDI), down 20 percent, and Melco Crown Entertainment Ltd (ADR) (NASDAQ: MPEL), off 8 percent.
Top Headline
Priceline Group Inc (NASDAQ: PCLN) reported better-than-expected earnings for the third quarter, but the company issued a weak earnings forecast for the current quarter.
The Norwalk, Connecticut-based company reported quarterly net income of $1.2 billion, or $23.41 per share, compared to $1.06 billion, or $20.03 per share, in the year-ago quarter. Excluding items, the company's adjusted earnings surged to $25.35 per share from $22.16 per share.
Its revenue increased 9.4 percent to $3.10 billion. However, analysts were projecting earnings of $24.23 per share on revenue of $3.05 billion.
Priceline expects Q4 adjusted earnings of $11.10 to $11.90 per share, versus analysts' estimates of $12.42 per share. The company also projects gross travel bookings to increase 1 percent to 8 percent.
Equities Trading UP
Plum Creek Timber Co. Inc. (NYSE: PCL) shares shot up 14 percent to $46.00 after Weyerhaeuser Co (NYSE: WY) announced its plans to buy Plum Creek Timber in an $8.44 billion deal.
Shares of Apache Corporation (NYSE: APA) got a boost, shooting up 10 percent to $52.55. Apache rejected a takeover bid from…

by Insider Scoop - November 8th, 2015 11:00 pm
Courtesy of Benzinga.
Goldman Sachs Group Inc (NYSE: GS) shares are trading lower by $1.90 at $197.27 in Monday's session. The issue attempted to improve on its impressive $7.15 rally and was turned back.
The catalyst for the rally was a hot jobs number that may prompt the Fed to raise in December. Historically, rising interest have tended to benefit financial stocks more than others.
Off the open, the issue found resistance above Friday's high ($199.45) and just ahead of the psychological level of $200, only reaching $199.90. The ensuing decline has taken the issue to $196.62 and it is attempting to rebound into the $197 handle.
Joel Elconin is the co-host of Benzinga's #PreMarket Prep, a daily trading idea radio show.
Do you like this article? Do you have suggestions for improvement? Please email feedback@benzinga.com
Posted-In: Technicals Intraday Update Movers Trading Ideas
by Insider Scoop - November 8th, 2015 11:00 pm
Courtesy of Benzinga.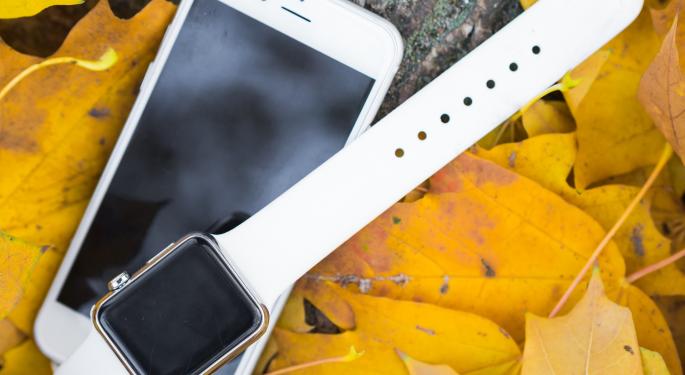 Shares of Apple Inc. (NASDAQ: AAPL) were lower by more than 0.50 percent late Monday morning despite Steven Milunovich of UBS maintaining a Buy rating and $150 price target in a new research note.
Milunovich highlighted two negative concerns and five positives.
The analyst noted that the five positives outweigh the negative aspects.
Steven Milunovich of UBS maintained a Buy rating and $150 price target on shares of Apple in a new research report on Monday. The analyst highlighted two negative concerns he has moving forward, but cited five positive trends that outweigh his concerns.
The negative concerns include: 1) demand for the 6s is lower than for the 6 a year ago and 2) upgrade cycles are lengthening.
The positives include: 1) Apple is the only brand expected to gain market share, 2) the mix continues to shift toward larger screens and higher memory, 3) 20 percent of U.S. users expect to use Apple's Upgrade Program, 4) China demand remains strong and 5) a projected 4 percent unit growth for iPhone devices in fiscal 2016 appears "conservative."
Related Link: Apple Tops Q4 Views
2 Main Concerns: iPhone 6s Demand, Upgrade Cycles
According to Milunovich's study, around 31 percent of the user base upgraded to the 6 line as of the September quarter, while an estimated 280 million user base have yet to upgrade. Even allowing that some users will upgrade to the 5s rather than the 6, the 31 percent finding "does not strike us as high."
The study also noted that 22 percent of consumers intend to purchase a handset in the next six months. This marks a decrease from the 24 percent recorded in the second quarter and 29 percent a year ago. As such, the analyst concluded that the average handset life is increasing across all regions.
The Positives
Apple To Gain Market Share
Eighty-two (82) percent of Apple's customer plans on repurchasing an Apple device when they next upgrade their device. This rate happens…

by Insider Scoop - November 8th, 2015 11:00 pm
Courtesy of Benzinga.
RBC Capital Markets analyst Mark Mahaney appeared on CNBC on Monday.
The expert shared his views regarding which social media stocks investors should buy and which ones they should avoid.
The Internet space dominated Mahaney's picks and pans.
The Internet space is at an all-time high nowadays in terms of market capitalization and valuations, Mahaney explicated. However, some of these stocks are still worth buying – while some others are clearly worth avoiding, he continued.
Facebook
Among the stocks Mahaney likes is unsurprisingly Facebook Inc (NASDAQ: FB).
The social media behemoth "continues to prove that it can sustain close to 60 percent advertising revenue growth, 1.5 billion users, people who engage more and more with Facebook on a daily basis; so that's still a winner on our book," he stated.
Related Link: Benzinga's Top Upgrades
LinkedIn
Also on the analyst's Buy list is LinkedIn Corp (NYSE: LNKD).
Although the stock has been slightly underperforming year-to-date, RBC thinks the company offers "a very good platform [with] 400 million registered users, rising levels of engagement, high levels of profitability."
Stocks To Avoid
Mahaney then went into stocks to avoid, among which he included Twitter Inc (NYSE: TWTR), since it trades at a more expensive valuation than either of the aforementioned, even though it offers slower long-term growth prospects.
"We've seen a lot of execution errors," the expert added, assuring, "It's going to take a while to turn this around, if they are able to do that."
Other companies in the "stay clear" list included Yahoo! Inc. (NASDAQ: YHOO) and Groupon Inc (NASDAQ: GRPN), "stocks and companies that have been around for a while, that are going…

by Insider Scoop - November 8th, 2015 11:00 pm
Courtesy of Benzinga.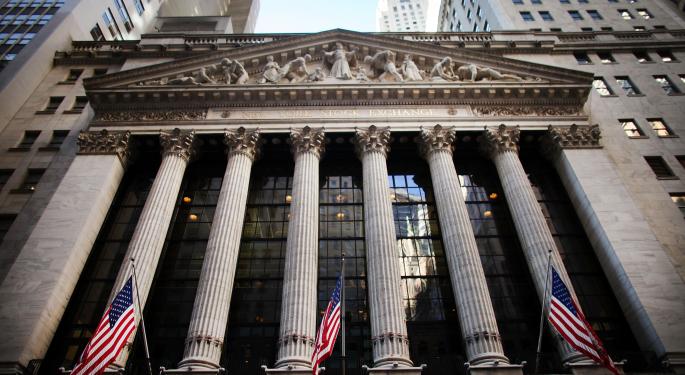 Goldman Sachs projects record spending by S&P 500 companies in 2016.
The firm sees a near 50/50 split in spending between growth and capital returns.
S&P 500 stocks are now sitting on a record amount of cash in terms of total assets.
In a new report, Goldman Sachs analyst David Kostin looks at the record amount of cash on S&P 500 balance sheets and the record amount of spending that companies will be doing in 2016. Kostin believes that companies will be putting their cash to work at unprecedented levels next year.
The Numbers
Goldman projects that S&P 500 companies will spend $2.2 trillion in 2016, up 5 percent from 2015 spending levels. The latest numbers show that S&P 500 can certainly afford to be big spenders right now, as they currently hold more than $1.5 trillion in cash (ex-Financials).
The S&P 500 cash/asset ratio now sits at over 11.0 percent, its all-time high.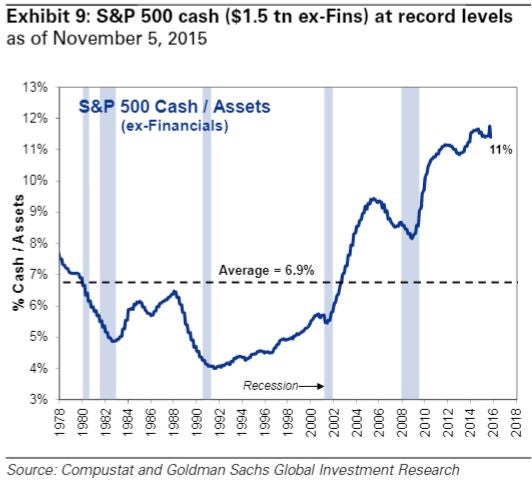 Goldman predicts that 54 percent of 2016 S&P 500 spending will be growth-driven spending such as capex, R&D and M&A spending. The other 46 percent of 2016 spending will be capital return spending in the form of dividends and buybacks.
Capital Returns Will Continue To Outperform
According to Kostin, stocks with aggressive cash return spending, will continue to outperform in 2016. "We expect high cash return strategies to outperform given modest GDP growth, low rates, and slim equity returns," he explained.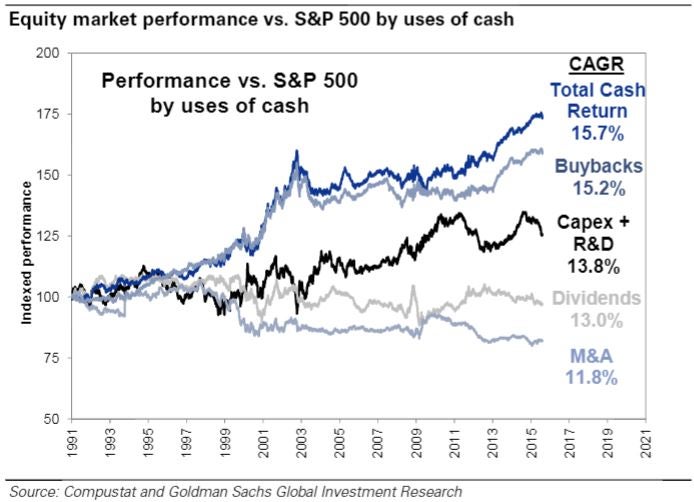 Goldman is projecting $1 trillion in buybacks and dividends from S&P 500 companies in 2016, up 7 percent from 2015 levels.
Big Spenders
Goldman Sachs selected 50 stocks out of the S&P 500 that have the largest combined realized buyback and dividend yields on a sector-neutral basis to make up its Total Cash Return basket. Here are the five stocks in Goldman's basket with the highest total yield (dividends plus buybacks):
1. KLA-Tencor Corp (NASDAQ: KLAC) (30.4 percent)
2. Juniper Networks, Inc. (NYSE: JNPR) (21.7 percent)
3. Motorola Solutions Inc (NYSE: MSI) (19.9 percent)
4. Bed Bath & Beyond Inc. (NASDAQ: BBBY) (18.7 percent)
5. CBS Corporation (NYSE: CBS) (17.0 percent)
Disclosure: the author holds no position in the stocks mentioned.
Posted-In: David Kostin Goldman SachsAnalyst Color News Dividends Buybacks Top Stories Analyst Ratings Best of Benzinga
by Insider Scoop - November 8th, 2015 11:00 pm
Courtesy of Benzinga.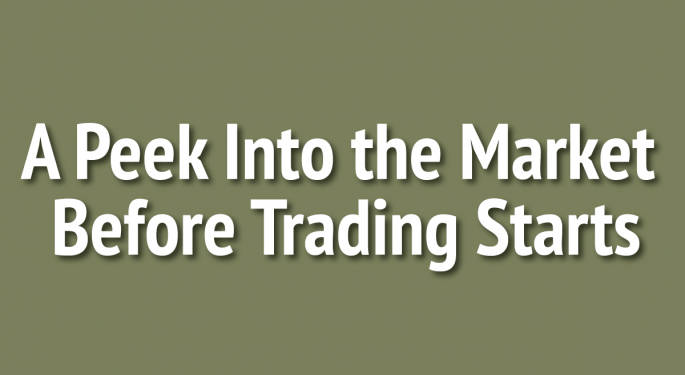 Pre-open movers
US stock futures traded lower in early pre-market trade. Futures for the Dow Jones Industrial Average slipped 49.5 points to 17,793.5, while the Standard & Poor's 500 index futures fell 7 points to 2,086.75. Futures for the Nasdaq 100 index declined 17.88 points to 4,685.12.
A Peek Into Global Markets
European markets were lower today, with the Spanish Ibex Index falling 0.20 percent, STOXX Europe 600 Index dropping 0.38 percent and German DAX 30 index declining 0.35 percent. French CAC 40 Index slipped 0.49 percent and London's FTSE 100 Index fell 0.05 percent.
In Asian markets, Japan's Nikkei Stock jumped 1.96 percent, Hong Kong's Hang Seng Index fell 0.61 percent, China's Shanghai Composite Index surged 1.58 percent and India's BSE Sensex declined 0.55 percent.
Broker Recommendation
Analysts at KeyBanc upgraded Buffalo Wild Wings (NASDAQ: BWLD) from Sector Weight to Overweight.
Buffalo Wild Wings shares climbed 0.42 percent to close at $152.47 on Friday.
Breaking news
Posted-In: KeyBancEarnings News Eurozone Futures Global Pre-Market Outlook Markets