We're short today.
We didn't like yesterday's Beige Book from the Fed, which we went over live at 2pm during our Weekly Webinar and we made a few buck shorting the Russell but it then reversed overnight and I sent out a note to our Members (and on Twitter) this morning saying:
Flatlining, more or less in Europe after Asia was up 1% and our futures are flatter than flat and even oil is flat at $34.73 and /NKD skimming along at 16,900 so we'll just have to see what happens today but I stand by my interpretation of the BBook (bad) so, if we slip below these levels, we can short the laggards (4th or 5th to cross below with tight stops if any go back over the line):

Dow (/YM) 16,850, S&P (/ES) 1,980, Nasdaq (/NQ) 4,325, Russell (/TF) 1,065 and Nikkei (/NKD) 16,900

All are just over the line so 3 going under signals bear and then either of the 2 that haven't fallen are fair game. The same logic can be used to go bullish but I've seen nothing so far to make me lean that way – including the Dollar back to 98.15, down about 0.5% and not helping much. Oil is still a short below $35 (now $34.70 on /CL) and /NG testing $1.65 again means I like /NGK6 long again at $1.78 (as long as $1.65 holds on /NG).
No change so far so, if you are a Report Member or above and getting this daily pre-market Email (8:35) or viewing it on-line while it's in progress (exclusive for Members), there's still plenty of time to short the laggards. We have Jobless Claims and Productivity (or lack thereof) at 8:30 and then how can PMI possibly be good at 9:45? We also have Consumer (Dis)Comfort at 9:45 followed by ISM Services and Factory Orders at 10 and the BBook and the recent Regional Fed Reports indicates they are NOT GOOD. Things are bad enough on the data front that Dallas Fed Gov Rob Kaplan is scheduled to spin it at 10:45. Kaplan is another Goldman Sachs puppet, who will likely do his best to tell us to REMAIN CALM – at least until Uncle Lloyd is done selling.
Kaplan, Kashkari (Minneapolis), Dudley (NY) and Harker (Philadelphia) are all Vampire Squid alumni who left amazingly high-paying jobs at GS in order to control our regional banks and set monetary policy for our nation. It's not a conspiracy THEORY when 4 of the theoretical conspirators can be directly tied back to the bank, is it?
Anyway, the markets are manipulated – so what? The question is, how do we get our share? Today we're shorting what looked like an extremely low-volume run-up into the close that took the S&P from down 0.5% to up 0.45% in the afternoon. That's why we figured shorting (with tight stops) into this morning's reports would be a good idea. We simply pay attention to the short-term indicators so, when these monthly reports come out, we know what to expect.
8:30 Update: Speaking of expectations, Jobless Claims were up 6,000 to 278,000 for the week (a bit high) but Productivity is down 2.2% while Labor Costs are up 3.3% and that is NOT GOOD for our Corporate Masters, who prefer to pay less money for more productivity – not the other way around. Still, with rising minimum wages, this was not unexpected but, for some reason, analysts think Factory Orders (10) will be up 3% and ISM Services (10) will be at 52.9 and both of those numbers are setting us up for disappointment.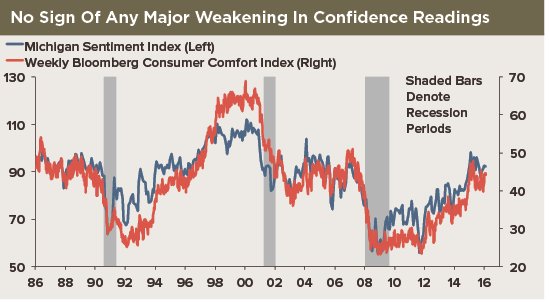 We're just looking to make a few bucks ahead of Kaplan's speech, where he can spin the markets right back up if he says the right things. Consumer Comfort, which is likely to come in under 45 and hasn't been over 50 (positive) since early 2006 though it was all the way down to 25 from 2008-2012 and we survived that so – think happy thoughts!
Tomorrow, of course, we get the Non-Farm Payroll report and, if Consumer Comfort is over 45, then we can interpret the higher wages and lower productivity as hiring and training and, if that is the case, then we may get well over the 180,000 jobs expected in tomorrow's report. Too far over though, and traders will worry the Fed is going to tighten in their March meeting (they won't) so we'd like a Goldilocks number, right around 200K but not very far over.
We'll have to play it by ear – it's going to be a volatile couple of days and we've erred (if it is an error) on the side of caution as we have a lot of gains to protect from the last two weeks.
Do you know someone who would benefit from this information? We can send your friend a strictly confidential, one-time email telling them about this information. Your privacy and your friend's privacy is your business... no spam!
Click here and tell a friend!